This savory toast is a favorite fall supper when I'm home alone. It also makes a fun appetizer for a winter gathering if you cut it into pieces. The recipe first appeared in my cookbook Simple Green Suppers. The tasty roasted squash topping gets a boost from Cranberry Citrus Herb Butter and, if you like (I like!) crispy shallots. Toasted nuts, too!

Makes 2 or 3 toasts
2 cups small-diced peeled butternut squash (about 9 ounces)
3 to 4 tablespoons olive oil or grapeseed oil
Kosher salt
2 or 3 oval slices whole wheat or other peasant bread
2 large shallots, peeled and thinly sliced (optional)
3 tablespoons Cranberry Citrus Herb Butter (recipe below), at room temperature
1 to 2 tablespoons chopped toasted pecans, pepitas, or walnuts (optional)
1. Heat the oven to 425°F. Line a rimmed baking sheet with parchment paper.
2. Toss the squash with 2 tablespoons of the oil and ¼ teaspoon salt. Arrange the squash in one layer on the baking sheet and roast, flipping (with a metal spatula) once halfway through cooking, until nicely browned and tender, about 30 minutes.
3. While the squash is roasting, cook the shallots if you want to use them: Heat 2 teaspoons oil in a small nonstick skillet over medium heat. Add the shallots and a pinch of salt. Cook, stirring, until softened and browned, about 5 to 8 minutes. Transfer the shallots to a paper-towel lined plate.
4. When the squash comes out of the oven, immediately transfer it to a medium saucepan over low heat and add 4 to 5 teaspoons of the cranberry butter. Toss and stir, and using a hand-held masher or wooden spoon, gently mash the roasted squash and butter until it holds together loosely. (You can mash more or less, according to your own tastes; I like to leave some pieces whole.) Add a little more butter if you like, but reserve some for the toast. Cover to keep warm. (Remove the pan from the heat if making ahead, or keep the pan on low heat for a few minutes, stirring, if waiting for toast.)
5. Toast the bread: Heat an oven broiler or the broiler in a toaster oven. Brush the bread slices with a small bit of oil on one side and sprinkle with salt. Broil until golden brown on the top side. Remove the pan from the oven, turn the slices over, and dot or brush with a few teaspoons of the Cranberry Butter. Broil until the top side is lightly browned.
6. Using a small spatula or spreading knife, spread the warm squash mixture evenly on the two pieces of toast. Top with the shallots (if using) and toasted nuts (if using). Serve right away.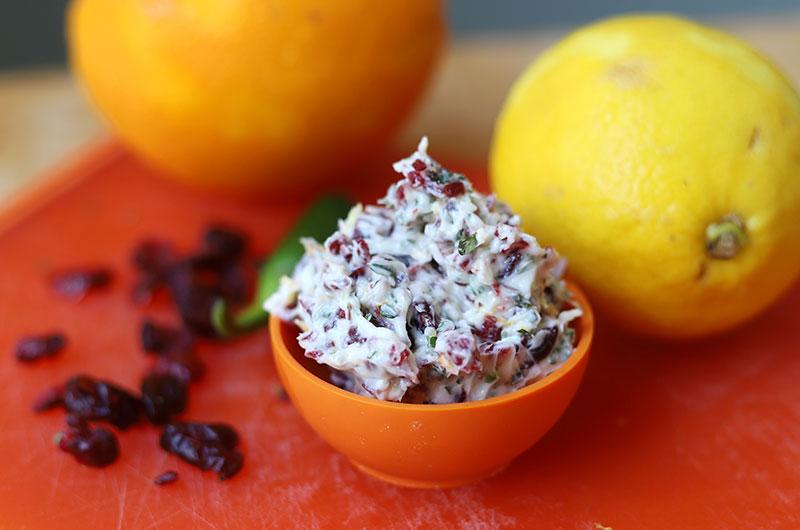 Cranberry Citrus Herb Butter
Compound butters are great to keep in the fridge for dressing up vegetable sautés, topping a steak, or stirring into soups. This great fall combination of orange, lemon, cranberry, and thyme is the secret behind this delicious Butternut toast, but it's also good with roasted Brussels sprouts and beets.
Makes about ½ cup
4 tablespoons unsalted butter, softened
¼ teaspoon kosher salt
¼ teaspoon freshly grated orange zest
¼ teaspoon freshly grated lemon zest
2 tablespoons very finely chopped cranberries
1 teaspoon chopped fresh thyme
¼ teaspoon minced fresh jalapeno
1. Put the butter in a small mixing bowl. Add the salt and zests. Mash and stir the butter, using a small silicone spatula or the back of a spoon. Add the cranberries, thyme, and jalapeno, and continue to stir until the mixture is smooth.
2. Pack the mixture into a small bowl, crock, or refrigerator container, and cover well. Refrigerate for up to a week, or freeze for up to two months. Bring to room temperature before using.