In the summer when we've got excess tomatoes, we often have bruschetta as a side dish with grilled steak or fish – it doesn't have to be just an appetizer or a first course for a party. Eat it for lunch, for a snack – whenever. Its simply a delicious way to enjoy ripe juicy tomatoes with that toasty constrast of crunchy bread.
This summer I've been making bruschetta with our German Green tomatoes, which are ripe when light green and tinged with pink — they have an ethereal flavor. But you could make yellow bruschetta too. Use as much garlic and basil as you like, but the garlic flavor spreads quickly in the juices so err on the side of less for your first batch.
Serves 2
2 to 2 ½ cups diced, cored ripe summer tomatoes (3 to 4 medium tomatoes; no need to skin or seed, just chop)
1 clove garlic, peeled and minced (more if you like)
Small leaves or thinly sliced fresh basil or Thai Basil (as much as you like)
2 tablespoons extra-virgin olive oil, plus more for bread
½ teaspoon balsamic vinegar (and a drizzle of honey) or balsamic glaze
kosher salt
4 to 6 thick slices rustic bread (any kind)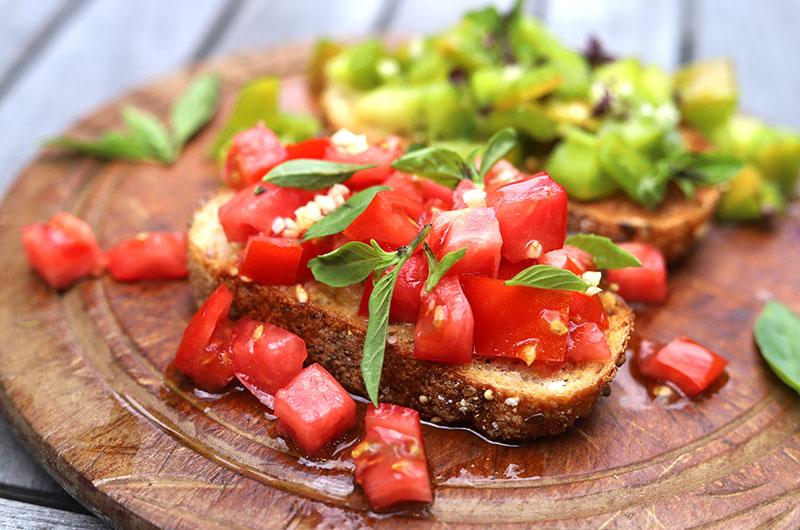 1. In a small mixing bowl, combine the tomatoes, the garlic, most of the basil, the 2 tablespoons olive oil, the balsamic, and about ¼ teaspoon kosher salt. Stir well to combine and let sit for 5 to 10 minutes, stirring occasionally. The mixture will give off a lot of juice.
2. Brush the bread slices with a little more olive oil and brown them under the broiler on both sides or grill them until lightly browned.
3. Arrange the slices on two plates, sprinkle them with a tiny bit of salt, and spoon the tomato mixture over them. (You can use a slotted spoon or not, depending on how much juice you like.) Let sit for a few minutes so that the bread soaks up a bit of the juices. Garnish with the remaining basil.