These are my directions for a very straightforward (but delicious) method for "barbecued" chicken on a gas grill. Essentially you're starting the chicken out over hot burners (direct heat) and then moving it over burners that are either shut off or very low. One burner, farthest away from the chicken, remains on high to provide the indirect heat needed to create an oven-like atmosphere under the lid. When the chicken is cooked through, you brush it with sauce, move it back to the hot area, and cook it for just a minute or two more to caramelize the sauce a bit. (Never put sauce on at the beginning of cooking or you'll have burned chicken.)
You could certainly use this technique on a charcoal grill by banking your coals to one side so that you've got a hot side and a cool side on your grill.
I use all chicken thighs so that my chicken pieces cook in the same amount of time and because I think thighs offer the most flavor and stay moist. But you can feel free to experiment with other chicken parts using this method.
Always keep the grill covered when you're not actively moving the chicken around – it helps convect heat and make the covered grill more like an oven.
I make a simple spice rub and a very simple barbecue sauce that I think give delicious results without much effort, but you could make your own or feel free to substitute your favorite store-bought rub or sauce.
Serves 3 to 4
6 to 8 bone-in, skin-on chicken thighs (about 2 ½ to 3 pounds)
Kosher salt
2 to 3 tablespoons Barbecue Spice Rub (below) or favorite store-bought barbecue rub
Olive oil
1 recipe Simple Barbecue Sauce (below) or favorite barbecue sauce

1. Heat a gas grill, turning all burners to medium-high.
2. Spread chicken thighs out on a sheet tray and sprinkle both sides of each piece with a little kosher salt. Then sprinkle both sides generously with some of the spice rub. Drizzle a little olive oil over the chicken and spread and massage the spice rub all around and over the chicken.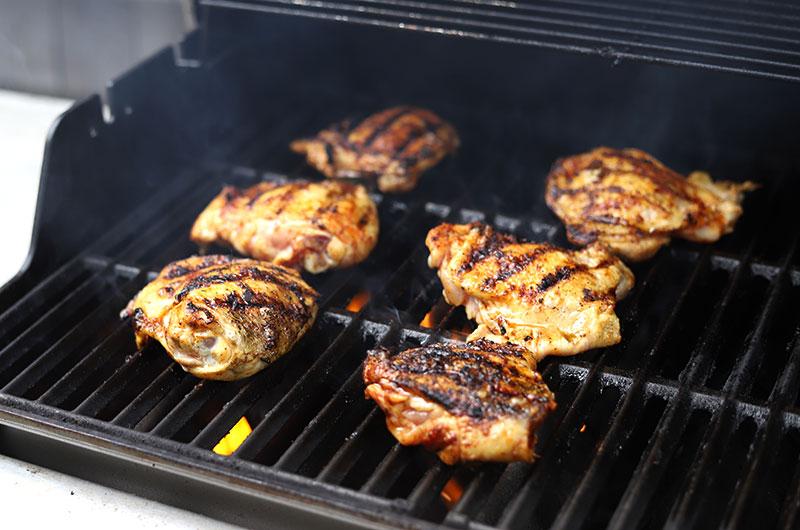 3. Arrange the chicken pieces on the grill grates, skin side down. (I usually arrange them on the left side of my grill, keeping two burners on medium-high at this point and dropping the far right burner to low.) Cover and cook for about 4 minutes or until the skin side is well-marked and beginning to brown. Flip the pieces over, cover, and cook for another 4 minutes, until marked and lightly brown on the bottom side.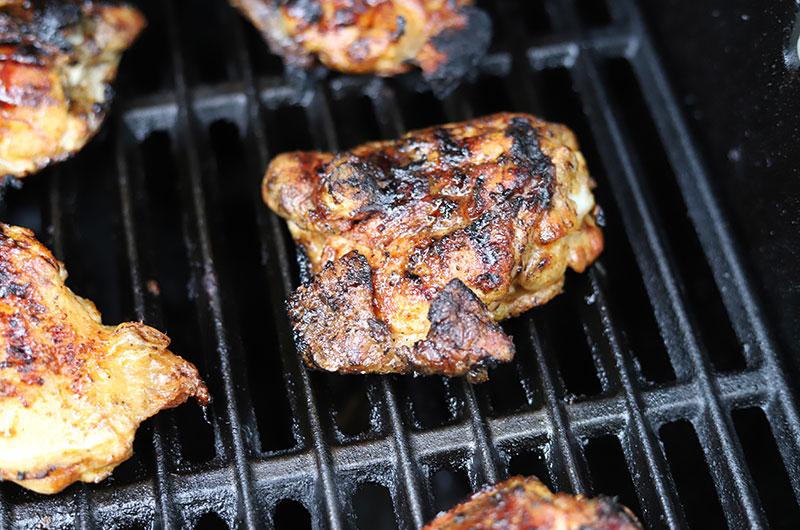 4. Keeping one burner on medium-high (for me that is the far-left burner), turn off the other burners (or burner, depending on whether you have 2 or 3 burners on your gas grill) and arrange all of the chicken pieces on the grates over the turned-off burners.
5. Cover and cook, checking and flipping the chicken pieces every five minutes or so (the grates will still be hot, so this prevents one side from cooking too much more than the other) until the chicken is cooked through, with an internal temperature of 165 degrees, about 35 minutes more, for a total of about 45 minutes of cooking. (While the chicken is cooking, take a look at your grill's thermometer, if it has one. The temperature inside should be about 350 degrees. If it is much lower than that, you can first turn the hot burner a bit higher or, if necessary, turn the burners that are off back on to low.)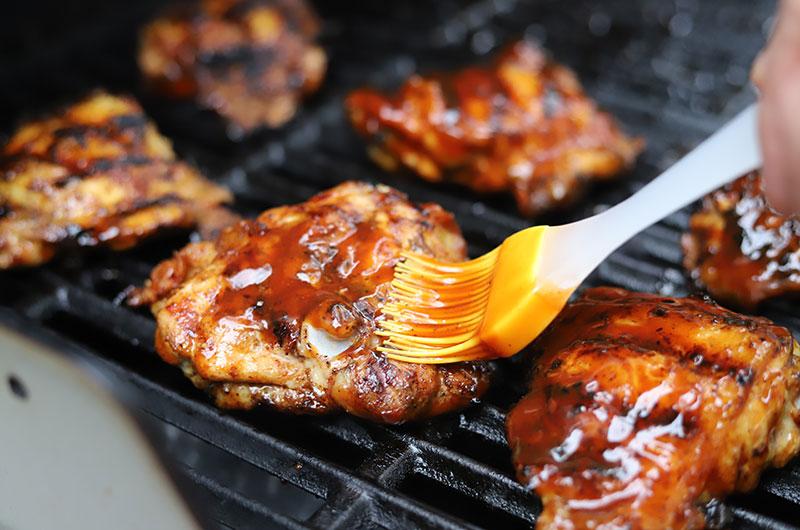 6. Brush the top sides of the chicken with some of the barbecue sauce. Move the chicken pieces back over the hot burner (or burners – you can turn the other or others back up) and flip them so that the sauced side is down. Cook for about 1 minute; brush the top side with sauce and flip over. Cook for another minute, just until the sauce is a bit darkened and clinging to the chicken pieces.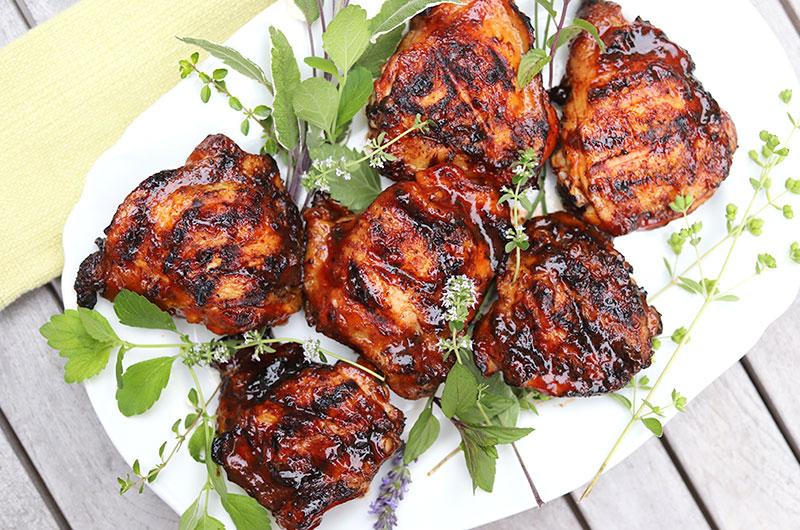 7. Transfer to a serving platter and arrange the chicken pieces skin-side up. Serve right away or slightly cooled.
Barbecue Spice Rub
Truthfully, I always make my spice rub just a little differently each time, depending on what I have on hand. As long as you include a good dose of chili powder and/or any kind of paprika and some brown sugar, you're on your way. Salt in spice rubs is optional. Most often it is included, in pretty good quantities, but I prefer to keep the salt proportionally lower and to also add a bit of salt directly to the chicken before putting on the rub. But if you don't have some of these spices, leave them out or try your hand at your own custom mix. Or simple buy a good rub.
Makes about ½ cup
2 tablespoons light brown sugar
2 tablespoons chili powder
2 tablespoons paprika (or 1 each paprika and smoked paprika)
2 teaspoons kosher salt
1 teaspoon ground coriander
1 teaspoon ground cumin
1 teaspoon dry mustard
½ teaspoon garlic powder
1. Combine the brown sugar, spices, and salt in a small bowl and mix together well. Store in an air-tight container at room temperature for several weeks.

Simple Barbecue Sauce
I first developed this sauce recipe for a "Quick and Delicious" chicken recipe for Fine Cooking magazine many years ago, so I had a restriction on the number of ingredients I could use. After making it again recently, I've found that it makes a pretty darn good sauce for only having 5 ingredients (which you've most likely got on hand) and only taking a couple minutes to make. So it's one of those little sauces to have in your back pocket when you need something to trick up weeknight cooking. You could easily make "barbecued" chicken on a weeknight by grilling boneless breasts or thighs and finishing with this sauce.
3/4 cup tomato ketchup
4 tablespoons dark brown sugar
1/4 cup low sodium tamari
1/4 cup cider vinegar
1 tablespoon Dijon mustard
1/2 teaspoon Sriracha or other hot sauce (optional)
1. Combine the ketchup, brown sugar, tamari, cider vinegar, and Dijon mustard in a small saucepan. Whisk well.
2. Bring to a simmer and cook for just a minute or two, whisking all the time, until the sugar is dissolved, and the sauce is ever so slightly thickened. Stir in the hot sauce if desired.