While I think roasted carrots are most handsome if they're simply peeled and cut in half to retain their long, lanky profile, there is an advantage to cutting carrots into "fry" shapes: They will all (more or less) cook at the same rate. And the smaller pieces have more surface area for browning. (That said, I offer you two other ways to roast carrots (here's why), depending on your goals: Rustic Roasted Carrots, and Butter-Roasted Carrots with Local Honey).
Oven-roasted carrot "fries" (like baked sweet potato "fries") don't really get crisp. But they do caramelize and taste delicious, especially straight off the sheet pan hot out of the oven. We eat them just like that, sometimes with a dipping sauce. If you have friends coming over, you can double the recipe (and use two sheet pans). The cooking time may be a bit longer.

Serves 3 as a nibble or side dish
1 pound carrots, peeled, trimmed and cut into pieces 2 to 3 inches long and 3/8 to ½ inch wide
2 tablespoons extra-virgin olive oil
Kosher salt
Dipping Sauce for Fries(optional, below)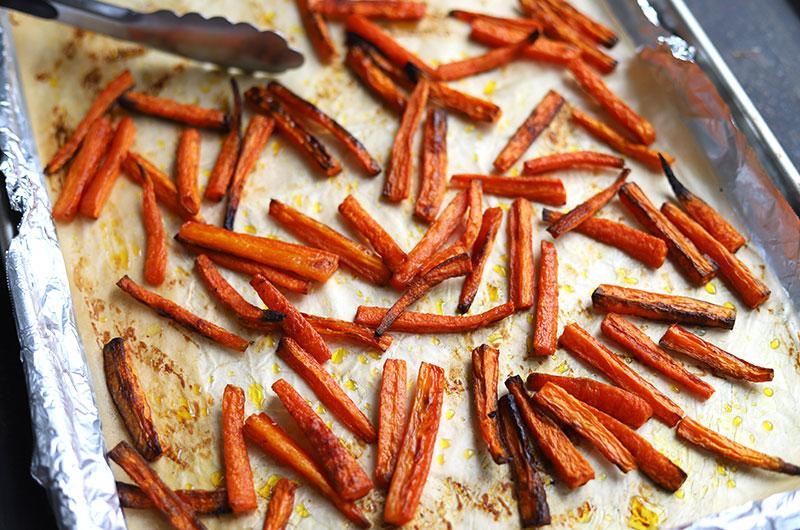 1. Heat the oven to 450 degrees F. Line a heavy-duty rimmed sheet pan with parchment paper. (Or for easiest clean-up, completely cover the bottom and rims of the sheet pan with foil first, then put down a sheet of parchment paper.)
2. In a mixing bowl, toss the carrots with the olive oil and ½ teaspoon salt. Transfer to the baking sheet, scraping out any oil and salt with the carrots. Arrange in one layer on the pan.
3. Roast, flipping once with a spatula halfway through cooking if desired, until the carrots are very well browned and tender, about 26 to 30 minutes.
4. Let cool for just a minute or two, sprinkle with a bit more salt, and serve warm straight off the sheetpan or in a serving dish, with or without the dipping sauce.

Dipping Sauce for Fries
You can make this dipping sauce hours or even a day ahead and keep refrigerated. Use with carrot fries, sweet potato fries, or roasted potatoes.
Makes about ¾ cup
1/3 cup mayonnaise, straight from fridge
1/3 cup Greek yogurt, straight from fridge
½ teaspoon freshly grated lemon or lime zest
1 tablespoon fresh lemon or lime juice
2 teaspoons tamari
2 to 3 tablespoons finely chopped fresh cilantro
½ to 1 teaspoon chili-garlic sauce (to taste)

1. In a small bowl, combine the mayonnaise, yogurt, citrus zest, citrus juice and tamari. Whisk well. Stir in the cilantro. Whisk again. Add chili-garlic sauce in ½ teaspoon increments, letting sit for a few minutes after each. Taste and add as much as you like.
2. Serve cool with fries. Store leftovers for up to three days, covered in fridge.