Smelts can be enjoyed several different ways, but I think they're best deep-fried. Deep-frying dissolves the tiny bones that are left in the fish after they are dressed. You can buy whole dressed smelts fresh or fresh-frozen at The Net Result.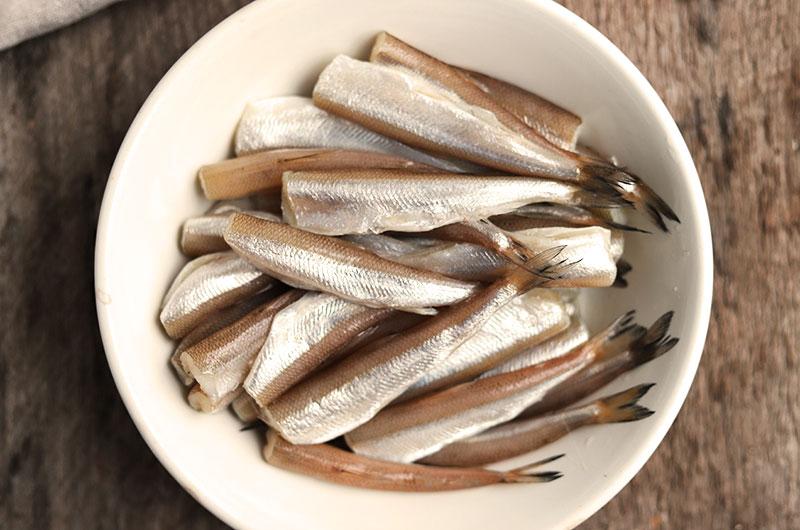 For deep-frying, you will want a heavy deep skillet (cast-iron or enameled cast-iron work best because they retain heat well and will keep the temperature from dropping a lot when the fish go in) or large saucepan, a good pair of metal tongs, and ideally a candy/deep fry thermometer for measuring the oil temperature.
Serve the smelts hot with homemade tartar sauce or a lemon aioli. The Limey Dipping Sauce in this recipe for sweet potato fries would be good, too.
Yield: Enough to serve 6 to 8 people as an appetizer
1 cup all-purpose flour
2 tablespoons cornstarch
1 teaspoon kosher salt
¼ teaspoon freshly ground pepper
1 pound fresh or fresh-frozen (thawed overnight) dressed smelts
6-8 cups canola oil (or a depth of two inches in the saucepan)
Tartar sauce or other dipping sauce for serving
Lemon wedges
1. In a mixing bowl, combine the flour, cornstarch, salt and pepper. Toss some of the smelts in the flour mixture until fully coated inside and out.
2. Arrange a few layers of paper towels on a sheet pan.
3. Heat the oil in a heavy, deep skillet or large saucepan over medium heat to a temperature between 350 and 375 degrees F. Slowly add the dredged smelts to the oil and cook until crisp and just lightly golden (they won't brown), about 1 to 2 minutes. Using tongs, transfer the fish to the paper towels. Cool briefly and serve with a squeeze of lemon and/or dipping sauce.
4. Repeat with the remaining smelts, dredging and frying a few at a time. (Don't overload the pan or the oil temperature will drop too much.)