This easy cookie dough yields plenty of cut-out cookies so that every one in the family can decorate some. Flavored with just a little bit of orange zest (or use lemon if you prefer) and vanilla, the cookies can take any type of decoration — from simple colored sugars to royal icing. You can also dollop a bit of melted chocolate on top, followed by finely chopped nuts or peppermint candies or sea salt! The cookies work just as well for Valentine's Day as they do for Christmas and Hannukah. Make them at Halloween, too!
If you've never made cut-out cookies, keep in mind that the dough should be chilled an hour or so before rolling and cutting. You don't have to use all of the dough at once; you can take just a piece out if you've only got time for one or two trays of cookies. The rest will keep, well-wrapped, for up to two days in the fridge (any longer and it will begin to dry out).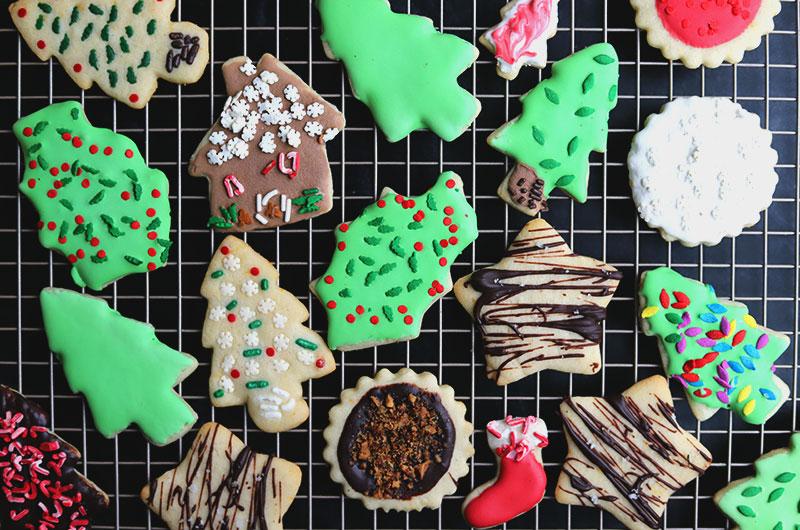 You can use any heavy-duty cookie sheet for these, but I like my rimmed sheet pans as they keep the cookies from sliding off the tray. I use parchment paper, but a silicone baking mat is fine, too. Be sure to rotate the cookies and keep a close eye on them. They are best when just cooked and not browned around the edges; in my oven that takes about 8 minutes.

Yields 30 to 40 cookies, depending on cookie cutter size.

• 2 cups (9 ounces) unbleached all-purpose flour; more for rolling
• 1 ½ teaspoons baking powder
• 1/2 teaspoon kosher salt
• ¾ cup (6 ounces) unsalted butter, softened
• 3/4 cup granulated sugar
• 1 large egg
• 1 teaspoon pure vanilla extract
• 2 tablespoons heavy cream
• 1/2 teaspoon finely grated orange zest
• Cookie decorations, royal icing, or melted chocolate

1. In a small bowl, whisk the flour, baking powder, and salt to blend. Using a stand mixer or a hand-held mixer, beat the butter and sugar on medium-high speed until well creamed. Add the egg and beat until the mixture is light and fluffy. Add the vanilla, cream, and orange zest and mix just until well combined. Reduce the speed to medium low and gradually add the flour mixture. Mix just until well combined.
2. Wrap the dough in plastic (you can portion it into two or three pieces first if you like) and chill in the refrigerator until firm enough to roll out. (Or chill overnight.)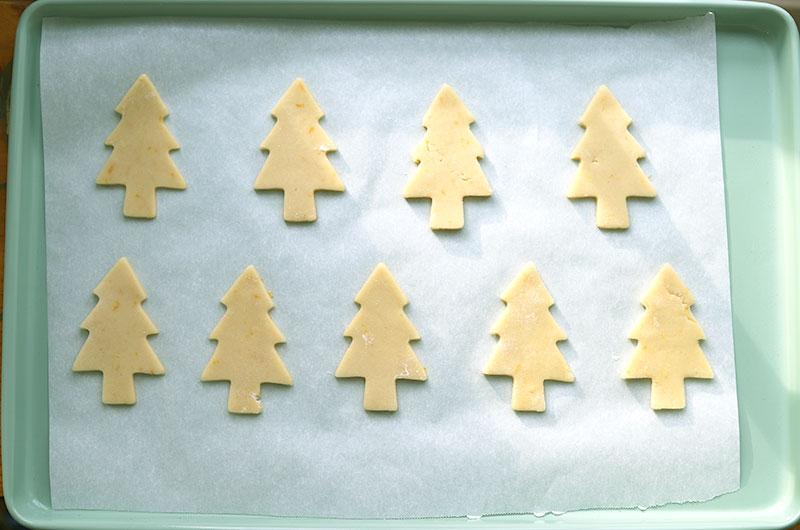 3. When ready to bake, cover a few baking sheets with parchment and heat the oven to 350°F. (Check your oven temperature with an oven thermometer if you can.) Flour a work surface and have extra flour ready.
4. Working with a handful of dough at a time, roll the dough to 3/16 to 1/4 inch thick, lightly flouring the pin, the dough, and the work surface as needed to prevent sticking. Using a variety of cookie cutters, cut shapes as close together as possible. Combine and reroll scraps as necessary.
5. Using a thin metal spatula, transfer the cutouts to the baking sheet and decorate with sanding sugars or other pre-cooking decorations as desired.
6. Bake one sheet at a time until the edges of the cookies are just beginning to turn golden, 8 to 9 minutes. Watch carefully — the cookies should remain pale, so you'll want to get them out of the oven before much browning happens. Let the cookies cool completely on racks and decorate further as you like with royal icing or melted chocolate. Leave the decorated cookies at room temperature to dry completely.
7. The cookies will keep, well-wrapped, at room temperature for a couple days, but my favorite way to keep them fresh longer is to freeze them. Layer them in freezer containers or zip-top bags with pieces of parchment or wax paper between layers.
---
Note: Royal icing recipes abound on the Internet. You will see variations in the amount of confectioners sugar used with two or three egg whites. That's because a stiffer royal icing is perfect for piping; a looser royal icing is great for dipping or brushing the cookies. (I used two egg whites and 2 cups confectioners sugar for dipping.) Stiffer royal icing can be loosened with a bit of water for brushing. You can also find recipes using meringue powder if you are concerned about using raw egg whites.