For this recipe you'll need a large Dutch oven with a tight-fitting lid. The pot should have a volume of at least 5 or 6 quarts and a diameter of 9 to 10 inches to fit a butterflied broiler chicken. If you have a small chicken, or two chicken halves, you can use a slightly smaller pot. Cast iron enameled pots distribute heat best (you don't want unlined cast iron for this).
I've given you two options for vegetable combinations below; choose one.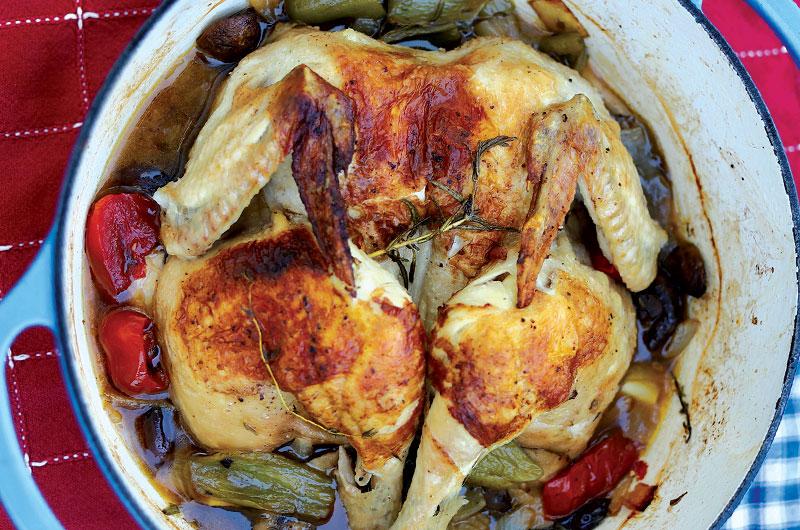 One 4- to 4 1/2-pound fresh whole chicken (preferably local), butterflied or spatchcocked (backbone removed and chicken pressed flat; see tips in Going Dutch)
2 tablespoons unsalted butter
2 tablespoons olive oil, a bit more for vegetables
Kosher salt
Fresh pepper

Vegetables and Aromatics, Option 1
½ large fennel bulb, cut into chunks
1 large onion (7 ounces), cut into chunks
1 lemon, cut into 12 to 16 pieces
4 baby or small red potatoes (6 to 8 ounces total), halved or quartered
6 to 8 ounces carrots, sweet potatoes, or turnips, cut into large (1½-inch) pieces
10 garlic cloves, peeled
10 to 15 sprigs of hearty herbs (any combination of thyme, rosemary, sage, oregano)
Chopped fresh parsley for garnish (optional)

Vegetables and Aromatics, Option 2
1 large onion (7 ounces), cut into chunks
1 medium bell pepper, any color, cut into chunks
8 ounces mixed cremini and/or shiitake mushrooms, stemmed if necessary and halved
12 to 16 pitted black olives
10 garlic cloves, peeled
10 to 15 sprigs of hearty herbs (any combination thyme, rosemary, sage, oregano)
8 ounces (3 to 4) plum tomatoes, each cut into 6 pieces

1. Arrange the racks in your oven to accommodate the height of your Dutch oven with the lid on. Heat the oven to 375 degrees.
2. Put the Dutch oven on the stove over medium heat and melt the butter with the oil.
3. Salt and pepper both sides of the chicken well. When the butter in the pot has melted and is starting to bubble, put the chicken in the pot, skin side down. Let it cook, browning, without disturbing, for 10 minutes. (If it is not sizzling, turn up the heat a bit.) Lift the chicken up with tongs to see if it is well browned in most areas that have had contact with the pot. If you want to brown it a bit more, shift it around (still skin side down) and cook for another 5 minutes. Transfer the chicken to a sheet pan or large plate.
4. Meanwhile, combine all the vegetables and herbs in either Option 1 or Option 2 (reserving plum tomatoes in a separate bowl) in a bowl. Toss with a few teaspoons of olive oil and 1 teaspoon salt.
5. Add the vegetable mixture (except the reserved tomatoes if choosing Option 2) to the pot, turn up the heat to medium-high and cook, stirring, until the vegetables have begun to soften (some will be browning), about 6 to 8 minutes. Add the reserved tomatoes to the pot and stir.
6. Return the chicken to the pot, skin side up, arranging it over the vegetables. Using tongs, you can pull a few vegetables up and around the chicken so that the chicken is nestled in the vegetables, but not completely covered by them. If your Dutch oven is on the smaller side, the chicken will just have to sit completely on top of the vegetables.
7. Cover the pot and put it in the oven. Cook, without disturbing, for 90 minutes. Check to see if the chicken is very tender (the leg/thigh will wiggle and easily pull away from the breast and the temperature should be at least 165 degrees in the thigh). If not, continue cooking for 10 to 15 minutes and check again.
8. Remove the pot from the oven and put it on a heat-proof surface. Take off the lid (with pot holders!) and let the chicken sit for a few minutes while you warm two or four plates or very shallow bowls. Pull out the herb sprigs if you like.
9. Portion the chicken: you can transfer the chicken to a cutting board and cut it into serving pieces, or you can essentially pull it apart in the pot. Use a small sharp knife to cut off breast meat, but the leg and thigh should easily pull away from the breast. Arrange a serving of chicken in each dish along with a serving of vegetables. Be sure to spoon some of the liquids in the pot over all as well. Garnish with fresh parsley, if you like.