When I was editor of Fine Cooking magazine, we had a feature called "Cooking Without Recipes." It wasn't as scary as it sounds; in fact it was liberating. You followed the directions to learn a great technique for making, say, a risotto, or a stew, or baked pasta, but you chose from a list of ingredients at every step to customize the dish as you liked. You could make the recipe again and again with different combinations of ingredients.
Today I still like the idea of a "template" or "blueprint" recipe. These kinds of recipes make a lot of sense for cooks trying to eat in season, shop locally, and not waste a lot of food. Vineyard cooks. You. Me. Right?
Naturally, I bring this up because I went a little crazy at the West Tisbury Farmers' Market on Saturday. (Take a look at the photos, each linked to a recipe idea.) I wound up with so many different vegetables that I began to think about recipes that are customizable.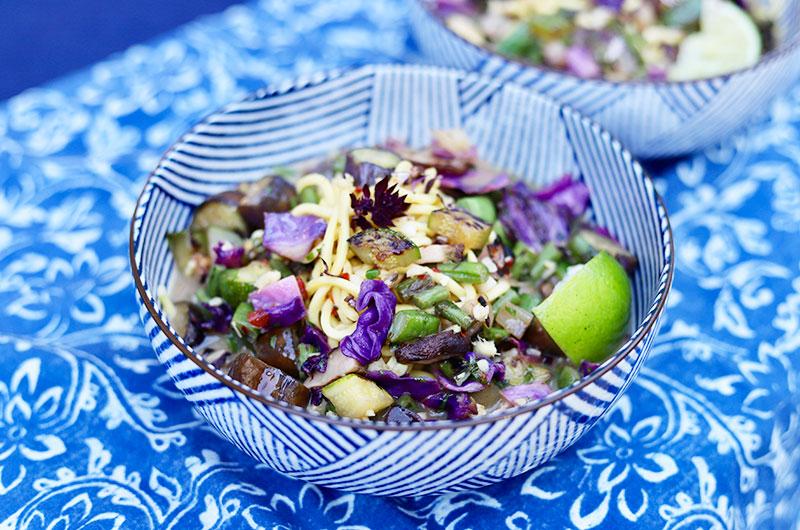 One dish I fall back on again and again is Chinese Egg Noodles with Baby Bok Choy, Sugar Snaps and Spicy Coconut Broth. It's the easy broth – coconut milk, soy sauce, lime juice, maple syrup, chili sauce — that makes this a winner in the great-flavor-fast department. I realized that I often replace the bok choy and sugar snaps (spring vegetables) with what I've got on hand, so I revised the recipe to be more flexible. Voila, the customizable Chinese Egg Noodles with Summer Veggies in Coconut Broth (above). You can always add shrimp or cooked shredded chicken to this dish, too.
Next I went straight to minestrone, the ultimate destination for market vegetables — especially beans, greens, tomatoes, corn, and carrots. You might think of minestrone as a winter soup, but a lighter and fresher version is a great season-bridger. This Harvest Minestrone starts with bacon or pancetta and finishes with grated Parmigiano, but you can adjust it to make a vegetarian version.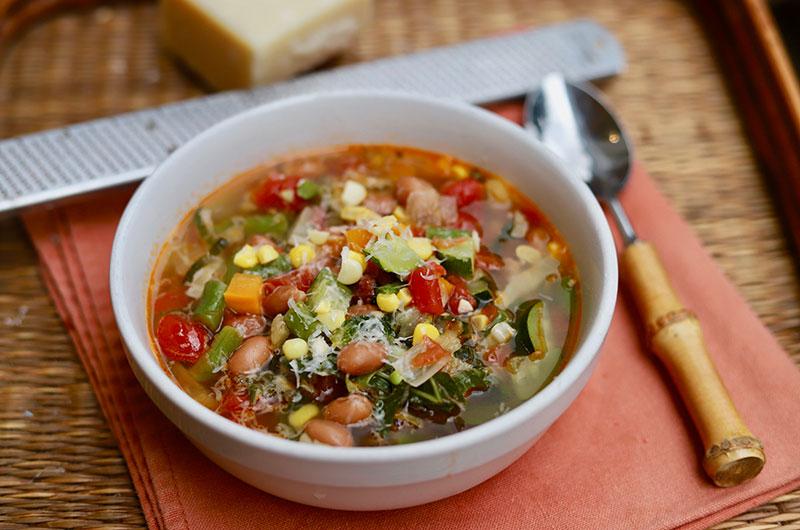 Another versatile recipe we have on cookthevineyard.com is this dish of Caramelized Turnips, Potatoes and Sweet Potatoes, which showcases a great stovetop method for cooking dense vegetables called slow-sautéing. (Carrots, celery root, and parsnips all work, too.) You can gobble the veggies up straight out of the pan, or turn them into a warm salad with hearty greens, some cheese, and some nuts.
I must admit, we're getting kind of excited about the return of sweet potato season. It means making Sarah Waldman's Slow Cooker Moroccan Chicken Thighs with Sweet Potato for dinner. Yum. And also, having Sweet-Potato Mini Fries with Limey Dipping Sauce and Spiced Salt at least three times a week! Speaking of slow cookers, now's a good time to read Sarah's Slow and Steady to figure out how a slow cooker could fit into your cooking life.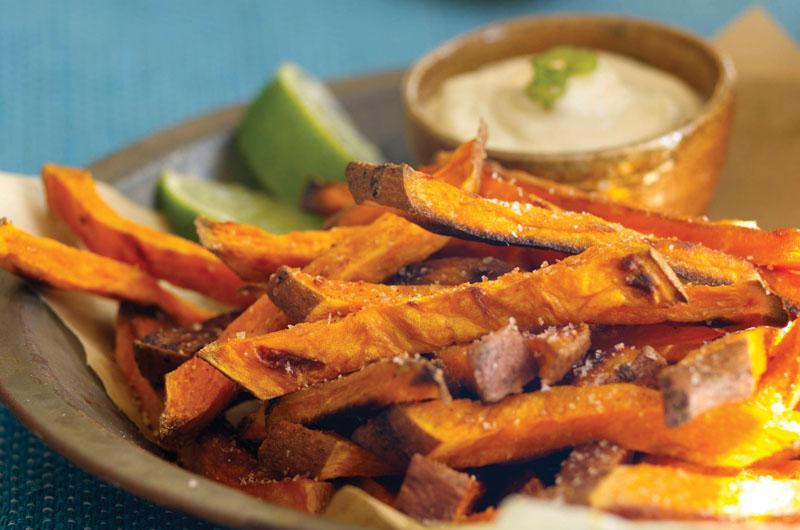 I leave you with one last little black-dress recipe, this fabulous Tomatillo Salsa from Chef Spring Sheldon. Farmer Lydia Fischer of The Garden Farm was selling beautiful tomatillos at the farmers' market on Saturday and she had Spring's recipe on hand for inspiration. (Tip: If you want to grow tomatillos, Lydia says you know they're ripe when the husk splits.)
I bought a pound of tomatillos from The Garden Farm, poblanos from Morning Glory Farm, and made the easy sauce on Sunday. We ate it drizzled on pot-roasted chicken and with leftover chicken in corn tortillas. So good. And we also paired it with roasted Lunchbox peppers and warm goat cheese. Check out our Instagram feed @cookthevineyard for the whole tomatillo story.