This technique is a great way to use up excess butternut squash—and create a tasty ingredient at the same time. (It works well with smaller honeynut squash and koginut squash as well — both of which have dense, tender flesh. Or really just about any winter squash!) Because the squash halves roast cut side down, the skin acts as an insulator and trapped moisture steams the squash through and makes it very tender. Plus, the cut sides get a bit of caramelization. You can make dozens of things with the roasted squash, from soup and quick bread to stuffed pastas, savory pancakes, side dishes, pies, pizzas, sauces, and more.
One pound of squash yields about 1 cup roasted flesh. You can store the cooked squash, tightly covered, in the fridge for up to 5 days, or in the freezer for several weeks. If it sheds a bit of liquid while in the fridge, just drain it off or put the squash in a nonstick saucepan over low heat to cook off the excess moisture. For a smoother texture, puree the squash after roasting and before storing.
Unsalted butter, slightly softened or olive oil
Kosher salt
Maple syrup (optional)
3 to 3 ½ pounds butternut squash (About 1 jumbo, 2 medium or 3 small)
1. Heat the oven to 400 degrees F. Line a heavy rimmed baking sheet with aluminum foil first and then top with parchment paper. Rub the parchment paper all over with a little butter (for more caramelization) or olive oil. Cut the squash in half lengthwise and scoop out the seeds (I use a big serving spoon). Arrange the squash halves (cut side up at first) on the sheet pan.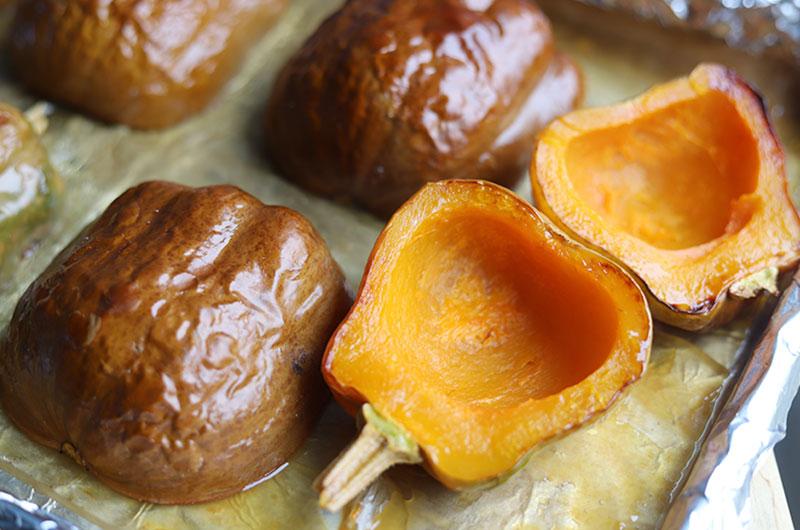 2. Sprinkle on a little salt and drizzle just a tiny bit of maple syrup over the squash if you like. Then turn them over so that they lie cut side down on the baking sheets.
3. Roast the squash until the flesh is very tender (poke and prod the neck end with a finger to be sure), the skin is very browned and collapsed, and the edges of the undersides are caramelized. Cooking times will range from 30 minutes for very small squash to about an hour and 20 minutes for the largest squash.
4. Let the squash cool on the sheet pans. Gently turn the squash over and scoop the flesh out with a serving spoon (or your fingers), leaving all the skin behind. Store in a covered container in the fridge or the freezer if not using in a recipe right away.
*