Our food memories are circumstantial. The food is a character, but let's face it, often no more than a bit part player. Grilling burgers next to the softball field where you and your proud teammates just played adds that extra bit of seasoning, so the savor of the juicy meat is recalled, even though the stains on the uniform linger longer than the actual taste in your mouth. Eating steamers and lobsters on the beach then throwing the shells into the ocean isn't soon forgotten, but we mostly remember the bare feet, not the seafood or the occasionally sandy bite. Just about any meal in Europe feels romantic, usually fogged by bottles, not glasses, of wine. And picnic food is better on a sailboat (if you are of the right constitution) as is any food enjoyed around a campfire. I've heard it said that hunger is the best seasoning. Maybe, but then the time and place in which we create our food memories are the MSG, the umami enhancer, salt on steroids.
My cousin Josh Scott's kids, Tristan and Charlotte, are luckier than most in many ways, but I think when the day is done, whatever wealth they may come by later, their greatest riches will always be what they see when they look back. These two young farmers, both prepubescent and fearless – blonde "feral" stock, Josh calls them – radiate with the light of a less civilized but, it often seems to me, more idyllic time. Lively, curious, independent, and wise, these kids live with and around the animals their parents have been raising since before they were born.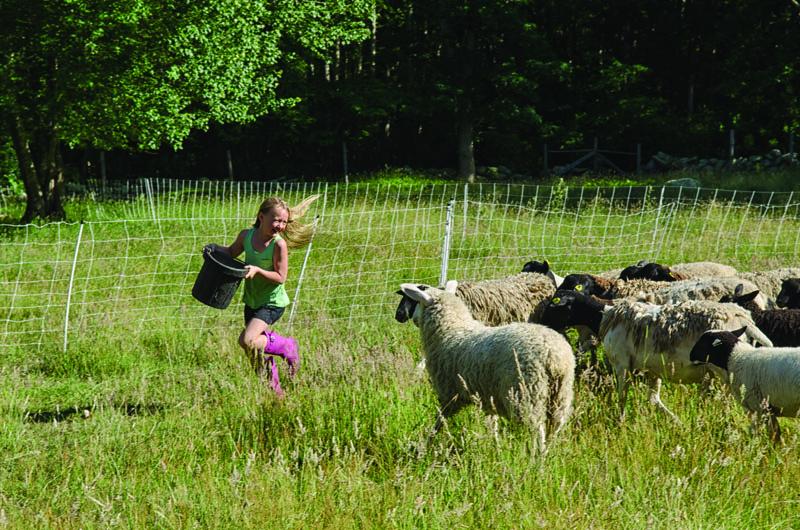 Back in 2003, when Josh and his wife, Lindsey, got their first livestock, neighbors inquired about having the woods surrounding their home cleared, fenced, and grazed. But Josh and Lindsey were young and energetic and took the bull by the horns, so-to-speak, and started what has become a much-expanded relationship between the food they eat and what they raise. They bought the sheep first, and a few laying hens, and then added a cow into the mix making a "flerd." Then came pigs and birds, chickens and ducks, raised for meat. Today their thirty head of Dorper sheep and four Devon/Angus cows are rotated on grass all over Chilmark. Their heritage breed pigs, meanwhile, are under the oak trees next to their house in a pen large enough to allow them to run and play as they please while rooting around for acorns. Josh and Lindsey believe, like Patrick Martins, founder of Heritage Foods USA, that "animals – like humans – that are active are healthier, stronger, more productive and more intelligent…"
Almost as soon as they could walk, the two towheaded children joined their parents in the family business, Beetlebung Farm Meat. Charlotte was the first to announce that Anya, their sow, was popping out piglets. She and Tristan climbed over the fence to be with the pig as she labored through the birth of her first healthy litter. It was also Charlotte who consoled the adults around her who were struggling after a favorite rabbit died last year: at only seven years old, she already understood that death is a sad but true part of life – something to deal with respectfully and then move on from. Their parents try to learn as adults do, consciously and carefully from those who have done before what they are undertaking, and they continue to modernize their techniques to maximize the health and happiness of their animals. Charlotte and Tristan learn as if by osmosis, by experiencing. They all, however, enjoy sharing what they know and the beautiful meat they produce.
Neither Josh's passion to raise wonderful, nourishing food nor his success surprises me – he comes by it naturally. Martha's Vineyard has a rich agricultural history and our family can trace our roots here back to 1670, when Henry Luce and his wife Remember settled. Our relatives, their worn sleeves rolled up to reveal callused hands, cut down trees and built and then rebuilt the stonewalls that once held in herds of sheep and now attractively break up lawns and gardens all over the Island. More recently, it was Josh's mom, my aunt Marie, who helped our grandfather run Beetlebung Farm, the property he bought off Middle Road in the 1960s to help ensure we remained connected to a special and worthwhile tradition. Josh and I both grew up helping on the farm, like everyone in our families; I think it formed us both.
There was a time here when a fisherman could dip a bucket over the side of his skiff and fill it with docile cod. Those days are gone, the leviathans have disappeared, the swordfish and the eels and the herring. We have been greedy with the wild bounty, here as elsewhere, and now must pay the price. I thought a good deal about all of that, the changes here for good and not, as I worked this past year, cooking on the Island and then in Japan, while finishing work on a book (The Beetlebung Farm Cookbook, Little, Brown and Company, 2015). I thought about my Island while wedged in the subway in Tokyo and then again when I ate fish almost as fresh and delicious as what I am accustomed to here. I thought about my family of farmers who fished, as I re-read the recipes that I put together over the course of a year here cooking with friends at the farm.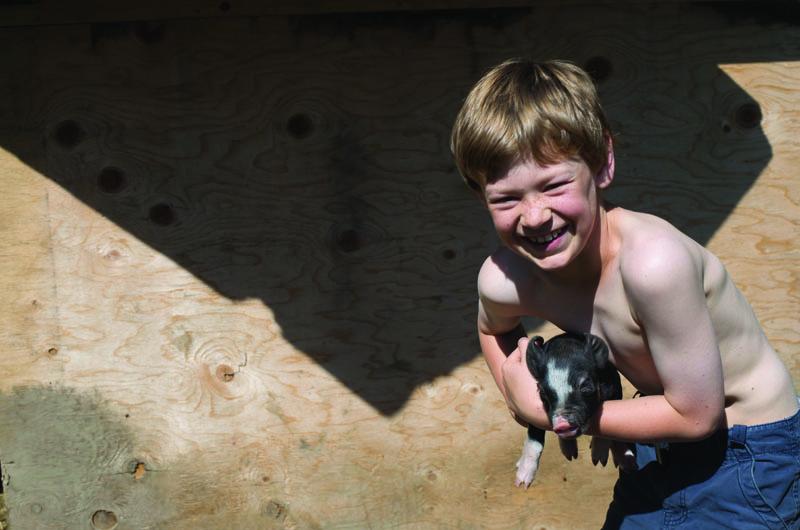 I believe the pastures and gardens here must take up the slack if Charlotte and Tristan are to continue to eat as well as Josh and I always have. Which is why I respect what he and his family do so much. When the Scott children bring in eggs from their coop, still warm from a broody hen to eat alongside bacon from a pig they helped birth, it is more than the effort and freshness that provides that extra dose of umami, and it is worth more to all of us than the simple act implies. It's not fancy – but it is a big deal.
Similarly, burgers – a Fischer and Scott family favorite – are not a big deal, but when I cook them for these guys I want to make them as good as can be. Burgers are not something you need a recipe for but, then again, like anything you want to do well, it's good to go in with a game plan, so here goes. I obviously begin with meat I get from Josh and Lindsey, as they raise fine animals and sell some of the best-tasting meat I've ever had. I like hamburgers, but honestly a burger made with their sea-air seasoned lamb is my pick any day.
All you need to add to the meat is a little salt and some pepper, if you like it. Then gently form the ground lamb into patties (don't fiddle too much; it can make the burgers tough). I like mine mid-sized, about six ounces, enough to nicely fit in your hand or the right bun. I usually grill burgers, but I also like them cooked in a cast iron skillet in a skim of oil. Either way, start hot to get a good sear, then after about two minutes reduce the heat (or move the meat to a cooler section of the grill). Cook another minute or so then flip the patties and cook five minutes more for a nice rosy pink inside.
I serve burgers (lamb and beef) on toasted English muffins, spread with a
little aioli (see recipe at right), topped with Mermaid Farm feta, a thin slice or two of cucumber, a drizzle of Rolling Rock Sauce (see recipe below), and finished with a nice piece of lettuce. Enjoying them outside at a picnic table with Josh and Lindsey and their young herders, life doesn't get much better.
Recipes reprinted from The Beetlebung Farm Cookbook.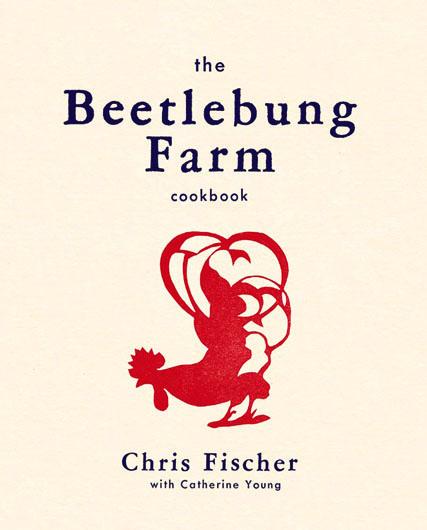 Rolling Rock Sauce
Makes about one six pack
The variable in this recipe is the peppers. Add sweet peppers for depth, as many as you like, and add several different varieties of hot peppers for spice. Make a big batch at the end of the season, put it into clean, empty beer bottles (hence the name for this beer-less sauce), top each with a cork, and keep it in the fridge. You will never want ketchup on your burger again.
12 sweet and hot peppers, seeded and chopped
6 large red tomatoes, chopped
2 onions, peeled and chopped
2 cups malt or apple cider vinegar
4 tablespoons pickling spice (buy these or make your own by combining mustard seeds, coriander seeds, allspice berries, chili flakes, ground ginger, bay leaves, cinnamon, and cloves)
6 teaspoons Worcestershire sauce
Kosher salt
About ¼ cup maple syrup
1. Put the peppers, tomatoes, and onions in a big sauce pot. Add the vinegar and pickling spices, Worcestershire sauce, and a little salt. Bring to a boil over medium-high heat, then reduce the heat and simmer until the vegetables are falling apart and the mixture is blended and thick like tomato sauce, about 2 to 3 hours.
2. Put the sauce through a food mill (or put it in a food processor then strain it). Sweeten it to taste with maple syrup, season with salt, then refrigerate until you are ready to serve.
Aioli
Makes about ¾ cup
The trick to making a successful aioli (essentially garlic mayonnaise) is adding the olive oil to the egg at a much slower pour than you think you should. If you are making a large batch, you can use a food processor (it will keep for about a week in an air-tight container); otherwise, doing it by hand is the way to go.
½ small clove garlic
About ¼ teaspoon salt
Pinch of minced lemon zest
2 egg yolks
1 tablespoon freshly squeezed lemon juice
½ to ¾ cup extra-virgin olive oil
1. Mince the garlic with the salt, chopping until it is a paste. Put the garlic salt in a bowl.
2. Add the lemon zest and the egg yolks. Whisk together. Add the lemon juice and, whisking constantly, very gradually add the oil in a slow stream. If you plan to use your aioli as a sauce or base to a dressing, stop adding oil when it is the consistency of thin pancake batter. If you want it thicker, continue adding oil. Use the aioli immediately or store covered in the refrigerator.