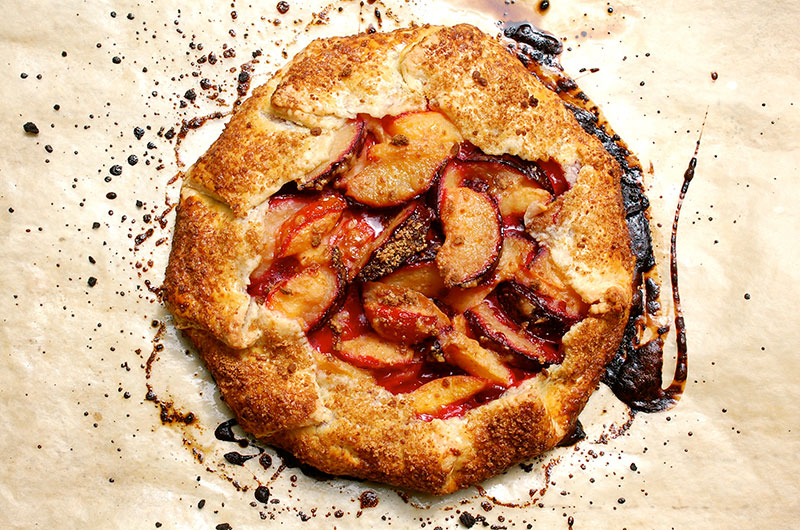 This is the dough recipe to use when making a rustic tart with savory (butternut or cabbage and apple) or sweet (fruit) filling. The food processor does an excellent (and easy) job of cutting butter into flour to yield an ultimately ultra-flaky pastry dough. But once you add water, gluten forms and you risk toughening the dough if you over-process. So I like to briefly process the dough once the water is added and then dump the loose mixture out into a large, shallow mixing bowl to finish bringing together. Start to finish, this is a quick process – then you can pop your dough into the fridge or freezer to have at the ready. This recipe yields enough dough to make 1 regular tart, 2 small tarts, or four mini-tarts (as in these Roasted Rhubarb-Strawberry Mini Galettes).
Yields 1 regular disk of dough, 2 small ones, or 4 minis
1 cup (4.5 ounces) unbleached all-purpose flour

1 tablespoon granulated sugar
1/4 teaspoon table salt
1/4 pound (1 stick) cold unsalted butter, cut into cubes (keep cold if working ahead)
2 tablespoons plus 1 teaspoon ice water

1. In the bowl of a standard food processor, combine the flour, sugar, and salt. Pulse briefly to combine. Add the cubes of butter and pulse about 20 times, or until the butter particles are quite small. With the motor running, add the ice water in a stream. Process until the dough begins to come together (it will still be loose – if you pinch some together it should form a clump). Don't overprocess.
2. Turn the loose dough out into a big mixing bowl and knead it briefly to finish bringing it together. Divide the dough into 2 equal pieces if making smaller tarts or 4 if making mini tarts. (Using a scale makes this easier. Two pieces should weigh about 5 ounces each, so four minis would weigh 2.5 ounces each.)
3. Shape the dough into one large disk, 2 smaller disks, or 4 mini-disks, each about 3/4 inch thick, wrap in plastic, and refrigerate or freeze.