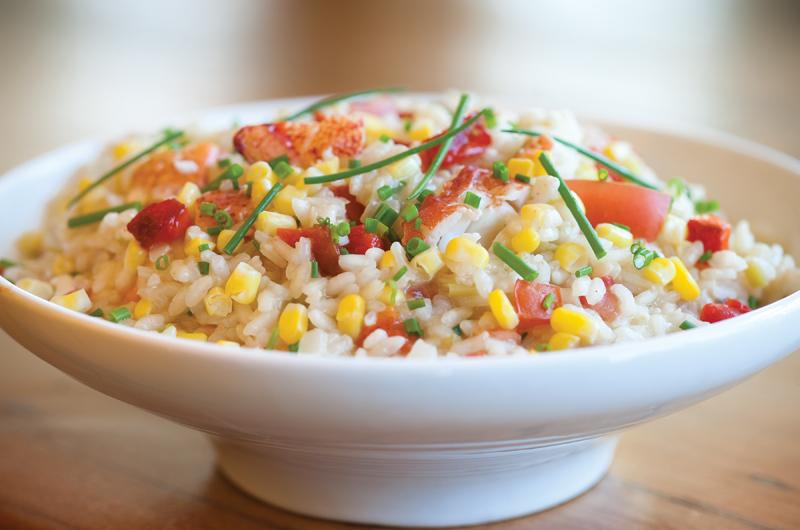 Fresh chunks of lobster with summer corn and tomato make a colorful and tasty risotto. This can be served as a main course with a salad, or for a dinner party serve as a delicious side dish with a piece of grilled fish or steak for surf 'n' turf.

Serves 4
3 lobsters (1–1 1/4 pounders)
1 tablespoon butter
1 tablespoon olive oil
1 whole leek, cut in half lengthwise and thinly sliced
1 1/2 cups Arborio rice
1/2 cup white wine
4 to 5 cups chicken stock, heated
Salt, to taste
1 roasted red pepper, chopped (about 1 cup)
1 cup fresh corn kernels
1 tomato, chopped
2 tablespoons finely chopped fresh chives
1. In a large pot, bring 3 to 4 inches of water to a boil. Plunge lobsters into the boiling water, cover, and cook for 8 minutes. Remove lobsters from pot and allow to cool. Remove lobster meat and chop into 1-inch chunks.

2. In a wide soup pot or Dutch oven, heat the butter and oil over medium heat. Add leek and sauté until soft, about 6 or 7 minutes. Add rice, stirring to coat with oil, and add the white wine. Stir, on medium heat, until wine is absorbed into the rice, about 2 to 3 minutes. Add warm stock a ladle full at a time, and stir until liquid is nearly absorbed before adding the next ladle of stock. Season to taste with salt as you are cooking.

3. The rice should be ready in approximately 20 minutes. Just before it's ready, add the red pepper, corn, and tomato to cook lightly, adding additional liquid if needed. Add the lobster meat and heat through. Taste for salt, and add a bit more if needed. Garnish with chopped chives.
This recipe was originally published with the story, All About Shellfish.