With all the Fair food I feasted on this past weekend, I'm ready to eat something lighter. (Though I wouldn't turn down another one of those root beer floats if one magically appeared.)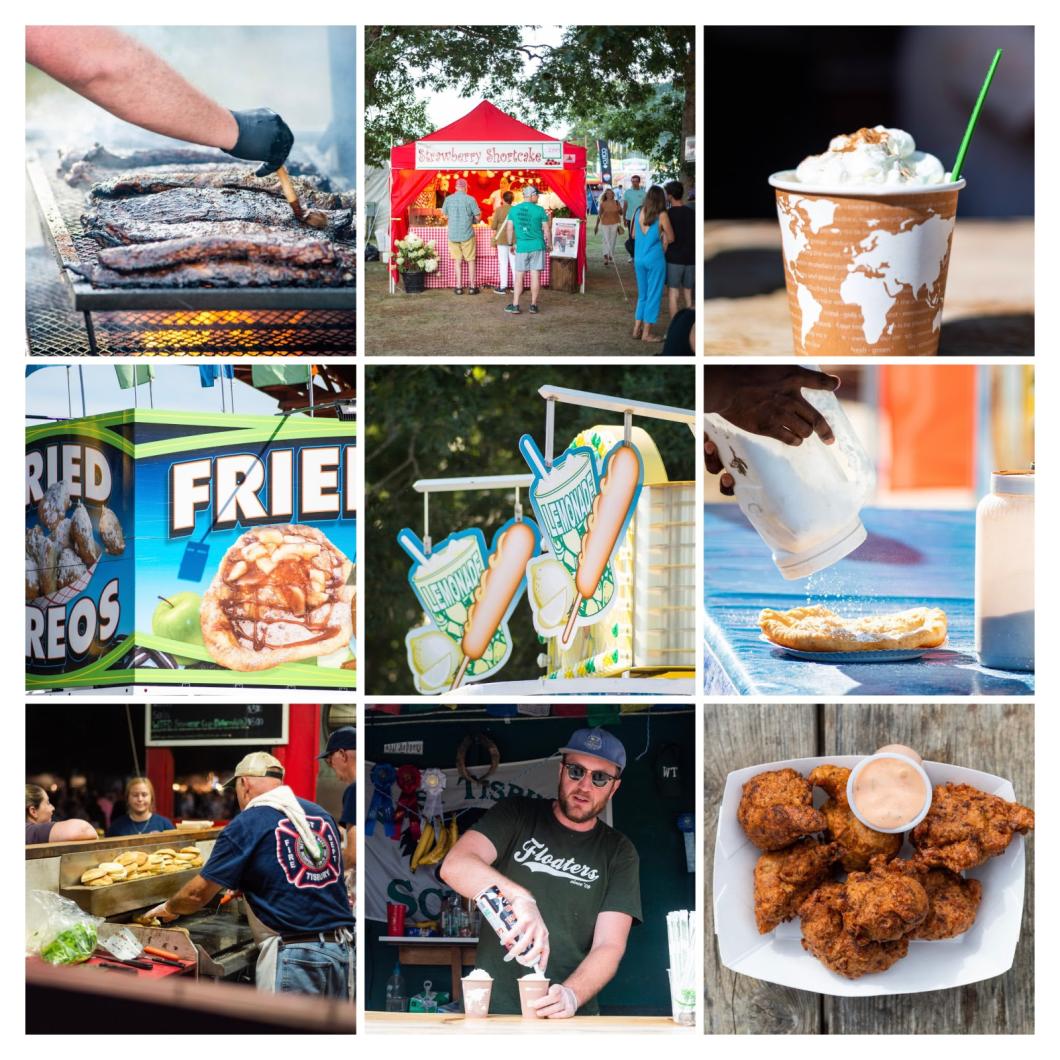 And I know just the thing to cook right now: Chef Ben DeForest's Island Fresca, a brilliantly simple soup of fresh corn, chopped beefsteak tomatoes, basil, and Parmigiano. You cut off the corn kernels (here's how to do that safely), simmer the cobs in water, strain, add the corn kernels and tomatoes to the broth, simmer briefly, taste and season with salt and pepper. Ladle and serve with a flourish of basil (or basil oil or pesto) and Parmigiano. It's the quintessential third(fourth?!)-week-of-August-on-the-Vineyard dish, and everyone likes it. Remember, though, you've got to use ripe, juicy beefsteaks and fresh sweet corn for the best flavor.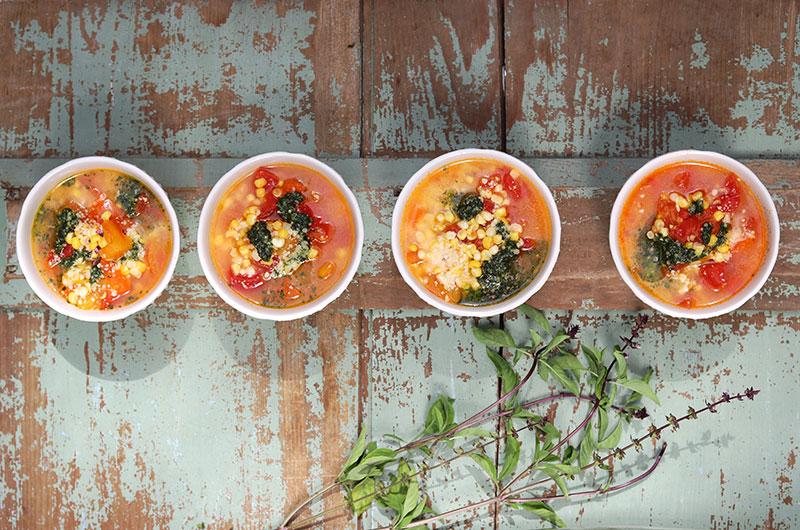 By the way, proof that Jim Athearn himself actually hand-picks the corn that Morning Glory Farm enters in the Fair – these photos of Jim dropping off the entry last Wednesday. The corn won a special recognition award for being so beautiful.
Making Island Fresca inspired me to throw together a little pesto with my Thai basil and parsley. (The Thai basil is the happiest thing in my garden – it apparently likes heat and drought.)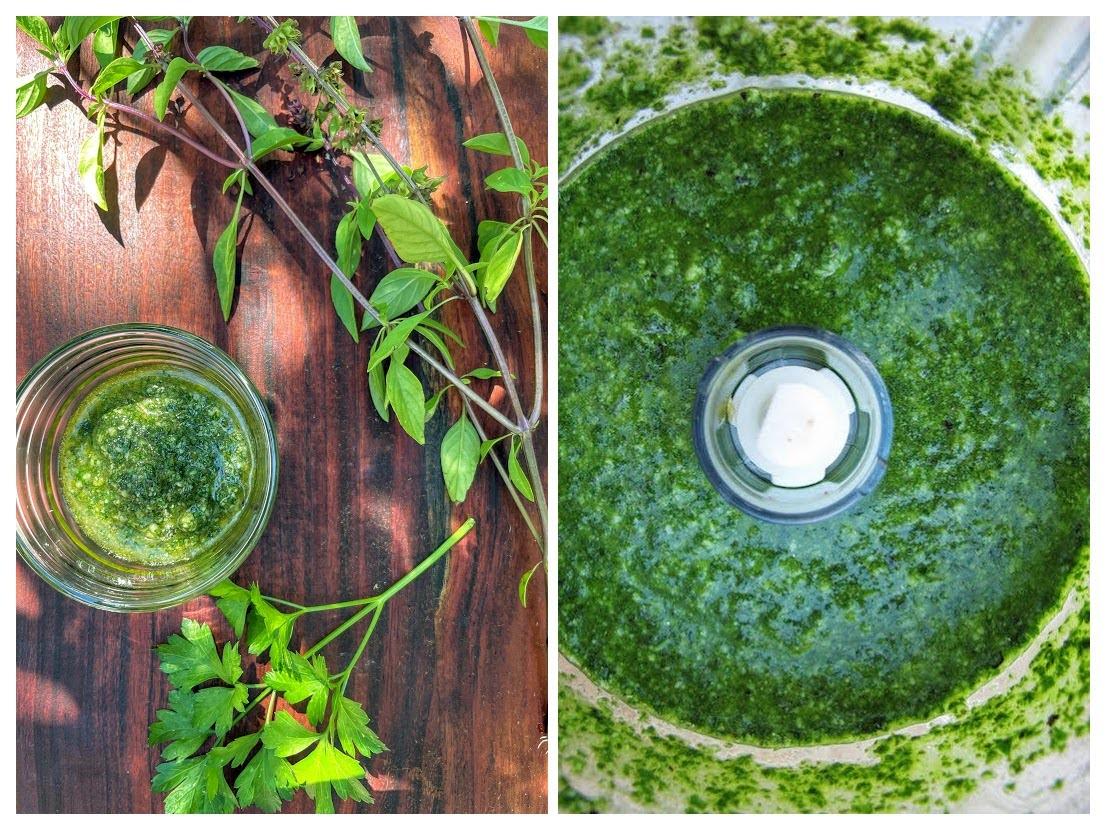 Here's a Spinach, Basil, and Toasted Pine Nut Pesto you could try.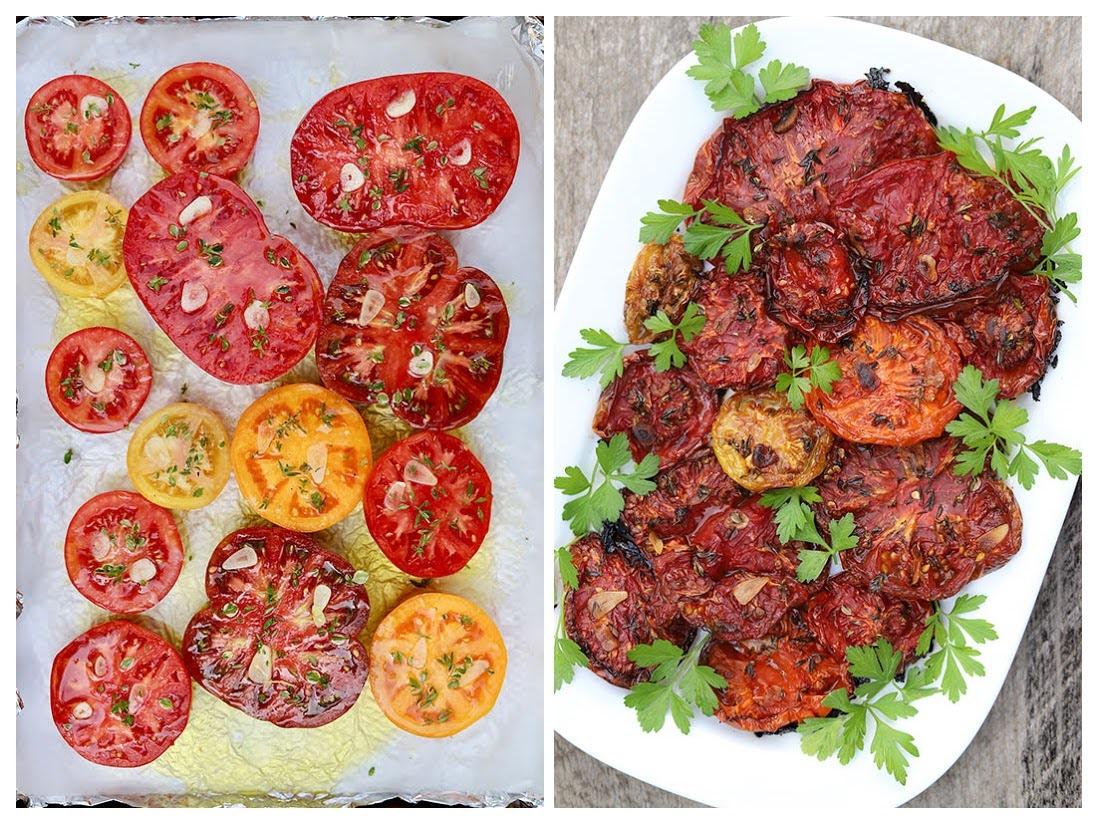 You know this is also the week every year when I jump up and down about roasted tomatoes. Over the years, I've settled on two favorite techniques – slow-roasting for big beefsteak tomatoes (above) and quick-roasting for plum and sandwich tomatoes (below). Slow-roasting (at a lower oven temp) allows the juices to slowly reduce, leaving behind a meaty, caramelized tomato with big flavor. I usually don't remove the seeds and inner flesh first. Slow-roasted beefsteaks freeze well. (Hello summer eating in winter!)
Quick-roasting smaller (seeded) tomatoes at a high oven temperature (about 425 degrees F) also transforms the flavor of a raw tomato; many weeknights I use this technique to improve the flavor of a slightly underripe fruit. When I get time, I roast a big batch and store them in a glass jar in the fridge. I sneak them into just about everything.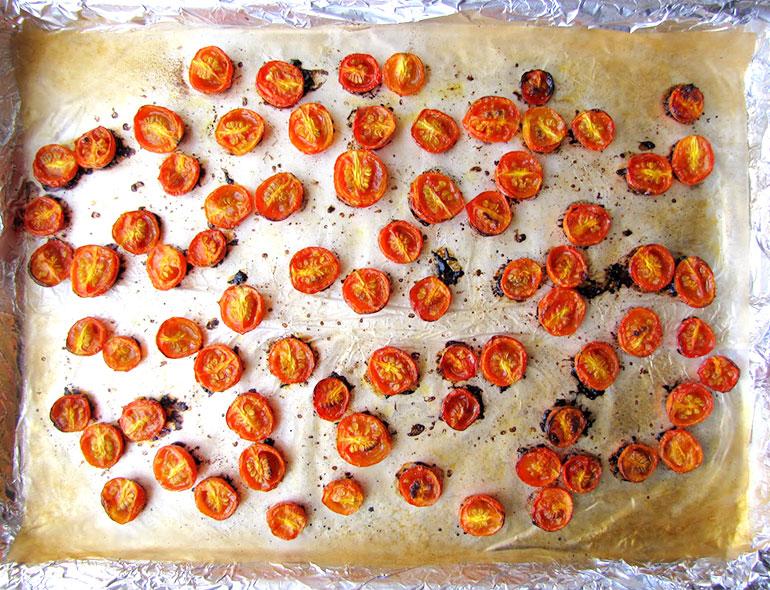 You can use the quick-roasting technique for cherry tomatoes as well. Talk about a versatile ingredient! Try Improv Pasta with Basil Sauce, Roasted Cherry Tomatoes, Green Beans and Parmigiano. Or Spaghetti with Roasted Cherry Tomatoes and Spicy Garlic Oil.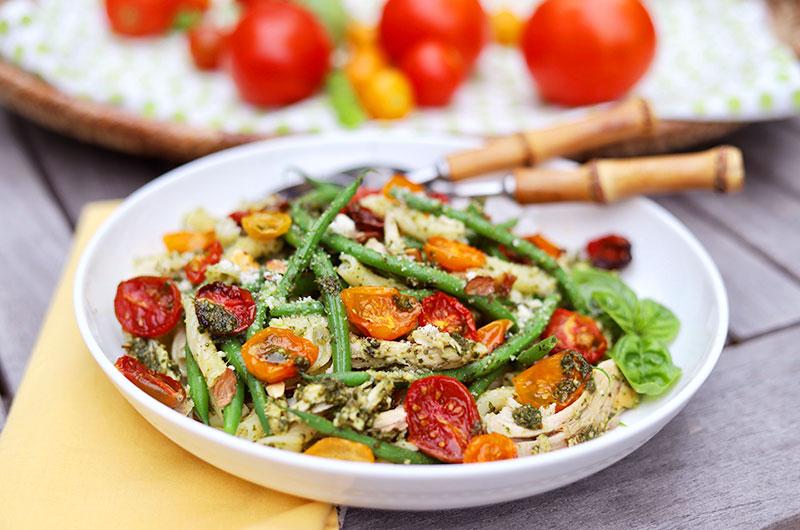 Or make Warm Baked Feta with Roasted Cherry Tomatoes, Olives and Herbs.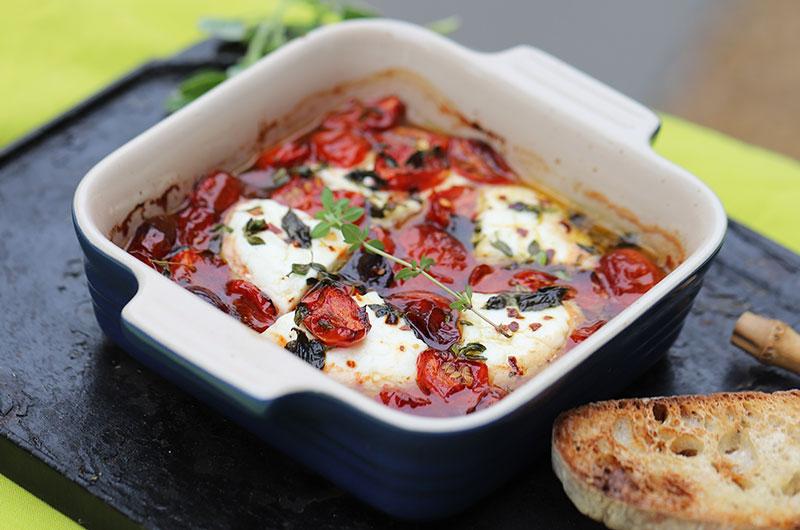 What else am I doing with my tomatoes this week? Something raw — Salsa Fresca with Serranos, Cilantro & Lime.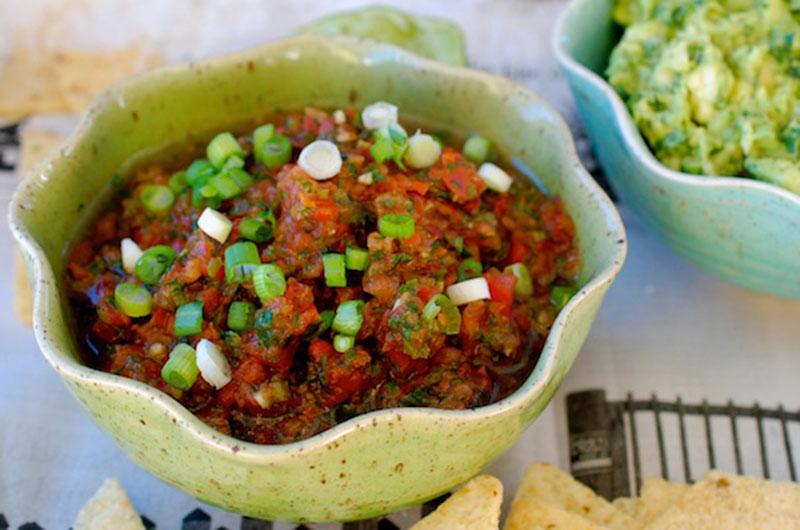 And something cooked. Well, roasted, actually – I can't stop myself. I'll be serving Oven-Roasted Clams in a Garlicky Tomato Pan Sauce with some good crusty bread.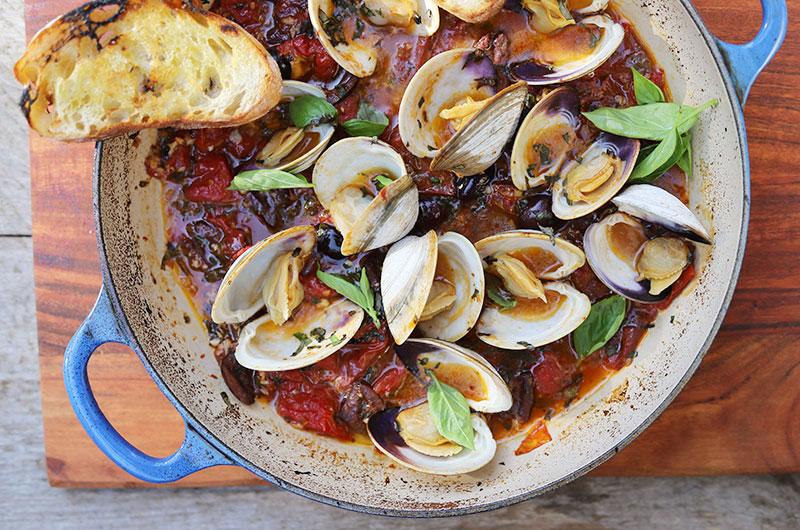 For dessert, I've been thinking about those Vanilla Cheesecake Puddings that Abby Dodge did for us in May. I think serving them with a blackberry-peach compote would be fantastic. To make the compote, toss sliced peaches and berries with sugar and citrus zest, stir and let sit.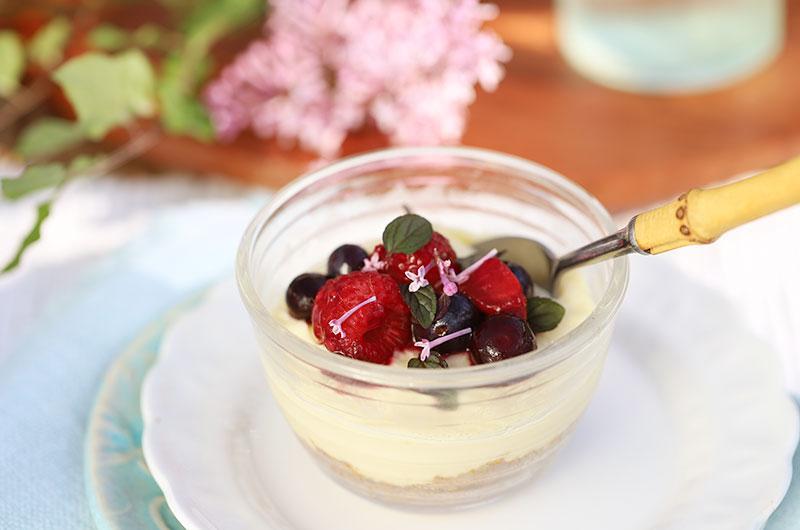 Hey, what do the contents of your Vineyard fridge say about you? Check out the latest Paul Karasik cartoon in Martha's Vineyard magazine for the illustrated answer to that burning question!
Have a great week, and we'll see you on Instagram @cookthevineyard.
---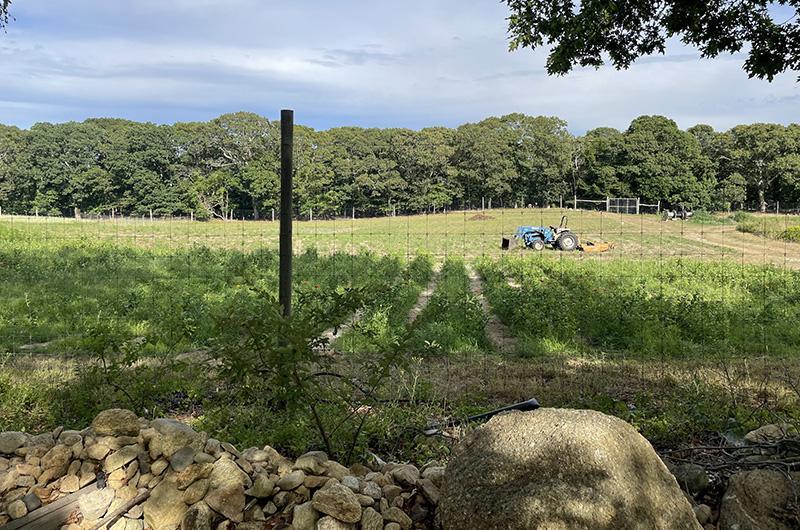 Three cheers for a new Dukes County chapter of the Massachusetts Farm Bureau — the first created in more than 40 years.
---
COOKBOOK TALK

• Tonight (Wednesday, August 24)at 7 p.m. at Bunch of Grapes bookstore, baker and author Brian Levy will be in conversation with Vineyard pastry chef and food writer Marnely Murray about his new cookbook, Good & Sweet: A New Way to Bake with Naturally Sweet Ingredients.
CLASSY

• Beetlebung Farm continues its vegetable variety tasting classes this Thursday, August 25 from 5 to 6p.m. The vegetable focus for this class is peppers. Email to reserve a spot.
And don't forget, you can find a complete list of open restaurants — as well as farm stands and retail stores — at What's Open on Martha's Vineyard.