In August the West Tisbury Farmers' Market is crazy – crazy fun but also crazy crowded. If you're here for a short time, definitely go. Because where else can you stock up on chocolate, sea salt, sunflowers, handmade soap, pie, cheese, jams, honey, oysters, summer veggies and adorable market tee-shirts all in one place?
But if you're looking for a more leisurely pace, I recommend a Sunday morning up-Island farmstand tour instead. The scenery can't be beat and the farmstands are plenty stocked. At Grey Barn or North Tabor, you might also grab a pastry – or get a chance to say hello to famous farm animals (Crouton the pig at North Tabor, Scooby the bunny at Grey Barn).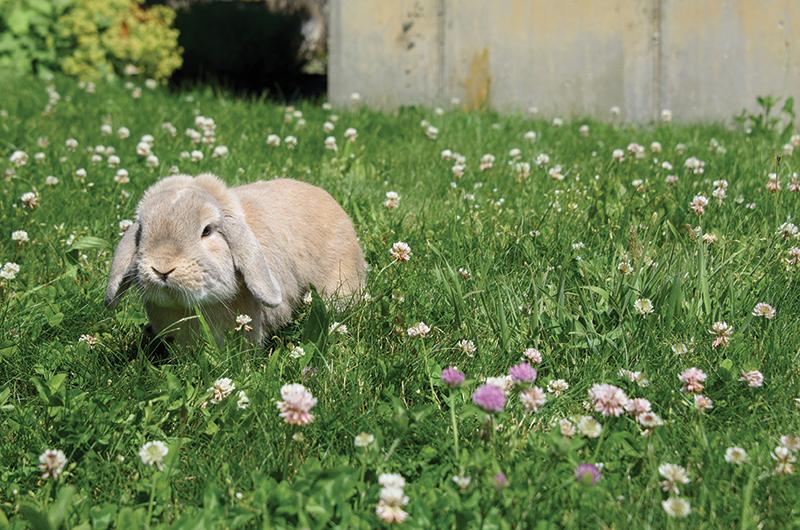 This Sunday, I was excited to see Beetlebung Farm's new "Farm Shack," built right next to their existing little farmstand in order to house the explosion of summer veggies coming out of the fields. The eggplants, peppers and tomatoes were simply gorgeous and I grabbed some of each.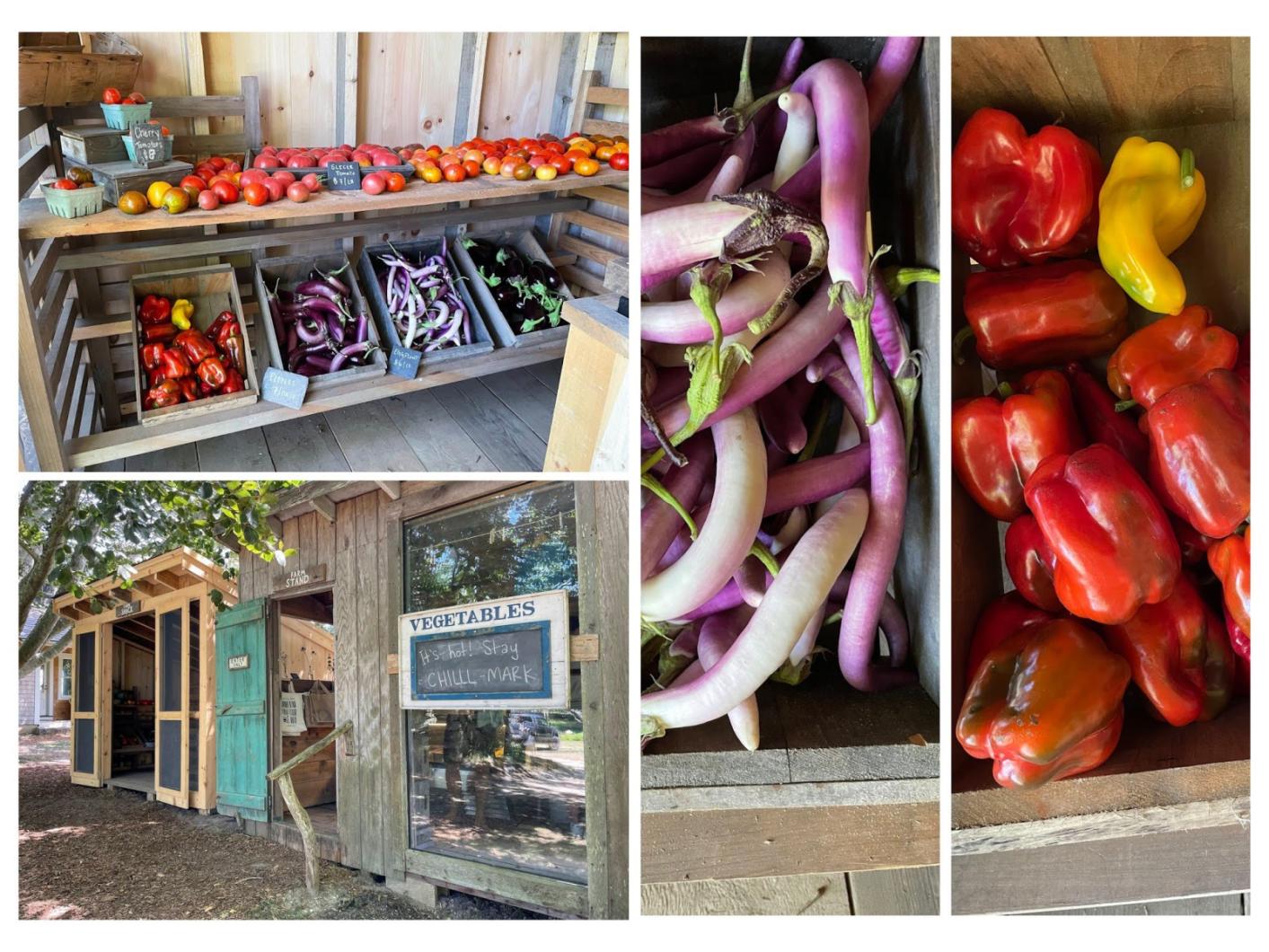 For our Sunday supper, I used the Asian eggplants in this Stir-Fried Eggplant, Corn, and Peanuts with Noodles and Soy-Ginger Sauce (photo at top). My husband declared this umami bomb (which just happens to be vegan) plenty filling without any meat on the plate, so take that endorsement and run with it.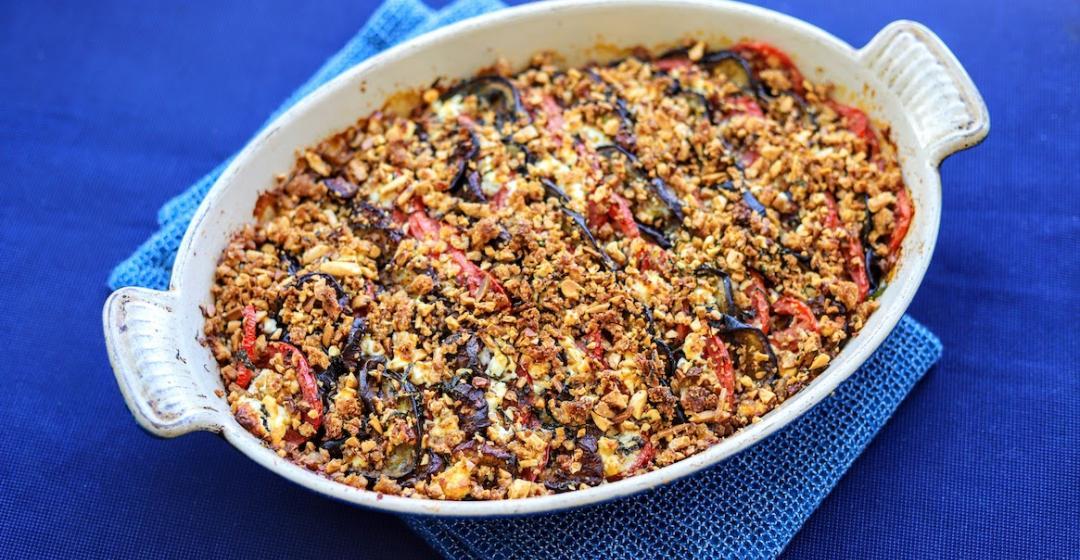 With more and more eggplant coming in to all the farmstands, it's time to make a Roasted Eggplant and Tomato Gratin with Feta, Leeks, and Herbs. This variation on my Layered Zucchini, Tomato, Parmesan, and Bell Pepper Tian is equally delicious.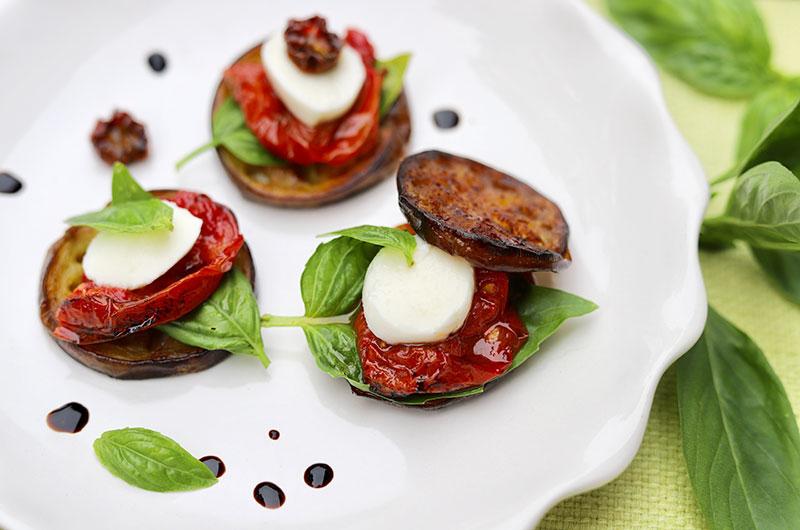 You may also want to make Quick-Roasted Eggplant Slices as a side or starter or go all in with Steven Raichlen's Cedar-Planked Eggplant Parmigiana.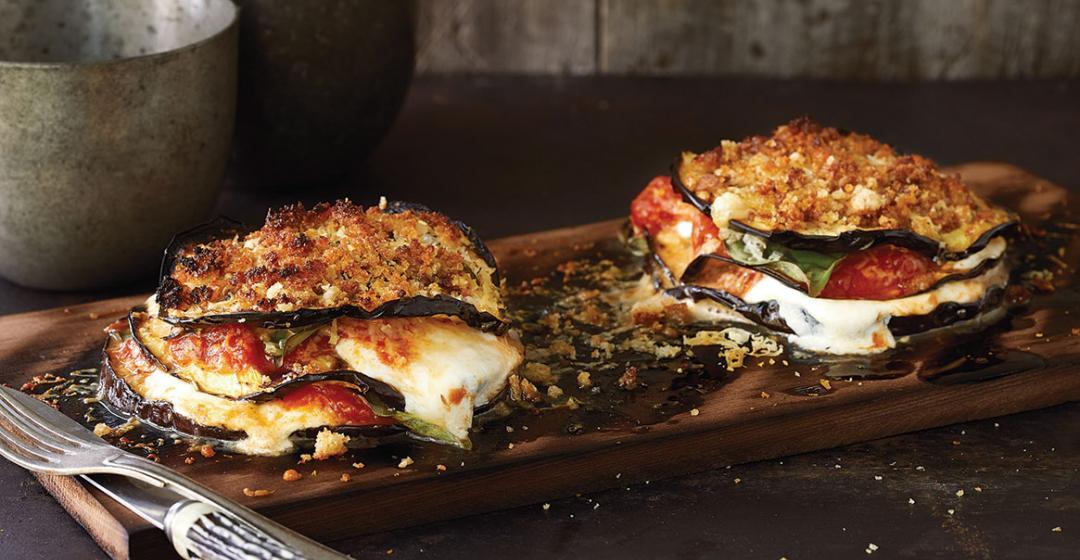 With those gorgeous red bell peppers from Beetlebung, I'm going to make these Grill-Roasted Bell Peppers with Goat Cheese and Cherry Tomato Dressing.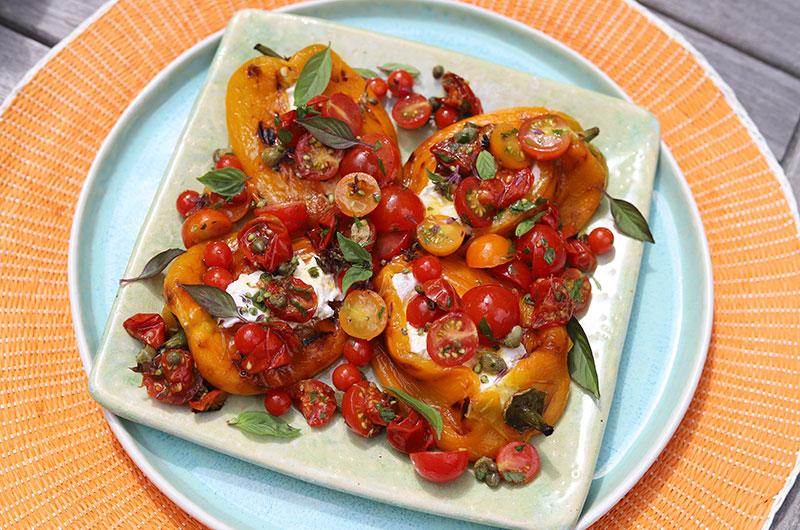 One of the best things about these summer veggies is that they are so stretchable. Last week at our Cook the Vineyard event, I promised a reader (hello Fawn!) that I would give some thought to dishes that can solve the hungry houseguests problem (an August affliction on the Vineyard if there ever was one).
First up: This no-cook Black Bean and Corn Party Salad. It can be made ahead and stashed in the fridge overnight – the flavor only improves and the texture holds up well. Use it as a side dish, a condiment, or a bed for grilled meat. It will serve about eight people as a side, but heck, double it if you need to!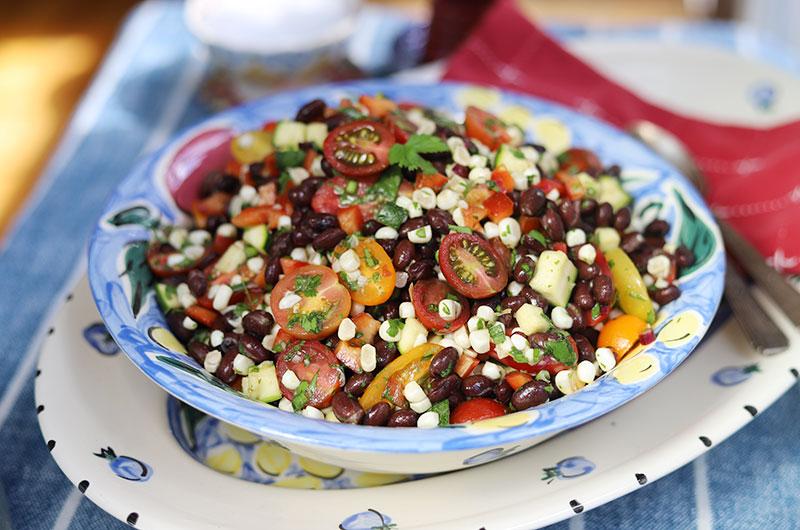 The secret to a good bean salad is tipping the scale towards more veggies and more herbs, and using proportionally less beans. Also, be sure to taste (let the salad sit for a while and toss again) and adjust your seasoning however you like – more salt, more lime juice, more garlic, more whatever you think.
Second: If pasta is good for a crowd, a cool pasta is even better. This recipe for Cool Pasta with Tomatoes, Feta, Olives, Basil and Capers showcases a great technique of tossing just-cooked warm pasta with a cool no-cook marinated tomato "sauce."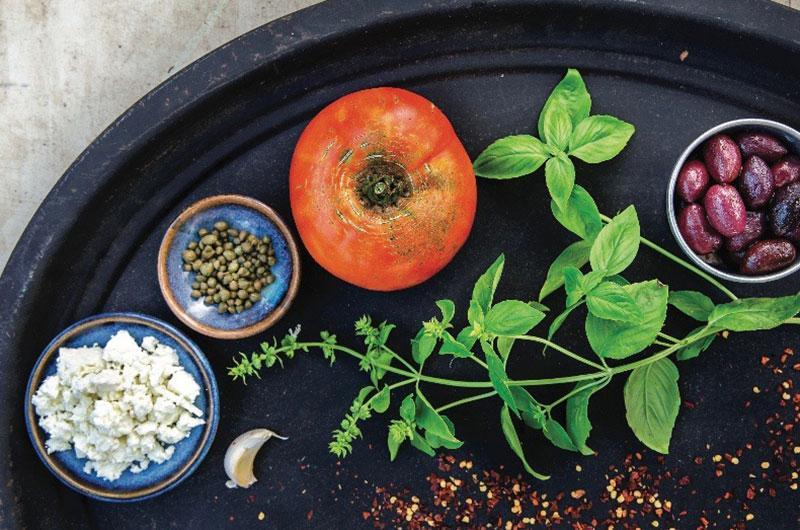 When all else fails, remember you can make Grilled Mayonnaise-Mustard Chicken for an army! But I hope you don't have to feed that many people.
Enjoy this second week of August on the Vineyard and we'll see you on Instagram @cookthevineyard.
---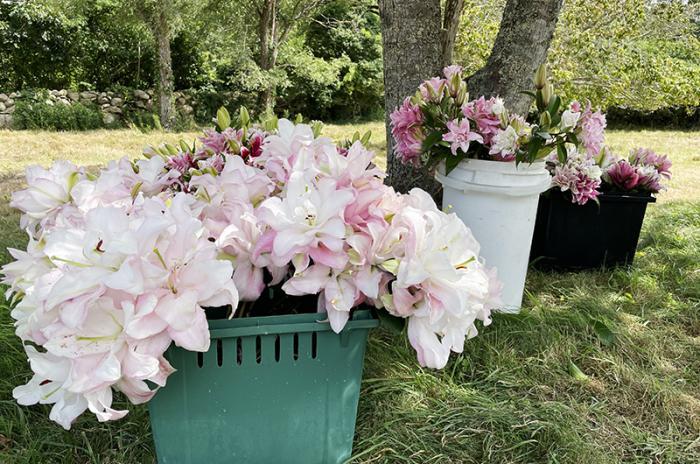 Farm and Field Report
Floriculture, it turns out, is a farmer's friend: it boosts the bottom line, decreases tillage, and maximizes use of arable land.
---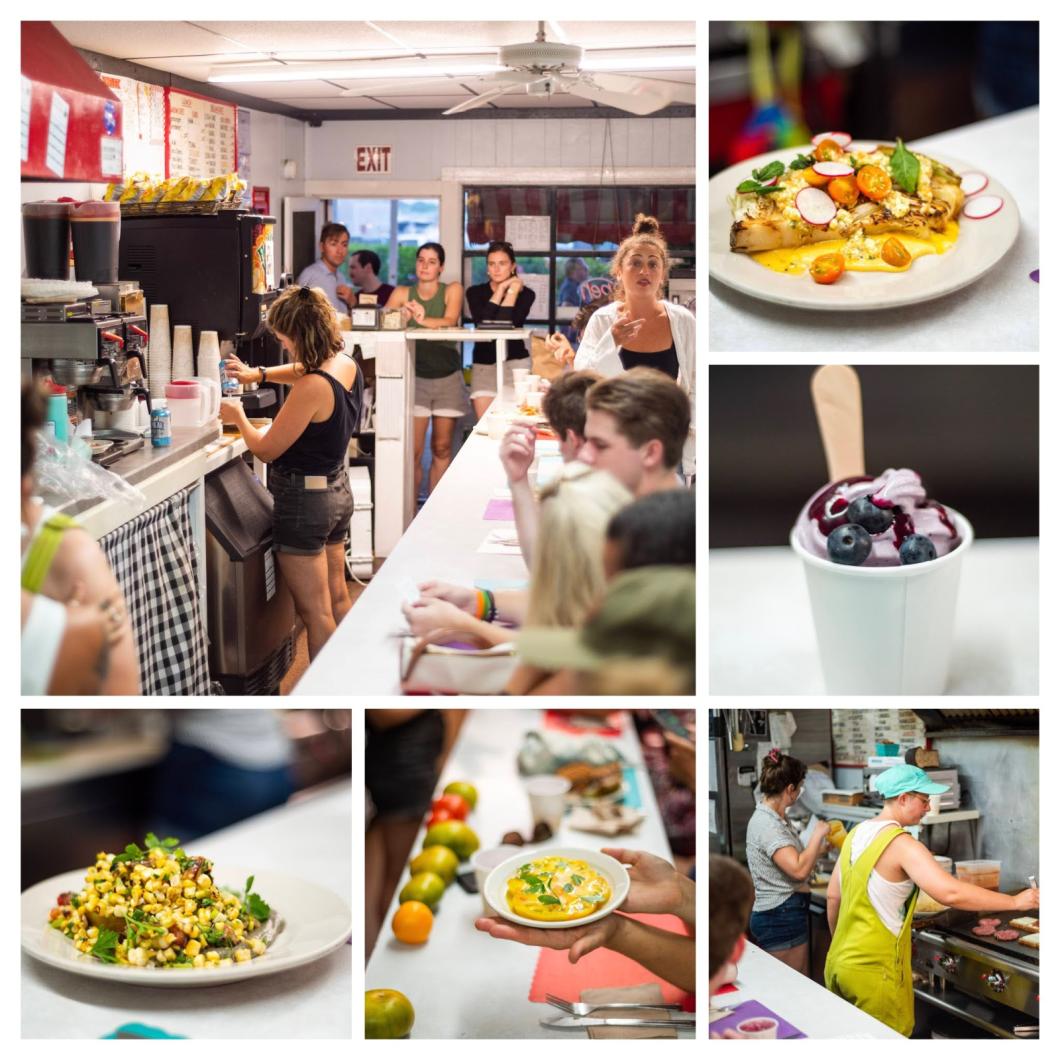 CLASSY
• Last Thursday's Cinnamon Starship pop-up at Dock Street Coffee Shop featured pizza burgers, charred cabbage, summer tomato and corn salad, and blueberry soft serve (photos above). We hear that Philly-style cheeseburgers are on the menu at this Thursday's pop-up, starting at 5:30 p.m. Follow @cinnamonstarship for more information.
• Beetlebung Farm's variety tasting classes continue this Thursday, August 11 with field tomatoes. Email to reserve a spot. The event runs from 5 to 6 p.m.
On Thursday, August 11 at 4:30 p.m., Island cookbook author and chef Catherine Walthers along with farmer Rebecca Gilbert will offer a class on Garden Drinks that features foraged and farmed ingredients. The class takes place at Native Earth Teaching Farm. Pre-registration required.

And don't forget, you can find a complete list of open restaurants — as well as farm stands and retail stores — at What's Open on Martha's Vineyard.