Calling all cheesecake lovers! This month in Baking Together we are serving up a speedy, no-bake individual cheesecake pudding – inspired by the classic but so much easier to make. And with an even silkier texture! And boy, are you going to love it. These Vanilla Cheesecake Puddings with a Pretzel Crust are a great make-ahead for summer entertaining. Avoiding the long, slow-baking process of the classic, this stove-top pudding version cooks up in less than 10 minutes and delivers a slightly tangy, deeply vanilla flavor with a killer sweet-and-salty pretzel crust. With a fruit compote on top, this is one divinely addictive dessert.
Homemade pudding is one of the easiest and fastest desserts around and the process is even more speedy now that there is no need to heat (scald) the milk and gradually add it into the yolk mixture to temper it. For this recipe, we have eliminated this unnecessary extra step that can be a precarious one (don't curdle the yolks!) so now the base mixture is whipped up directly in the saucepan making it an "almost one-pot" pudding. (FYI, for the most part, the only time you need to heat milk before making a pudding, custard or ice cream base, for example, is when you are infusing the milk with a flavor additive like coffee or vanilla beans or herbs.)

To make these puddings, all you need is a block of cream cheese plus a few on-hand ingredients and kitchen tools (saucepan, measuring equipment, whisk, spatula) and you are ready to go.
While this pretzel-crusted vanilla version is delicious, if you are so inclined there are lots of fun ways to change up the flavors of this pudding. Play around with different crusts by using your favorite finely crushed crisp cookies. Chocolate and orange are a popular pairing: Use a chocolate cookie crust in place of the pretzel crust and add a good hint (about 1 tablespoon) of finely grated orange zest to the pudding along with the egg yolks. Ginger and lemon or lime are a refreshing summer combination – use a ginger cookie crust in place of the pretzel crust and whisk in one or two teaspoons of finely grated lemon or lime zest along with the yolks.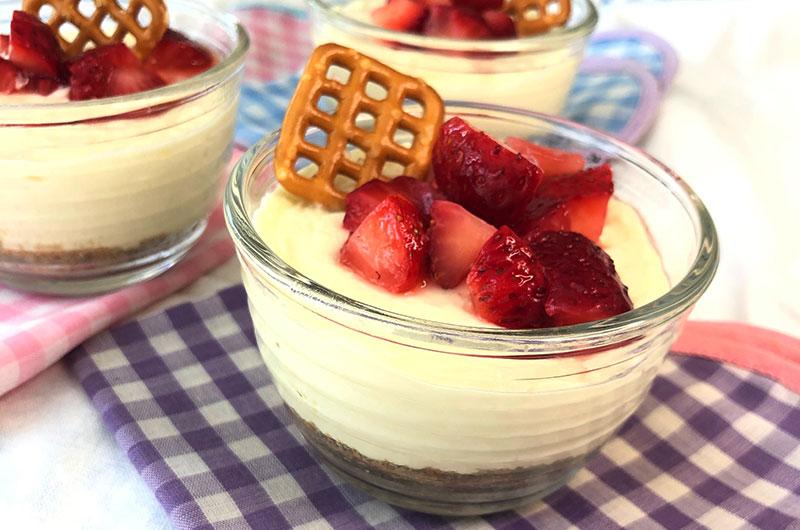 Toppings can easily be switched up depending on what's in season and what strikes your fancy. Chopped fresh fruit is always a good option, as is a cooked fruit compote as well. So are toasted, chopped nuts (pistachios are a favorite for taste and color). Don't forget about chocolate (as if that's even a possibility!). Shards, shavings, or crisp pearls (Valrhona is my favorite brand) are pretty and add a lovely little crunch to the puddings. (See more on flavor variations below.)
Before you make the recipe, don't forget to read through the Kitchen Notes below for some things to look for and some helpful hints.
We are looking forward to hearing about your baking adventures with this recipe so please drop a comment on the recipe page so we can all share in each other's culinary journey. Happy Baking Together! (And P.S., if you are new to Baking Together, check out the other 23 delicious options here.)

Variations
Cookie Crusts
Use the following in place of the pretzel crust ingredients and mix as directed:
3/4 cup (3 ounces) finely ground cookies (choose one: gingersnaps, chocolate wafers, graham crackers, or vanilla wafers)
1 tablespoon granulated sugar
Pinch of table salt
2 tablespoons (1 ounce) unsalted butter, melted
Super Speedy Versions
Portion the pudding warm from the pot into small bowls and top with a few fresh berries and a salty pretzel or crisp cookie or two.
Skip the crust and serve the chilled puddings solo topped with a fruit compote or a healthy layer of chocolate shavings or toasted and chopped nuts.

Toppings
Simple Fresh Strawberry Compote
8 medium (about 8 ounces) strawberries, rinsed and dried (or any fresh fruit)
1 to 2 tablespoons granulated sugar
3/4 teaspoon finely grated lemon zest (optional)
Hull the strawberries, cut in half and chop into small pieces (about 1 1/2 cups). In a small bowl, stir the strawberries, sugar and lemon zest, if using, until combined. Taste and adjust sugar and lemon zest, if using, and use immediately or cover and refrigerate up to 1 day. The longer is sits, the saucier it will be.
Cooked Berry Compotes
You can also make a cooked fruit compote using the method in this Simple Blueberry Sauce. Use mixed berries, cut the recipe in half if you like, and reserve a few uncooked berries to add in at the very last minute of cooking. Pop it in the freezer to cool it quickly. You could also top with this Roasted Rhubarb-Strawberry Compote.
Kitchen Notes
When making the crust:
Using a rubber or silicone spatula, mix the crust ingredients with the melted butter using a stir-and-smear technique to thoroughly blend. The crumbs should be evenly coated with the butter and the mixture should be an equal color.
When making the pudding:
Whisk the sugar and cornstarch before adding the yolks; this helps to keep the pudding smooth and lump-free.
Immediately begin mixing after adding the yolks. Allowing the yolks to sit in the undissolved sugar will dry them out (known as "burning") and leave bits of hard egg yolk in the pudding.
Stray bits of cream cheese in this pudding don't bother me (and you won't necessarily have them if your cream cheese has been well softened), but if they do bother you, strain them out. Set a fine-mesh strainer over a 4-cup glass measure with a spout and pour in the pudding allowing it to flow through the sieve. Avoid pushing on the solids. Instead, using the tip of a rubber or silicone spatula, gently coax and jiggle the pudding through the strainer. Wipe off the spatula and scrape the underside of the sieve into the pudding and discard any bits left in the basket.
My preference is to directly cover the puddings with plastic (laid flat against the pudding) while cooling so that no skin forms. I like that consistently velvety texture throughout my pudding. But I realize that many people don't mind (or even prefer) the skin that forms if the pudding cools uncovered. Either way, the pudding is fabulous. I always encourage folks to adjust my recipes to suit their tastes. That's why we love Baking Together!