My Dad and I share a love of chocolate Easter bunnies. Well, chocolate everything really. Last Valentine's Day, Dad (now 91) managed to track down Kathleen Cowley of Enchanted Chocolates in Oak Bluffs (calling her on the phone from Delaware) and convince her to deliver some very special chocolates to me at my house in West Tisbury. I wish I had gotten my act together this week, because Kathleen's been busy making lots of Chocolate Easter bunnies and I should have sent one to Dad. I hear she also has filled chocolate eggs and chocolate-dipped Peeps!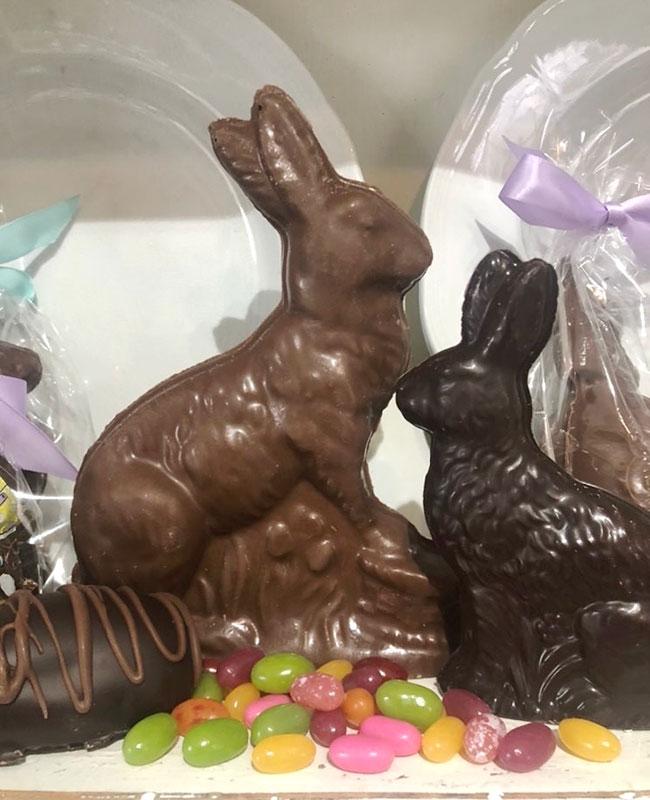 Obviously we'll be eating some real food on Easter, too. I've had a request for Deviled Eggs with Spinach, Basil and Toasted Pine Nut Pesto.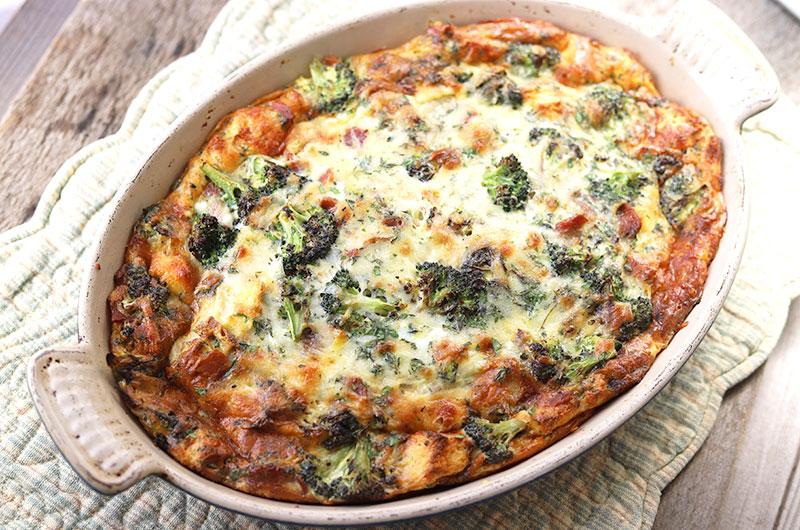 I'll plan to have those around if we don't start the day off with a Broccoli, Bacon, and Gruyere Bread Pudding or Mini Savory Bread Puddings with Tuscan Kale, Bacon, & Cheddar.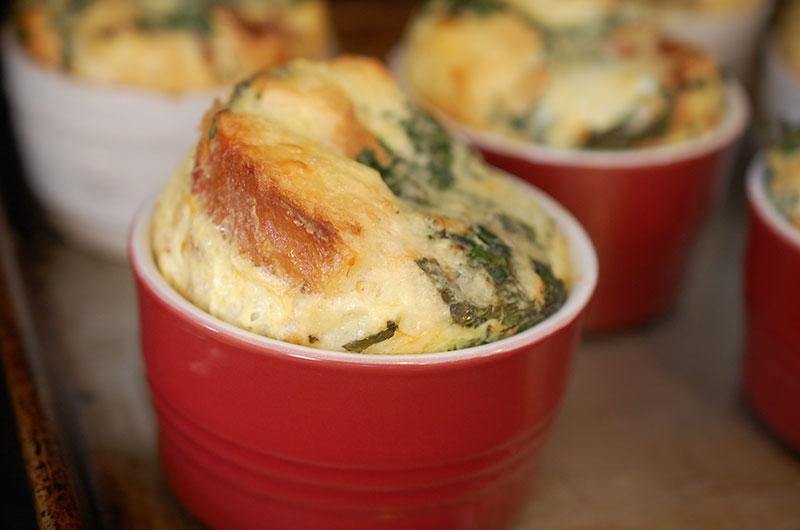 For dinner, Grilled Rosemary Garlic Lamb Chops instead of ham, I think. They beg for asparagus.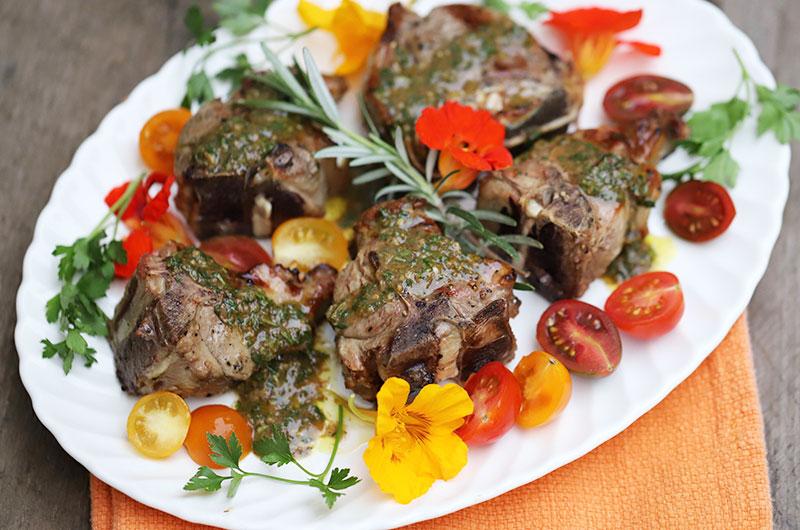 Generally, I stubbornly refrain from eating asparagus until we're picking it on the Vineyard. Even though that's several weeks off, I know that somewhere on the Island this week asparagus shoots will poke through the ground because the dandelions have appeared in my yard – that means the soil has warmed to 50 degrees! So I'm going to go ahead and add Quick-Braised Asparagus with Dijon-Thyme Pan Sauce to my menu, as long as I can find some nice thick asparagus.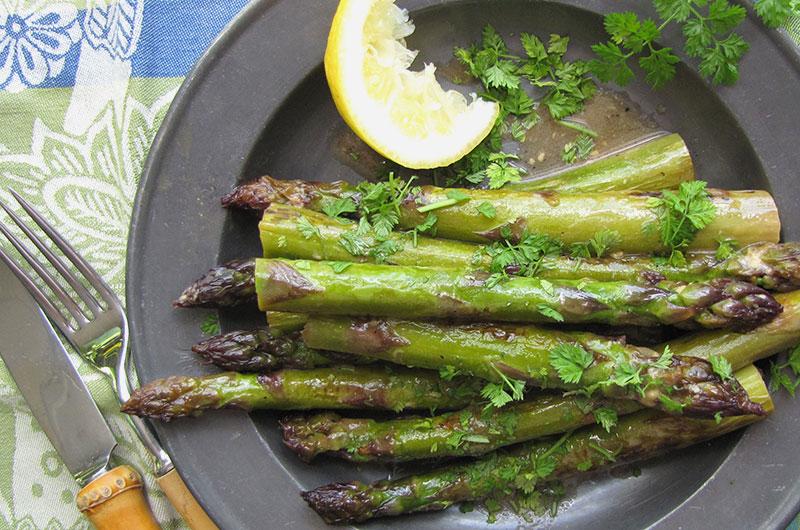 Skinny asparagus? They're perfect for Sautéed Asparagus with Prosciutto Crisps and Parmigiano.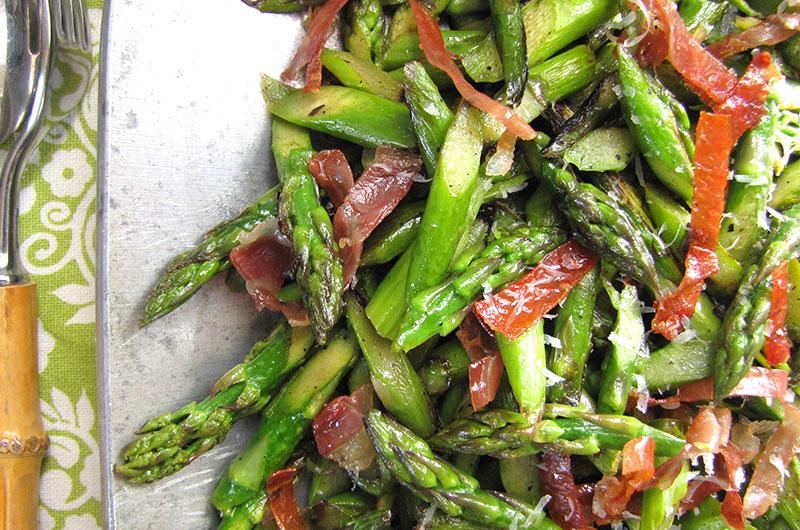 Maybe I'll make Abby Dodge's Buttery Small Batch Dinner Rolls, too, which would be excellent on Monday with some leftover ham if you're going that route.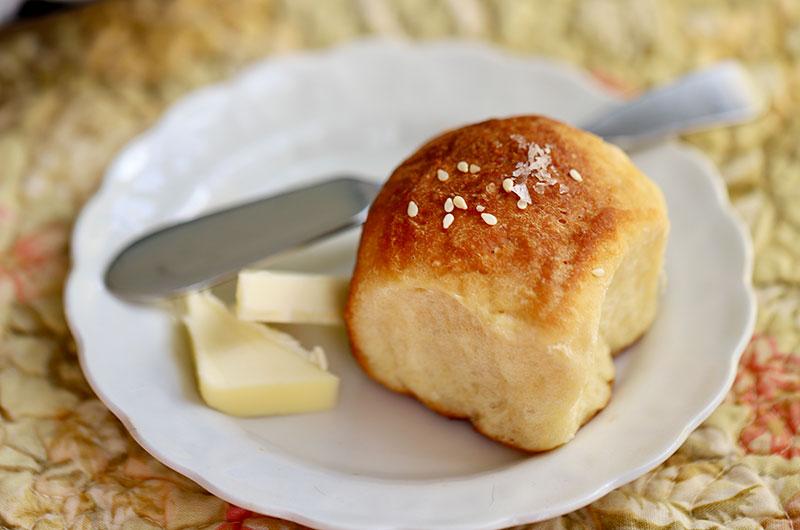 My friend Cathy tells me she's going to a Passover potluck Friday night where a braised chicken with apricots will be the main dish. Of course, Arnie Reisman's Casablanca Chicken would fit that bill nicely.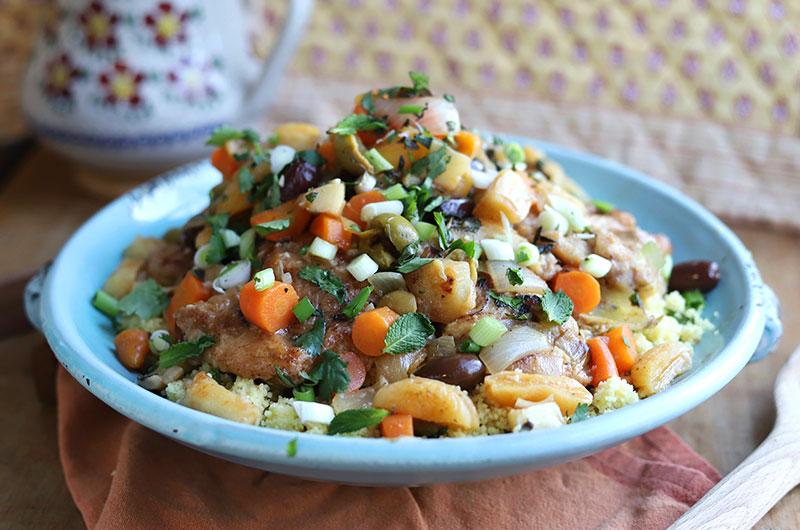 If the rain arrives on Friday, a hearty dish of Braised Lamb Shanks, Hunter's Style, might work for Passover, too, though for the holiday you wouldn't serve it over grains.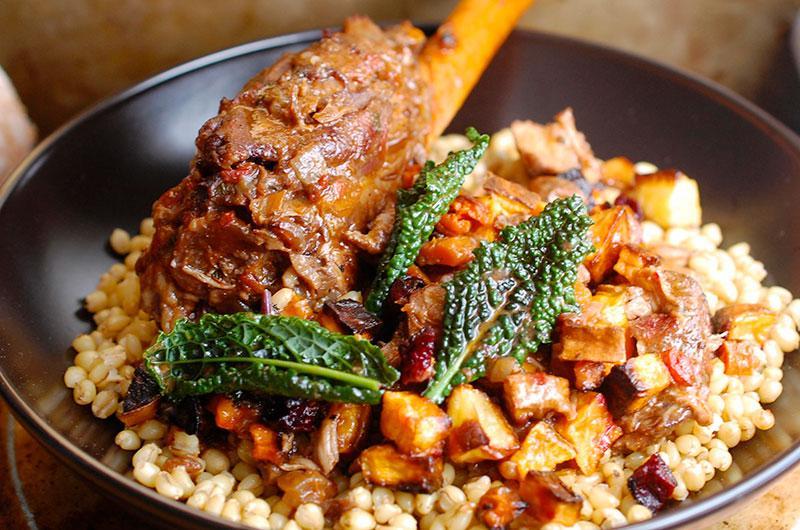 Instead, serve it with Rustic Roasted Carrots or Roasted Root Vegetables with Ginger Batons on the side. (Yes I realize those are the polar opposite of springy asparagus, but the nights are still pretty chilly around here, and will be for awhile!)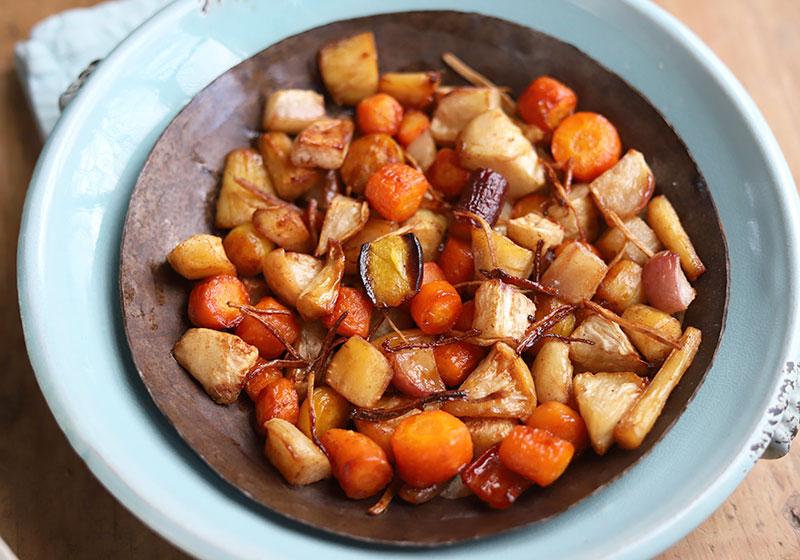 For the leafy green course of the Passover seder — or with Easter dinner — serve a simple mix of local greens with our Lemon Tahini Vinaigrette.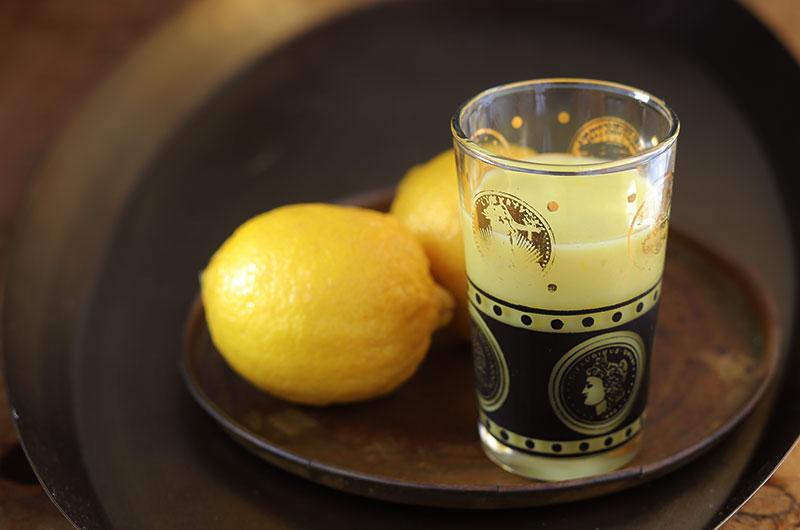 And by the way, if you'd like to grow your own lettuce this year, now is a great time to plant. "Lettuce, Explained at Last" will teach you how to grow your own custom salad mix, starting from seed or starting with nursery six-packs if you like.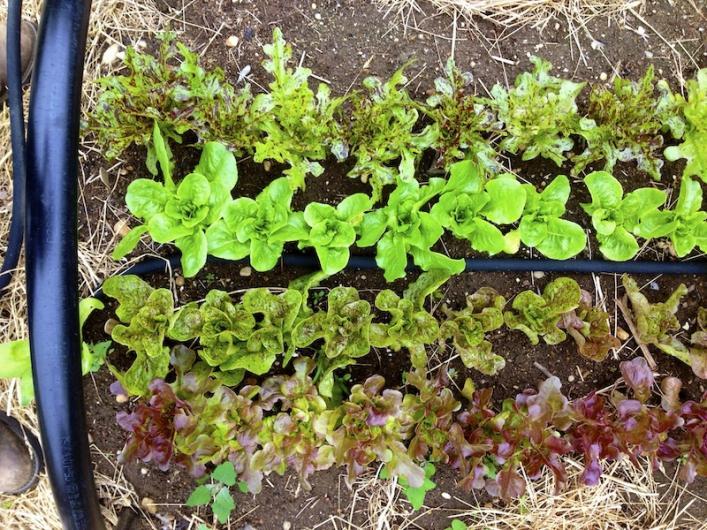 Maybe the salad course will be your last course, but if not, you might want to treat your peeps (not the marshmallow kind) to this Passover Meringue Cake with Whipped Cream and Berries.
Eat well and we'll see you on Instagram @cookthevineyard.
---

EASTER EGG KIT
• Pick up a natural-dye Easter egg kit from The FARM Institute on Thursday. Each kit includes a dozen Farm Institute eggs and three DIY dye baths made with turmeric, beets, and red cabbage. An egg hunt will take place at the FARM on Saturday, April 16. Pre-register here.

PASSOVER TO GO
• Instead of making a Passover meal on Friday, order one from Fantzye suppers to go. The delicious menu includes (among other things) braised Grey Barn brisket with spices and Beetlebung greens with brittle and citrus. Pre-order and pick up on Friday between 3 p.m. and 6 p.m. at the Kitchen Porch.

MO'S DONUTS
• Saturday mornings at Mo's Lunch are #donutsaturdays. Baker Korilee Connelly's fresh doughnuts are avaiable starting at 11 a.m. Don't miss the jelly donuts with lemon sugar.

GO FISH
• The Fish House (next to MV Wine and Spirits, Airport Road in Edgartown) reopens for the season today. The market opens at 10 a.m., the kitchen opens at 11 a.m.

EASTER DINING
• Bettini Clubhouse at the Harbor View Hotel will hold an Easter brunch from 11 a.m. to 2 p.m. on Easter Sunday, April 17. Call 877-846-2549.

• Sweet Bites is offering an à la carte holiday menu. Call 508-684-8257.

And be sure to check out What's Open on Martha's Vineyard for regular updates about which restaurants, markets, retail shops and farm stands are open on the Island.