We Islanders have a favorite pastime – bemoaning what we don't have. So I almost hate to spoil the fun, but there is now one less thing to complain about: a lack of good bread. By good bread, I mean great bread, really – naturally leavened, slowly fermented, baked in seriously hot ovens here on the Island. Year-round. Often made with organic, freshly milled New England–grown grains, these breads are deeply flavored and texturally satisfying. And not incidentally, they make the best grilled cheeses you will ever have. (Not to mention French toast, bread puddings, open-faced sandwiches, bread salads, and much more.)
The Island bread revolution didn't happen overnight, of course, but it picked up steam over the last few years, thanks in part to two Island farms – Grey Barn and Morning Glory – who invested in high-octane bread baking equipment, hired teams of enthusiastic bakers, and started CSB (Community Supported Bread) programs, making bread subscriptions available to those who want to pay ahead and pick up on a regular schedule. Previously, Kate Warner of Vineyard Bread Project in West Tisbury had the only CSB on the Island.
Though Warner's small CSB is full-up, Grey Barn and Morning Glory are accepting new subscribers while also offering a huge variety of bread choices 
at retail too.
Grey Barn's South Road farm stand in Chilmark features a rotating schedule of slow-fermented breads all made with certified organic grain from Maine Grains. Depending on the day (check their website for schedules), you might find brioche, caraway rye, carrot and buckwheat levain, challah, cinnamon raisin, focaccia, fougasse, Grey Barn Riprap black pepper levain, Japanese milk bread, rye levain, sesame and spelt levain, sunflower honey wheat, white batard, or whole wheat boule. That's in addition to fresh pizza dough one day a week and freshly baked croissants and other pastries several days a week.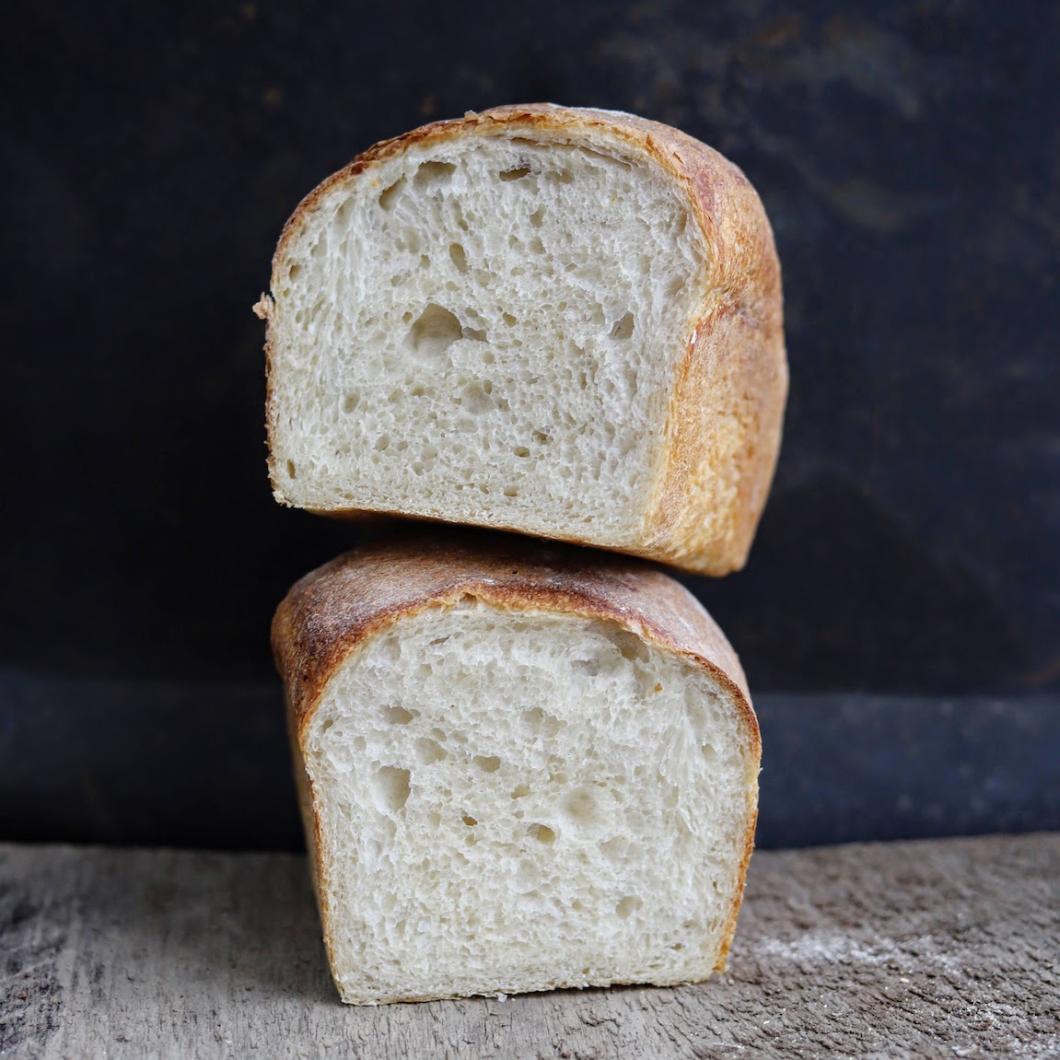 Grey Barn built a state-of-the-art on-farm bakery three years ago and now employs a team of bakers year-round. From the start, the farm has been donating bread to the Island Food Pantry on a regular basis. But this year, each CSB subscription will automatically include a donation of one loaf of bread each week to the pantry.
For Morning Glory Farm, the arrival of a Canadian-built Doyon artisan stone deck oven last fall took their existing bread-baking operation up a big notch, allowing their team of bakers to make more and better batches of artisan breads. (Rosewater Market & Take Away offered to give Morning Glory the oven in trade for a summer's worth of Morning Glory produce.)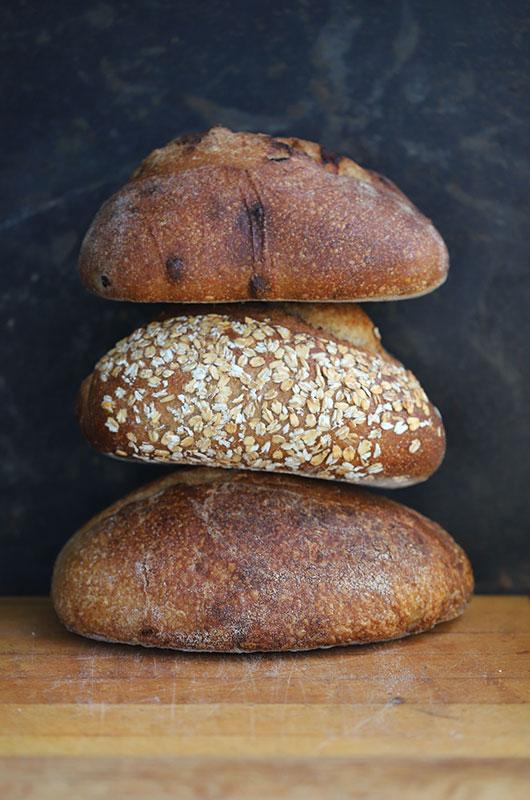 Like Grey Barn, Morning Glory bakes different breads on different days throughout the week, in addition to a daily offering of country sourdough, whole wheat sourdough, multi-grain sliced loaf, whole-wheat sliced loaf, and anadama. One day the extras might be olive oil herb, marble rye, and oatmeal walnut. Another day, the featured breads might be challah and pain au gruyère or cinnamon raisin and honey oat spelt.
Morning Glory's bread subscription program is available year-round. You can pick your own start date (pickups are always Friday at the Edgartown farm stand) and sign up for a half or full share (each includes a bonus pastry) for six or twelve weeks.
While it's nice to have the predictability of a CSB or a regularly stocked retail outlet to visit, the magic of good bread is so alluring that you wouldn't want to miss out on the joy of tracking down the products of two other talented bread bakers on the Island: Juli Vanderhoop of Orange Peel Bakery and Olivia Pattison of Cinnamon Starship.
Vanderhoop is now selling all of her bread right at her bakery in Aquinnah. Her schedule includes challah on Friday, ciabatta and country white sourdough on Saturday, and a variety of other breads ranging from rosemary–olive oil to fruit-and-nut studded loaves throughout the week in season. That's all, of course, in addition to her pastries and other sweet and savory goodies coming out of her wood-fired pizza oven.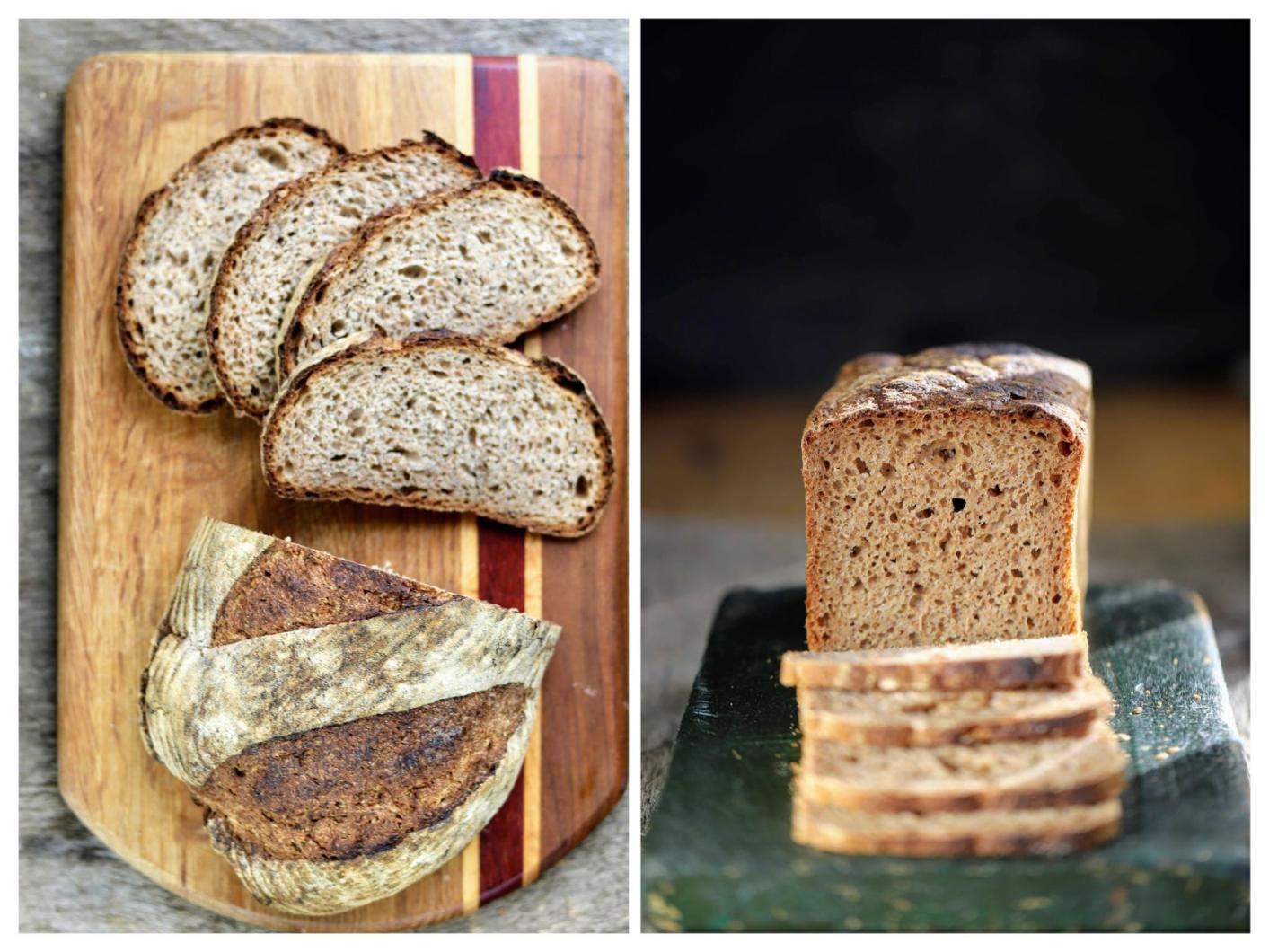 Pattison sells her rustic loaves, as well as delicious sandwiches made with her bread, at the West Tisbury Farmers' Market in season. In the off-season, she delivers freshly baked bread to North Tabor Farm, Ghost Island Farm, and Scottish Bakehouse. Her 100-percent naturally leavened bread varieties include an einkorn wheat pullman, a rye, a pain de lodève, a sesame, a seeded loaf, and more. You can sample her famous hamburger buns when she pops up at Dock Street Coffee Shop in Edgartown cooking Sunday night suppers. Pattison favors Maine Grains flour, and when possible, she also uses Island-grown red fife wheat and einkorn wheat from farmer Dan Sternbach's Lost and Found Grain.
And since you're planning an Island bread-shopping tour (You are, aren't you? It's a great excuse for a beautiful drive!), don't forget that in season both North Tisbury Farm & Market in West Tisbury and Stella Salumeria in Oak Bluffs pick up (courtesy of the Patriot boat) the exceptional loaves baked daily by Maison Villatte Boulangerie in Falmouth. Add to that a pop-up bread store in Edgartown last summer by the famous Cambridge bakery Iggy's and you've got nothing to complain about except the weather. And maybe the traffic. And okay, the ferry.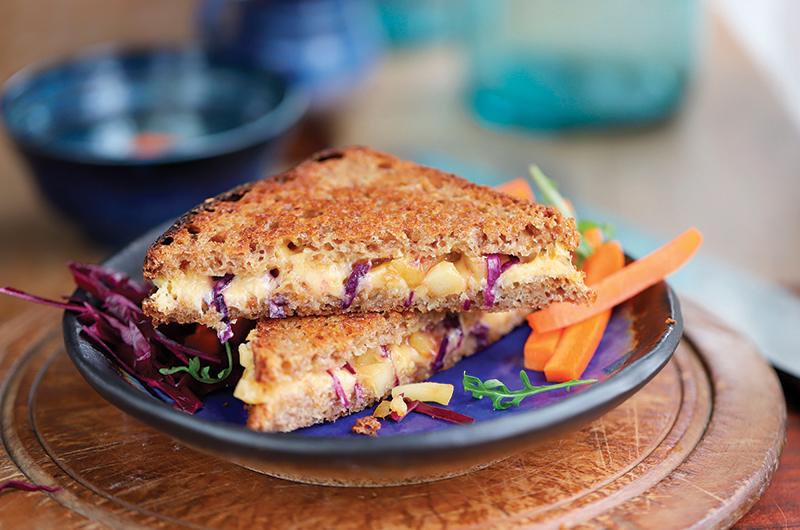 When you get your bread home, let it cool if it's still warm. Once you slice or rip into the loaf, store the remainder in a plastic bag on the countertop – but only for a short while. Within twenty-four hours you should slice, wrap, and freeze your crusty bread. For years, I have been jumping up and down telling everyone to freeze their bread, and still I see people either let it go stale or moldy on the counter or (God forbid) put it in the refrigerator where the humidity will automatically ruin it, all because they think it will be too time-consuming to defrost a slice or two of bread. (Rant.) In reality, a frozen slice can go right into the toaster or hang out on the counter (or in a low oven) for just a few minutes before using. As long as you've wrapped your slices well and don't keep them in the freezer for too long, the quality will be very good – and much better than stale or moldy bread.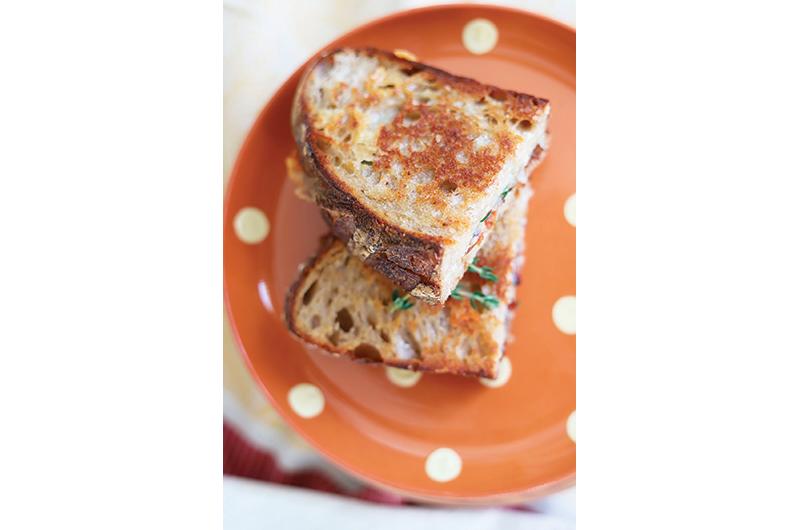 After my most recent Island bread tour (honestly, I do that), I decided to try out my grilled cheese method with a range of different breads, cheeses, and add-ins. The method worked well with all the combos I tried, so I've turned that into a master recipe I'm happy to pass along to you here. I think my favorite combo is slices of whole wheat boule, extra-sharp cheddar cheese, crisp applewood smoked bacon, a sprinkling of caramelized shallots, and a few thyme leaves. That's a special sandwich. But in a pinch, I'd take that hearty einkorn wheat sandwich bread from Cinnamon Starship with some aged gouda and sea salt and call it perfect. That bread is a griddler's best friend. But if grilled cheese means white bread to you, I must tell you that Grey Barn's Japanese milk bread makes a picture-perfect crisp, golden sandwich.
I also wanted to remind you of all the other amazing things you can do with great bread, from the very simple (breadcrumbs, croutons, crostini), to the toasty (open-faced sandwiches, grilled toast, chocolate toast), to the swoon-worthy (sweet or savory bread puddings, panzanella, French toast, and more). For more inspiration, check out some of our favorite bread recipes on cookthevineyard.com: Avocado Toast with Baby Kale, Blue Cheese, Pecans, Quick-Pickled Radishes, and Honey; Warm Ciabatta Toasts with Lemony Chickpea Hummus; Grilled Toast with Whipped Lemon-Thyme Feta and Summer Squash; Vineyard Open-Faced Egg Sandwich with Local Bacon, Cheddar & Asian Greens; Broccoli, Bacon, and Gruyère Bread Puddings; Individual Maple Bread Puddings; French Toast with Maple-Berry Syrup; Island Tomato, Basil and Grilled Bread Panzanella. Make one of these and raise a toast to Vineyard bakers!