All those locally grown, ruby-red strawberries are steamrolling into our markets and that makes me happy. I use them every way I can think of – out-of-hand and in my cereal; packed into jams and muffins; swirled into smoothies, puddings & frostings — but nothing strikes my fancy as much as a batch of little handheld tarts with a tender buttery crust and a jammy fresh-strawberry filling.
As I'm sure you've guessed, these Strawberry Hand Pies are inspired by the iconic store-bought toaster cakes (aka Pop Tarts), but they're oh-so-much better. They're a perfect snack for anytime of the day – just the right amount of crunch, sweetness and berry-ness. If you're feeding a breakfast crowd, assemble the pastries, cover, and stow them, unglazed and unbaked, in the fridge overnight so they are ready to glaze and bake first thing in the next morning.
Let's talk about the crust. I know a lot of folks fret over working with a homemade pie dough, but I think you'll find that this dough is very easy to make (it whizzes up in a food processor), and because there's no need for chilling and resting time, you can roll it out straight-away. It's also very forgiving, so patching up cracks is a no-brainer.
Yes, there is a bit of challenge here – you've got to have your ruler close by and roll out a long piece of dough so that you can cut it into squares. You'll need to be a little patient with yourself, but I promise you, you can do it and these tarts are absolutely worth the effort. (Since days are getting hot, I recommend making and rolling the dough in the cooler parts of the day or in an air-conditioned kitchen.)

You might think cooking the berry filling in advance would be unnecessary but it's an important step. While ripe, freshly picked strawberries are sweet and delicious, they contain a lot of water which will lead to soggy tarts and lackluster fillings. Cooking off the excess water concentrates the berry flavor leaving a lovely, thick jam-like filling which is ideal for these little tarts. Win-win.
Be sure to read the tips here (or at the bottom of the recipe before starting to bake. Click here for the Strawberry Hand Pie recipe.
A note about freeze-dried strawberries:
Even when I'm using the ripest of berries, I like to amp up their berry-ness by mixing in some crushed freeze-dried strawberries. Because they are dehydrated (and unsweetened), they add an instant burst of extra-intense strawberry flavor to the filling or, for that matter, to anything you stir them into (think smoothies, frostings, ice cream, etc). I've listed them as optional but they sure do lend a boost and they also add a pretty-in-pink color to the icing, if you chose to frost your little tarts. I find them in the health food aisle at my local grocer and they are widely available for online ordering. If the only item in the ingredient list is "strawberries," then that's your brand.
Make a blueberry variation
I've tested this filling using fresh blueberries. I use the same weight (12 ounces) of blueberries as I do of strawberries. Then I add 2 tablespoons of water along with the same amounts of the other ingredients in the filling and cook as directed. While I haven't tested with other berries or tree fruits, I suspect they make delicious substitutes for the strawberries. Follow the same guidelines as I mention for the blueberry sub-in and follow your instincts and trust your senses. Don't forget to share what you've made in the comments below the recipe. Inquiring baking minds want to know!
Glazing & Frosting
The recipe calls for brushing the tarts before baking with heavy cream and coarse sugar. The combo adds a light sheen and a delicate crunch to the top. And I think the hand pies are plenty delicious this way. But if you want to add a little frosting (after the hand pies cool), leave off the heavy cream and sugar topping when baking.)
To frost, make a batch of Creamy Sugar Glaze and stir in 3 to 4 teaspoons crushed freeze-dried strawberries until well blended. You'll want the sugar mixture to be on the thicker, more spreadable side so it sits nicely on top of the tarts.
Remember to frost them just before serving or the crusts will get soggy. One word of caution: I know it's tempting to frost the warm tarts but the heat will melt the icing. Give them some time to cool off before spreading with the frosting.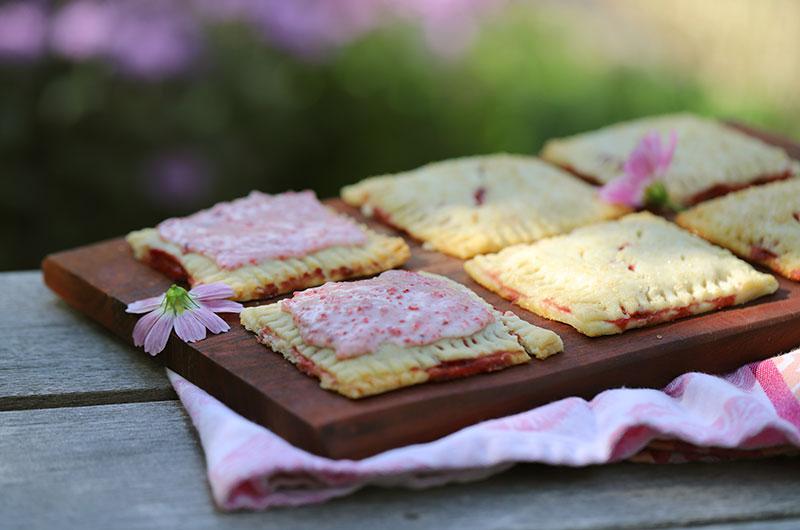 Make Aheads
The dough can be prepared, covered, and refrigerated for up to 2 days or frozen for up to 3 months. Thaw in the refrigerator overnight and soften at room temperature until pliable before rolling.
The filling can be made and refrigerated for up to 2 days before using. Bring to room temperature before assembling.
The tarts can be assembled without the heavy cream or sugar, covered with plastic, and refrigerated for up to 1 day before glazing and baking. They can also be frozen up to 1 month. Thaw at room temperature while the oven heats glazing just before baking.