Who better than the senior food editor of Yankee magazine to write a primer on 70 different apple varieties – and offer 100 recipes to go with them? Mixed with essays, history, and visits to apple growers, The Apple Lover's Cookbook is Amy Traverso's 2020 update to her 2011 cookbook by the same name. Reissued by W.W. Norton, the book is an invaluable resource and a great inspiration for cooking with America's favorite fruit. Read on for a preview of the book, a recipe for Apple Brownies, and an excerpt on How to Match the Apple to the Recipe, below.
---
In The Cook and The Book, an ongoing series brought to you by Martha's Vineyard magazine's Cook the Vineyard, we put the spotlight on cookbook authors we love by taking a look at their latest book.
---
THE COOK
Amy Traverso
A lifelong apple lover, Amy Traverso is the senior food editor at Yankee magazine and cohost of public television's Weekends with Yankee. Vineyarders might also recognize Amy from her popular annual seminar at the Martha's Vineyard Food and Wine Festival called Lobsterpalooza.
Amy has also been a food editor at Boston magazine and an associate food editor at Sunset magazine. She has appeared on Hallmark Home & Family, The Martha Stewart Show, Throwdown with Bobby Flay, and Gordon Ramsay's Kitchen Nightmares. She lives in Boston, Massachusetts.

Follow Amy on Instagram @amytraverso
Follow Amy on Twitter @amytraverso
Follow Amy on Facebook
Visit AmyTraverso.com
---
THE BOOK
The Apple Lovers' Cookbook: The Classic Guide to Cooking and Eating Apples
W.W.Norton, September 1, 2020
Hardcover $30
336 pp.
What We Love Most about The Apple Lover's Cookbook
• The Apple Primer — a collection of 70 apples that includes photos of each as well as the origin, best use, availability, season, appearance, taste, and texture – is invaluable.
• We also love the helpful classification of all apples into 4 distinct categories so that you can swap one apple for another. (See "How to Match the Apple to the Recipe," below)
• There's a whole chapter on Cooking Tips and Pantry Notes which includes a handy run-down of apple tools.
• We love that the recipes range from super easy, like these Apple Brownies, to holiday worthy, like an Apple and Chestnut-Stuffed Pork Loin with Cider Sauce.
• We love reading between the recipes, too, to learn more about the culture and history of apples through the years, like A Visit to Red Apple Farm in Phillipston, Massachusetts, where we learn a little about grafting.
---
---
---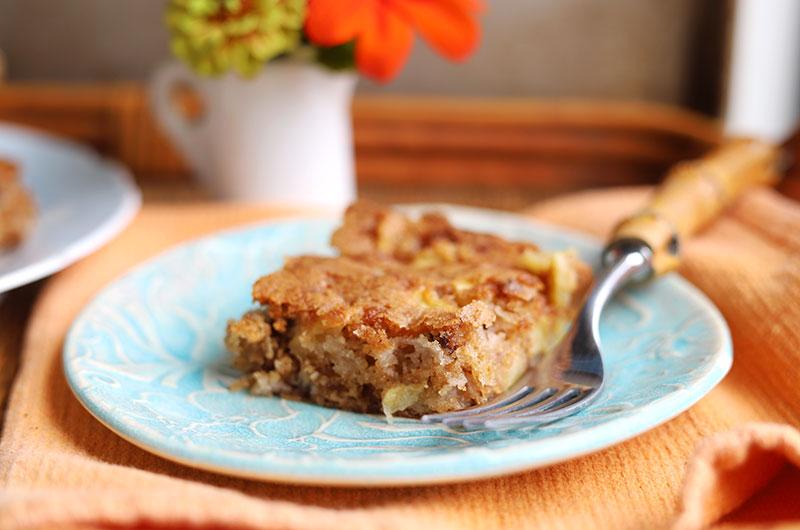 THE RECIPES
On Cook the Vineyard:
• Apple Brownies
Other recipes in the book that we love:
• Vermont Apple Cider Doughnuts
• Blue Ribbon Deep-Dish Apple Pie
• Sweet Potato-Apple Latkes
• Pork and Apple Pie with Cheddar-Sage Crust
• Baked Apple French Toast with Hazelnut Crumb Topping
• Apple and Mustard Grilled Cheese Sandwiches
• Cider-Glazed Root Vegetables
• Spiced Apple Cupcakes with Cinnamon Cream Cheese Frosting
---
THE ORGANIZATION
Chapters:

1 Introduction
2 Apple Varieties: A Complete Primer
3 Cooking Tips and Pantry Notes
4 Soups and Starters
5 Vegetable Entrees, Sides, and Salads
6 Poultry, Meat, and Fish Entrees
7 Pancakes, Donuts, Biscuits, and Breads
8 Pies, Crisps, Cobblers, Buckles, and Betties
9 Dumplings, Cakes, Bakes, and Puddings
10 Condiments and Cocktails
11 Beyond Baking: Apple Festivals, Products, and Pairings
---
THE SOURCES
Whenever possible, it's always a good idea to purchase your cookbooks through an independent bookstore, like our local Bunch of Grapes bookstore in Vineyard Haven. Independent bookstores can always order a book for you if they don't currently have it. If you need to find out where your nearest independent bookstore is, check out IndieBound.org's Bookstore Finder.
The Apple Lover's Cookbook is also available online from:

IndieBound
Barnes and Noble
Amazon
---
AN EXCERPT

From The Apple Lover's Cookbook: How to Match the Apple to the Recipe
Apple varieties are as individual as people, with their own quirky flavors and textures and strengths and behavioral issues. Some perform best in desserts, others in salads. Some are just meant to be eaten out of hand. You can't tell by simply looking at them, of course, and they don't come with instructions.
I've taken some of the guesswork out of this process by organizing seventy popular and worthy varieties into four simple categories, which correspond to their best use in the kitchen. I did this based on my own cooking and research and advice from the growers and experts I've met over the years. Apples can vary tremendously depending on where they're grown, and under what conditions. Too much rain one year can dilute flavor, extra sun can enhance sweetness. As apples age, they tend to break down more when cooked. However, if you buy fresh apples from a reputable grower or grocer and use them in their prime, you'll have good results.

Most of the recipes in this book will recommend a category, rather than a specific variety. The categories are:
Firm-Tart, such as Granny Smith, Rhode Island Greening, Northern Spy, or Roxbury Russet. These apples, which hold their shape when cooked, are best in rich baked desserts like pies or cakes—anything that benefits from a bit of acidity and bright flavor.
Firm-Sweet, such as Honeycrisp, Cosmic Crisp, Baldwin, or Pink Lady. These work best in sweet and savory baked dishes that need a firm apple with more sweetness than sourness.
Tender-Tart, such as McIntosh, Cortland, and Macoun. These apples break down easily during cooking, which makes them best for cooked soups and sauces. If you like a tart apple, you'll also enjoy these eaten out of hand.
Tender-Sweet, such as Gala, Ambrosia, and Fuji. I use these in salads, dessert sauces and the occasional quick-cooked dish, but mostly enjoy them right out of hand.
[Editors's note: The book continues on to give a comprehensive list of apples in each of these categories.]
Apples do vary quite a bit, even within categories, and choosing a Bramley's Seedling over a Northern Spy will give you a different flavor. But you can't go wrong with any choice—you might just have more lemony notes with one, or spicy notes with another. Some tart apples have a hint of honey on the finish while others are more strictly tart. But these guidelines will still keep you in the proper range and assure the texture you want.
One last note: You'll notice that Red Delicious doesn't appear in any of the categories. Over the past 120 years, as growers bred the fruit more for uniform good looks than flavor, the apple lost the succulence that first merited its name. I honestly can't think of a single good use for it. But if it were to fit in a category, it would be Tender-Sweet (or, in my opinion, Mush-Sweet).