It took Martha's Vineyard to turn me into a leek fanatic. Oh, I knew leeks. You can't get out of culinary school without making some sort of French masterpiece with leeks. In fact there is a bit of leek worship going on there, in my opinion.
Alas, back in the day, grocery store leeks were always fat or forlorn – if you could find them. You brought home a large, cumbersome bunch, only to find after much trimming, slicing, and washing that you had a measly cup or so of the good stuff, even less when cooked down.
Still, there was something special about even that little bit of leeks. They were sweet and earthy at the same time, more refined than onions and subtler than garlic or even shallots – definitely a complex flavor combination.
My first autumn on the Vineyard, I spotted some leek-like vegetables at Morning Glory Farm in Edgartown, but they were much longer, slimmer, and whiter than any leek I'd ever seen. And there were tons of them! They didn't cost an arm and a leg, and each one yielded a generous heap of raw material, ready for the sauté pan or the soup pot. Fantastique!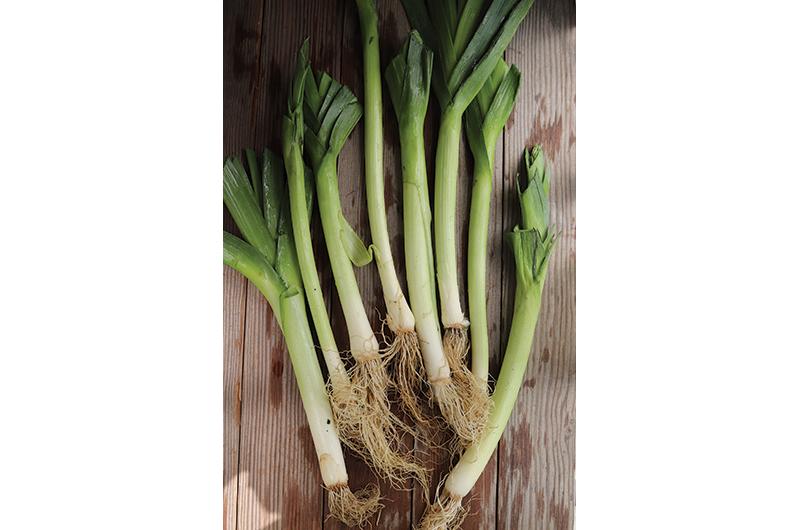 Turns out Morning Glory is quite adept at blanching leeks, a process that involves starting the leeks in a sort of shallow trench and backfilling with soil as they grow, keeping the stalks white and tender while the tops are treated to photosynthesis.
Every year now I look forward to Morning Glory's leek harvest, which lasts into the winter since leeks keep so well in the ground. And, thankfully, good leeks are now available in many stores, so I cook with them much more frequently. They have a particular affinity for potatoes, butternut squash, corn, and spinach. Leeks can be paired with fall fruits too – especially apples and pears.
I use leeks as a base for soup or the starting layer in a gratin. At holiday time I cut leeks in half lengthwise and bake them in a creamy sauce. On a weeknight, I sauté a cup or so to add to a frittata. And when I've got more time, I sauté a bigger batch, make pie dough, and bake a riff on a classic French pastry – a caramelized leek and blue cheese tart with thyme and bacon. If you like this idea but don't have time for pie dough, use store-bought puff pastry and a mini-muffin (or muffin) pan and turn the tart into little quiches. You can also vary the cheese in this recipe: Gruyère is a classic partner for leeks, though surprisingly goat cheese is an excellent match too.
There are many more destinations for leeks: chicken pot pie, baked cod, braised short ribs, pasta of all kinds. And those soups! Chicken noodle soup, beef barley soup, fish chowder, butternut soup, cauliflower soup, minestrone, and potato leek, of course.
One thing to know about cooking leeks: they contain a slightly sticky substance that makes itself known in the sauté pan by creating a bit of sticking when leeks begin to brown. For this reason, I almost always use a nonstick pan to cook leeks. But if you encounter stubborn sticking – or lots of browned bits on the bottom of the pan – there is a trick for loosening all that. Pull the pan off the heat and let the leeks sit right where they are in the pan for a minute. They will give off some moisture as they sit off the heat, and that moisture will naturally begin to loosen the browned or stuck bits underneath the leeks. Use a wooden spoon to scrape and rub the bottom of the pan, stirring those flavor-packed browned bits back into the leeks. You can also add a splash of water to the bottom of the pan to deglaze.
Over the years, I've settled on my favorite way to wash leeks, which can harbor a good bit of dirt. With the exception of baked leeks, I always slice leeks for cooking, so I've never understood the fussy methods recommended for washing leeks whole. Just slice them first (crosswise), drop them in a bowl of tepid water (not cold – warmish water loosens dirt), and let them sit for several minutes. Use your fingers to jostle them around a bit, making sure any loose dirt drops to the bottom of the bowl, then lift the leeks out and drop them in your sauté pan or soup pot (with whatever cooking fat you're using).
You notice I don't mention drying the leeks. Again, this isn't necessary. In fact, the bit of water still clinging to the washed leeks will help steam the leeks at the outset of cooking, softening them first so that they can then brown and be cooked through.
I realize I sound somewhat opinionated about leeks, but honestly, I've earned my enthusiasm. Sometime I'll let you know how I feel about the entire allium family. I can hear you groaning.