I thought I'd cleverly hide my obvious infatuation with cherry tomatoes and fresh corn this week by offering you a trio of grilled steak recipes. But then I went and put a corn-tomato salsa on one of them — and also decided to use some leftover corn and more of that CSA zucchini in these Corn, Zucchini, and Fresh Herb Pancakes.
Sigh. I'm afraid the season of Morning Glory Farm corn, cheery Sungold tomatoes, and ubiquitous zucchini has taken hold of me, and we will have to ride this out for a bit.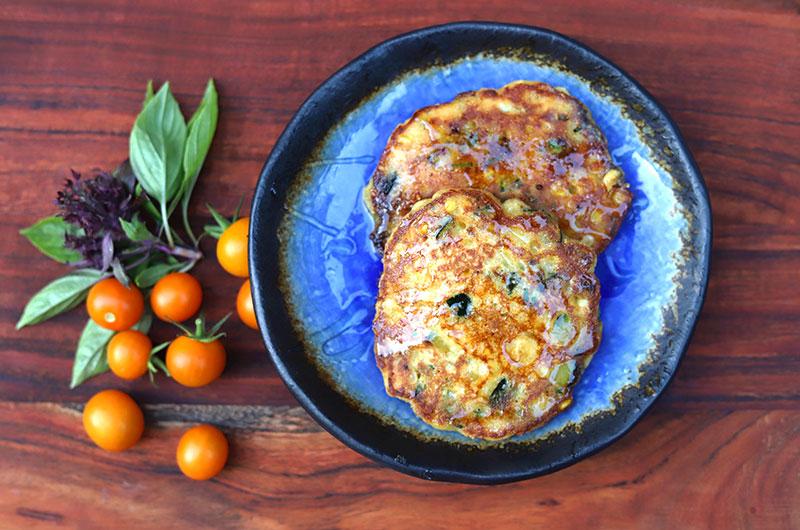 We ate the pancakes last night drizzled with honey and butter. I also spiked them with chopped fresh green coriander seeds, little flavor bombs that form after the flowers bloom on cilantro plants. They are waving in the wind all over my garden.
Before the seeds dry out (you can then save them), they're juicy and packed with coriander flavor. Chop the daylights out of them and they'll release that flavor into marinades, herb butters (good on steak!), what have you.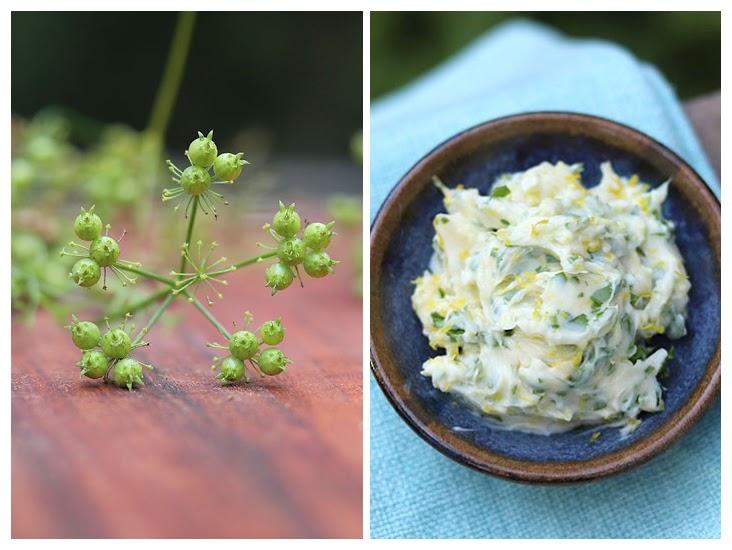 So because I get stuck on something and do it over and over again (you too?), I've been buying sirloin tip steaks (perhaps known as flap steak outside of New England) at Cronig's every time I do a grocery run. They are tasty and super-quick to grill so they work with our schedule.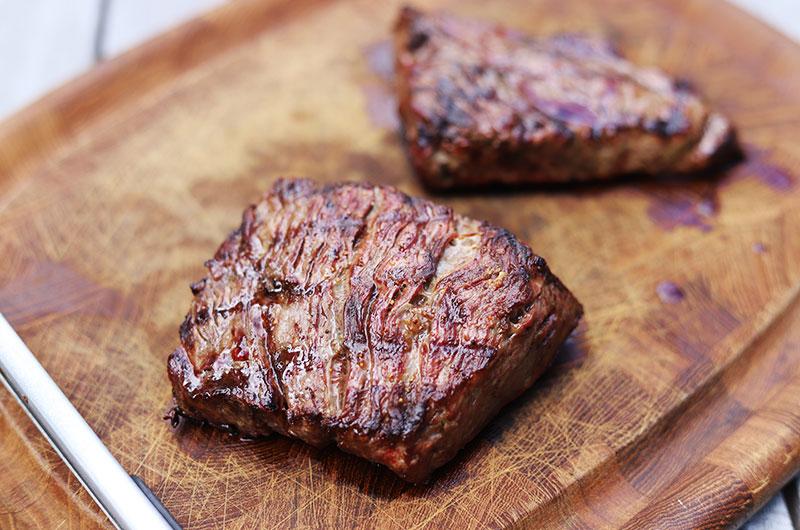 Follow the recipe for Sirloin Tip Steak with Summer Tomato-Fresh Corn Dressing, Feta, and Arugula for directions on how to grill them without overcooking.
I'm a huge fan of skirt steak, too, though it seems a bit harder to find these days. But if you grab one, try Sarah Waldman's Grilled Skirt Steak with Honeydew Salsa. (Or put that salsa on any grilled steak.) I brought a honeydew back from Delaware, even though I am now allergic to melon (argh). I just wanted to ripen it, cut it open, and inhale that aroma to remind me of childhood summers. Melons love heat; hence Morning Glory Farm is already harvesting some of their own beauties.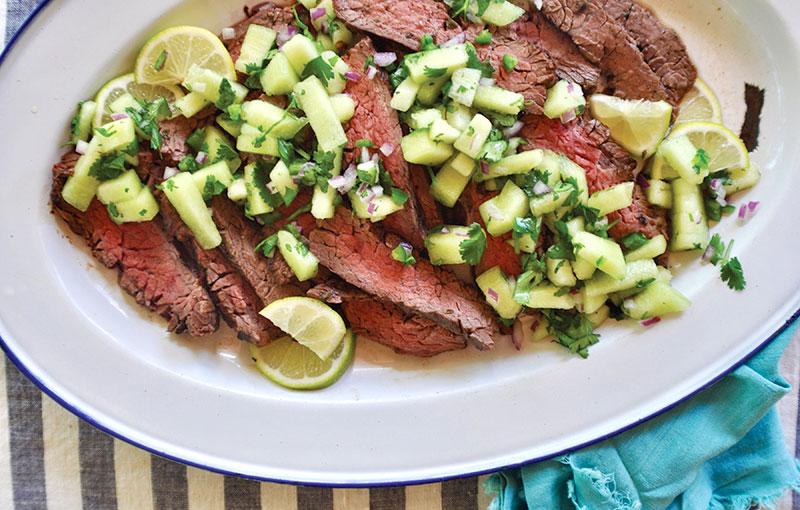 Our third steak recipe is a very simple and flexible Summer Greens Salad with Grilled Steak, Shallots, and Blue Cheese.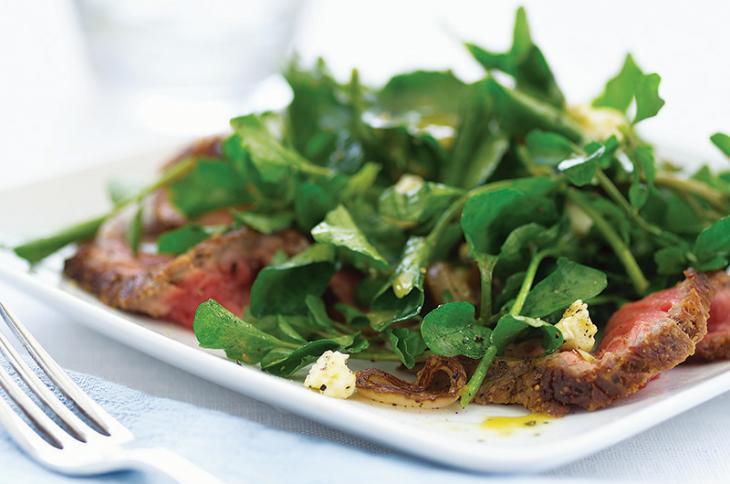 To serve with that, or any grilled steak: Corn and Bean Sauté with Bacon and Herbs, of course.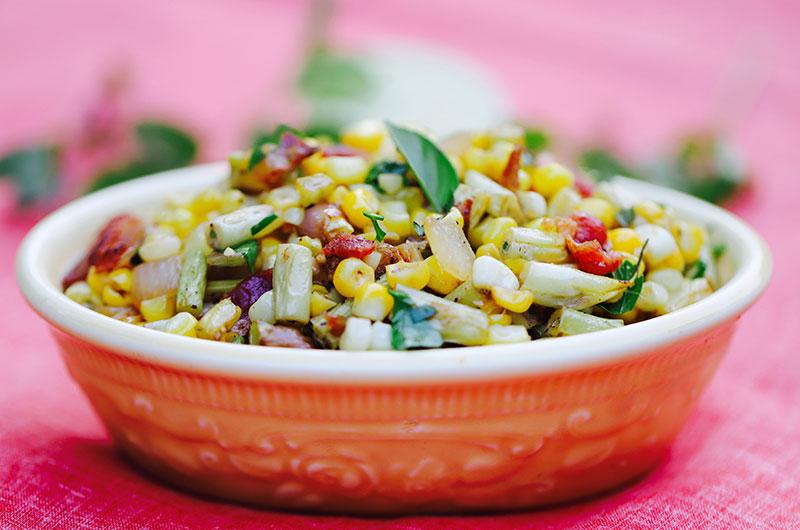 And if you want tips for buying and grilling a variety of steak cuts, be sure to read A Reliable Guide to Steak 101.
For dessert this week, why not make Sarah Waldman's Raspberry Sherbet?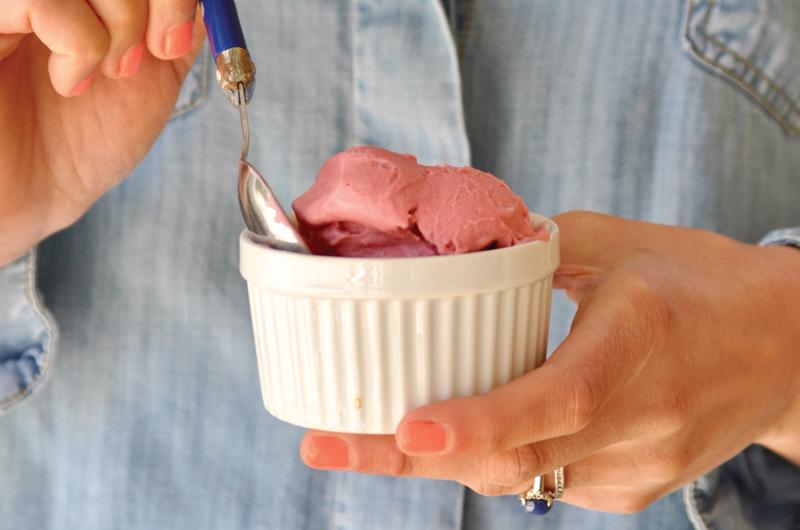 For brunch? Blueberry Crumble Coffee Cake. Or French toast with wild blackberries — we stumbled upon a nice patch of ripe blackberries on a walk last week so keep your eyes open. You might see wineberries or a few late raspberries, too.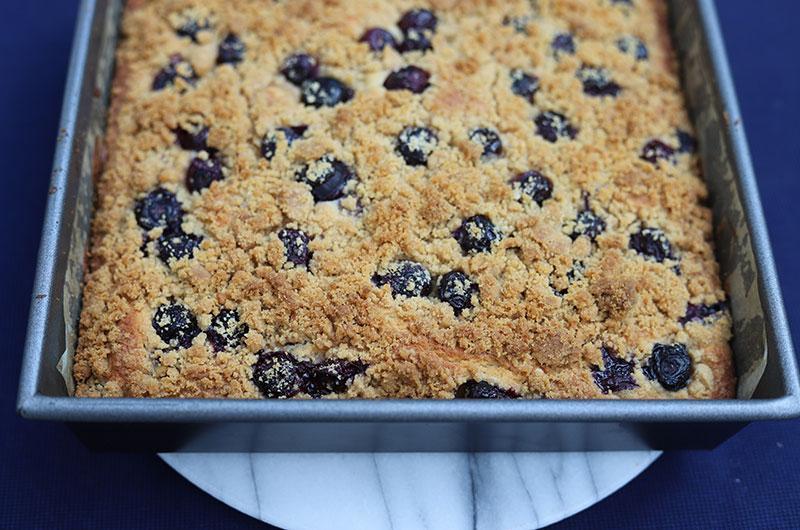 If you like, you could put your berries in a mojito, too. Or an ice cream pie, a rustic tart, a shortcake with whipped cream?
See you on Instagram @cookthevineyard.