I think squid fishing is the perfect activity for Covid times. As people head to Edgartown's Bend in the Road Beach for this spring ritual, they tend to spread out anyway — anywhere from six to fifteen feet from the next person to give room for casting. As the line of people stretches down the sandy beach in the twilight, you can hear laughter, see the lines bend slightly, and watch people filling their buckets as the sun goes down and the squid arrive. You still feel some community; the other night my son's Spanish teacher arrived with her family and greeted us through her face mask, while a local realtor set up camp next to us.
It was a Thursday evening, and James (my now twenty-one-year-old son) and I had arrived here for the first time since we had last been here when he was thirteen and trying squid fishing out for the first time. I was just glad he wanted to spend time with his mom.
Squidding is one kind of fishing that's easy to learn; you don't need a boat, fancy equipment, or years of fishing experience — just a rod with a squid jig and a bucket.
The jig is key though; James and I both agree that the Yo-zuri Ultra Lens SS jig (available at Coop's Bait & Tackle) was the one that worked best for both of us. When he didn't use it a few evenings back with his friends, he caught nothing. After he left the other night and I inherited the lure, I started catching squid.
From Jim Feiner, the local real estate owner, I learned that if you point a flashlight at this lure (he had the same one) for 10 seconds or so, it glows in the dark. Squid are attracted to light. That's why you see people fishing for squid on Edgartown docks under the lights or in Menemsha at the lit Texaco dock.
It doesn't mean technique doesn't come into play. Jim, an all-around fisherman, clammer, and forager, clearly had his technique down, as he pulled in a squid with nearly every cast, compared to my record of about one every five casts. Jim said he lets the lure sink a little, then reels in very slowly.
"You want the squid to think they're catching something that's dead or almost dead." Once hooked, he said, don't jerk the rod back as you might for bluefish or bass. "Gently apply pressure without pulling the hook of their tentacles."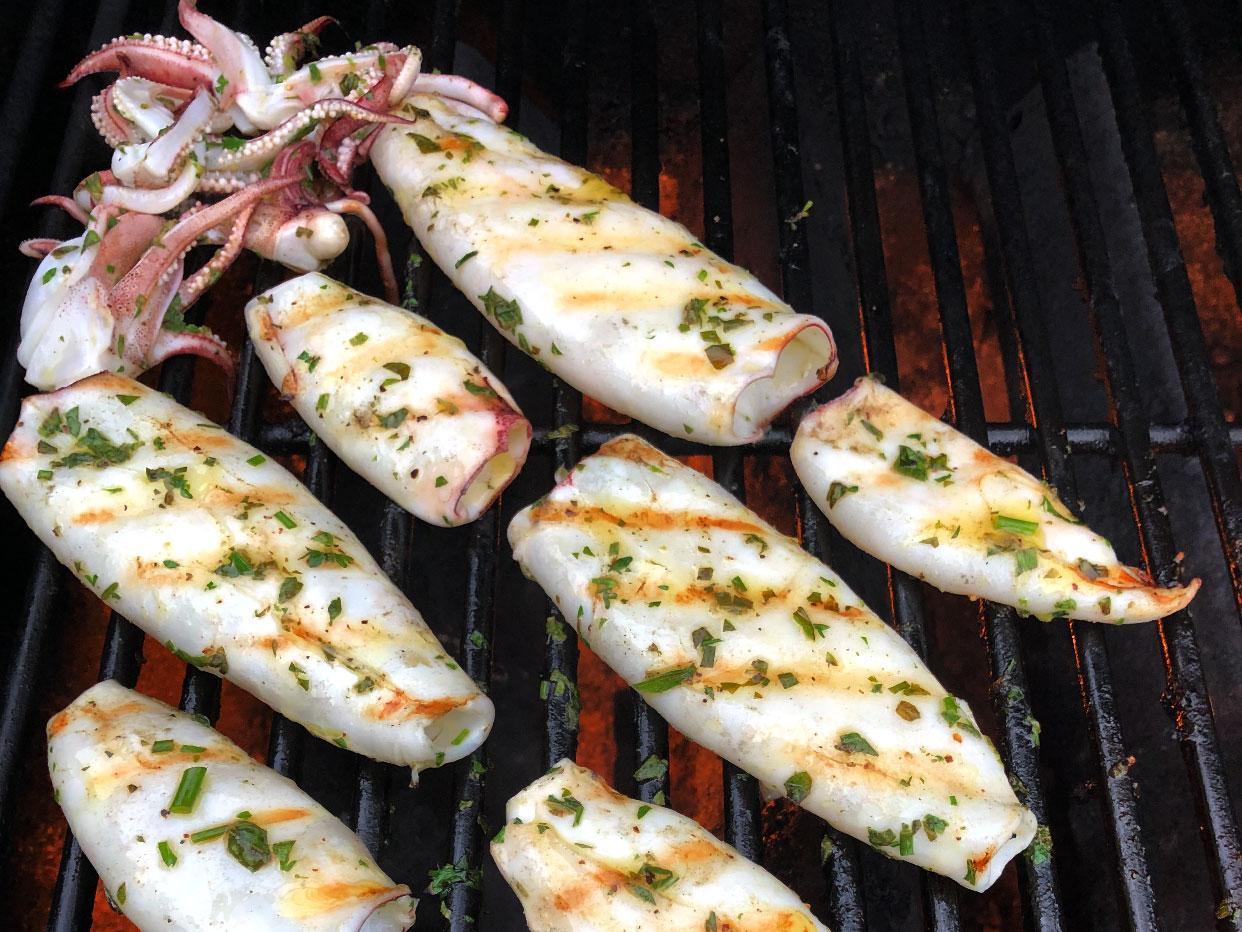 I also followed Jim's suggestion for preparing the squid — marinating in lemon, olive oil and herbs first and quickly grilling. (Get the Grilled Squid recipe.) The key to cooking squid is either fast, fast, fast, on a hot grill or in a hot skillet for the most tender results, or a longer, slower braise. Some cooks of course like to deep-fry squid for American's crunchy favorite, fried calamari. Calamari, by the way, is the Italian word for squid. We dug up our favorite calamari recipe from The Port Hunter that we've recreated many times.
It took only seven minutes total to grill the squid. Cleaning and prepping the squid when you catch it is a bit tedious (get tips here), but you get to skip this part when purchasing at the local fish market. We sampled the hot squid right off the grill and the fragrance of the lemon and mixed herbs from my garden gave it a wonderful taste. I won't skip that quick marinating in the future.
I had decided to pair the grilled lemon squid with a Greek Salad because I figured the stronger flavors of the olives, the acidity of tomatoes and a simple lemon vinaigrette would all enhance the grilled squid. And it did. The squid would also be nice in a summer salad with watermelon, cantaloupe, olives, and basil or one full of field tomatoes and roasted peppers. Another favorite preparation is crispy squid coated in panko bread crumbs and cooked in a skillet. It's akin to fish sticks, but better because the squid is fresher, and pure, like the sea.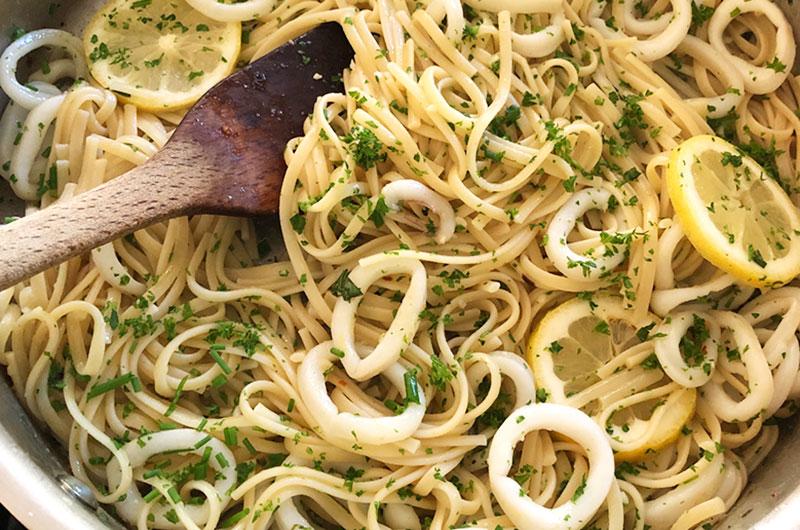 I went back to catch some more squid last weekend. I wanted to try cutting the squid into rings and quickly sautéing it in olive oil, with some butter, lemon, garlic and herbs, like a scampi. This Calamari Scampi turned out to be super fast; it cooked in less than five minutes and then I stirred in some (cooked) thin spaghetti. Everyone loved it. I might even prefer it to clams and linguini. I made the recipe as pared down as possible, but it's certainly one you could play around with by adding chopped tomatoes, capers, olives or even something green like broccoli or kale.
My next experiment will be to stuff the squid with local shiitake mushrooms and breadcrumbs. I can taste it now.