Like door-to-door milk deliveries of the past, the mushroom guys of MVM began delivering mushrooms directly to Vineyard front doors last week – in a small, white delivery truck.
They leave a crisp paper bag, stamped MVM (for Martha's Vineyard Mycological) and filled with flavorful shiitake mushroom caps, harvested within a day of delivery. MVM, started by Truman French and Tucker Pforzheimer, specializes in shiitakes, a Japanese variety prized for both flavor and health-giving properties. Their farm, located at the end of a long dirt drive off Tabor House Road in Chilmark, is now one of the largest outdoor, log-growing mushroom operations in the country, producing about 15,000 pounds last year.
But opening their sixth season smack in the middle of the pandemic meant that deliveries to about 50 restaurants both on- and off-island — a good 60-70 percent of their business previously — were no longer an option. Undaunted, the pair decided to pivot toward local delivery, and to view the upheaval as a path toward their long-term vision of getting a sustainably grown, non-meat alternative directly into the hands of consumers.
"We're kind of thrilled to be able to reach out to consumers like this with a delivery system no different from what we do for restaurants," says Pforzheimer, who says he hopes the island will embrace shiitake mushrooms as an island food and tradition like venison, scallops, oysters and the like. "We have everything we need to produce this right here, if they're serious with replacing meat with something a little healthier, that's a little better for the environment."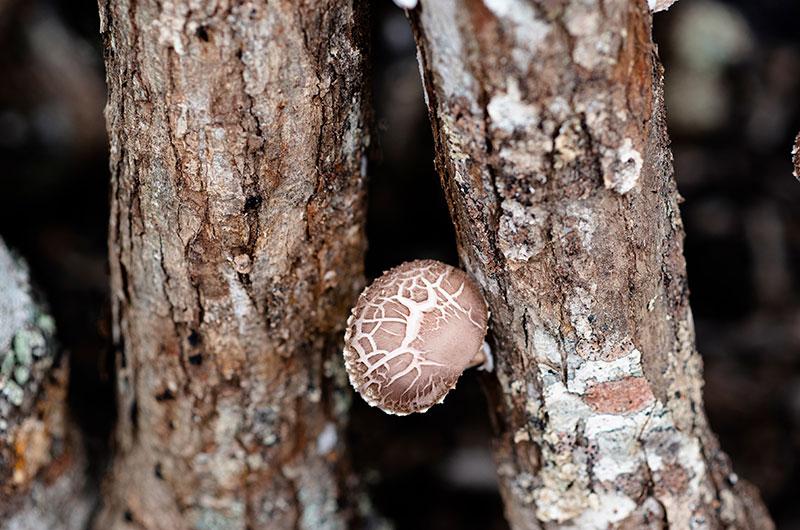 Compared to beef, the production of shiitakes here require very little fuel or water and no fertilizer or feed, the owners point out. The mushrooms grow on oak, often salvaged from cleared construction sites or yards, and cut into 4 or 5-foot lengths. "The Vineyard's unique ecology makes our mushrooms the most efficient form of local protein production, both in land and later use. We utilize only five outdoor acres to produce thousands of pounds of protein per season," explains French.
In addition to protein, shiitakes contain a substance called lentinan, reported to have the immune building as well as tumor- and virus-suppressing qualities. They also have as much fiber as a serving of oats, and contain B6, B12, selenium, potassium and a natural source of vitamin D absorbed from the sun.
To order the mushrooms in bulk, head to the MVM website, and select 2.5, 3, 4 or 5 pounds. The minimum delivery is 2.5 pounds, sold at the wholesale rate of $16 a pound, with no additional delivery charge. Deliveries come on Fridays.
The amount is probably more than a family would normally buy at once, but good for planning meals ahead and an amount which could easily be split or shared with friends. Smaller amounts in pint-sized containers can be purchased from Morning Glory Farm in Edgartown, Grey Barn Farm in Chilmark and Ghost Island farm in West Tisbury, as well as the West Tisbury Farmers Market when it re-opens on June 13.
Like many of the restaurant chefs who have raved the past few years about MVM mushrooms, I can also attest to the woodsy and pleasantly savory flavor with hints of garlic. Since trying out the deliveries, I have made a favorite Asian noodle soup with shiitake and greens three times, several variations of pasta with tomatoes, parmesan cheese and random vegetables in the refrigerator, a pasta with Morning Glory asparagus and these shiitakes in a light lemon sauce, a steak with a mushroom sauce, sautéed kale and shiitakes, a rice bowl with veggies and roasted mushroom caps, and my son made an unforgettable mushroom risotto topped with local Menemsha scallops for Mother's Day. Any favorite dish with mushrooms will taste better with these local gems.
Tucker, who shares a house with his two brothers, Ross and Jack, who work on the farm with him, as well as French, says his favorite preparation is to cut the mushrooms on the bias and sauté in a pan with a little butter and olive oil, adding a splash of rice vinegar at end. He then adds them to whatever else is being served.
"We're a farm family," he adds. "It's the quarantine dream team; we have zero external contact."
With savings from not delivering off-island, the farm decided to donate 1 pound of fresh mushrooms to the Island Food Pantry for every 10 pounds of shiitakes sold. They brought their first delivery there last week — a full 15 pounds.
"That's what 15 pounds of mushrooms looks like!" said a surprised Kayte Morris, the pantry's executive director.
"The mushrooms flew right out the door," she said, noting it was a first for fresh mushrooms like these. "Everyone was very excited. We're so lucky to live in a community that's so caring and also has so many interesting and talented producers."
---

NOTE: MVM will also be selling inoculated logs at $25 each to sprout your own shiitake mushrooms at home. The logs will be available at the West Tisbury Farmers' Market June 13. For purchases for 10 logs ($150) or more, MVM will deliver.
---

Catherine Walthers is a food writer and cookbook author living in West Tisbury