The chicken lady is back. (No, not that Chicken Lady.) I know it seems like only yesterday that I was here offering you Crispy Sheet Pan Chicken with Baby Potatoes, Cherry Tomatoes, and Smoked Paprika (below).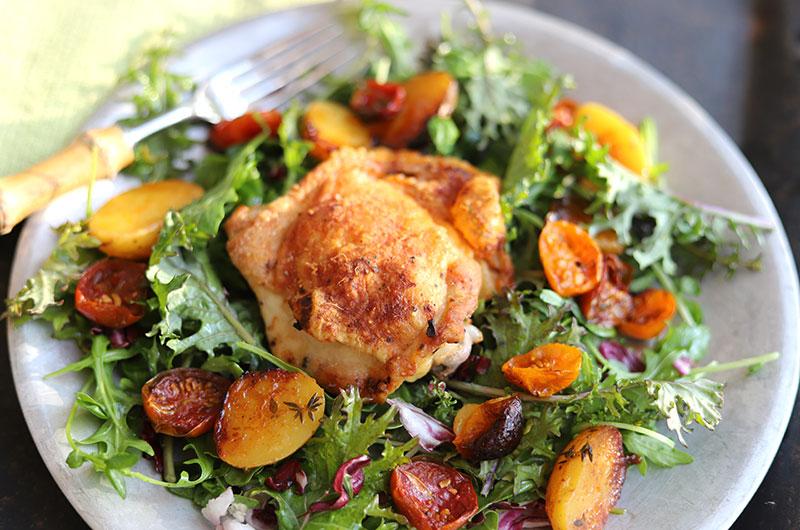 But I'm at it again, with even crispier (if that is a word) chicken thighs. The secret? Roasting in an enameled cast-iron pan. The other secret? This recipe for Crispy Roasted Chicken Thighs with Garlic, Lemon, and Rosemary (top) works fine in a Pyrex pan, too.
I used the garlic-lemon-rosemary flavor profile because that's what I had on hand. We had a rudimentary romaine salad with it, but I would have made this Baby Kale & Avocado Salad with Quick-Pickled Radishes if I'd had the goods. Or maybe even this Kale Salad with Sweet Potato Fries and Blackberry-Lime Dressing if I were living large.
Speaking of pantry perils: We had a classic kitchen disaster this weekend. I decided to make Spicy Peanut Sauce and was overjoyed to find a can of coconut milk in the basement. I dumped it into a large glass measure to whisk the solids and liquids together, plunked it in the sink to prop up the whisk, and went back to slicing ginger. Meanwhile, my partner finished his sandwich, rinsed his plate, and rinsed the coconut milk at the same time.
I turned around and saw the liquids spilling down the drain.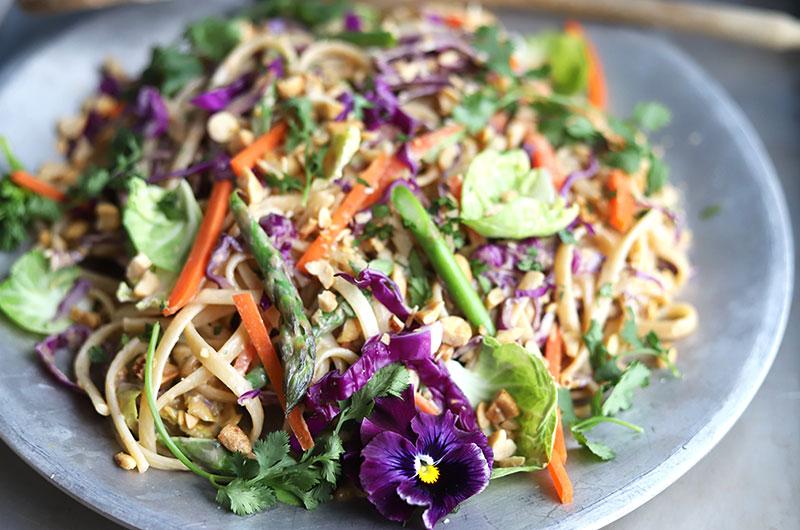 You can imagine the conversation that ensued, but suffice it to say I did not want him to go to the grocery store just to get a can of coconut milk. The solution wasn't elegant, but hey, we've all been there. I scraped what was left of the coconut solids out of the empty can (about a teaspoon or two) and mixed it with Greek yogurt and a bit of heavy cream to mimic the viscosity of coconut milk. It was fine! We used the peanut sauce to make Cool Peanut Noodles with Crunchy Vegetables, a true stuck-at-home recipe since it calls for whatever pasta and vegetables you have on hand.(Edible flower optional.)
If you've got more cans of coconut milk in your pantry than I do (and peanut sauce isn't your thing), make Chinese Egg Noodles with Veggies in Coconut Broth.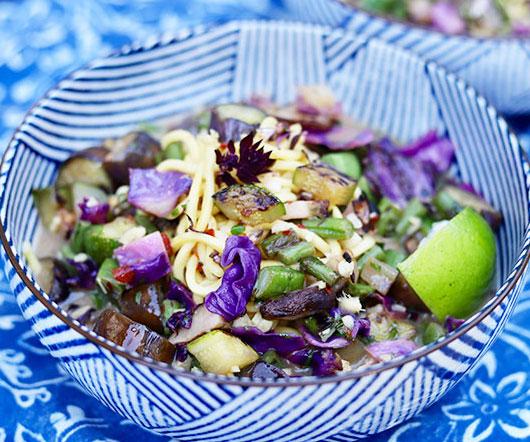 Just about any vegetable, and well, just about any noodle can go in this, too. We're nothing if not flexible these days!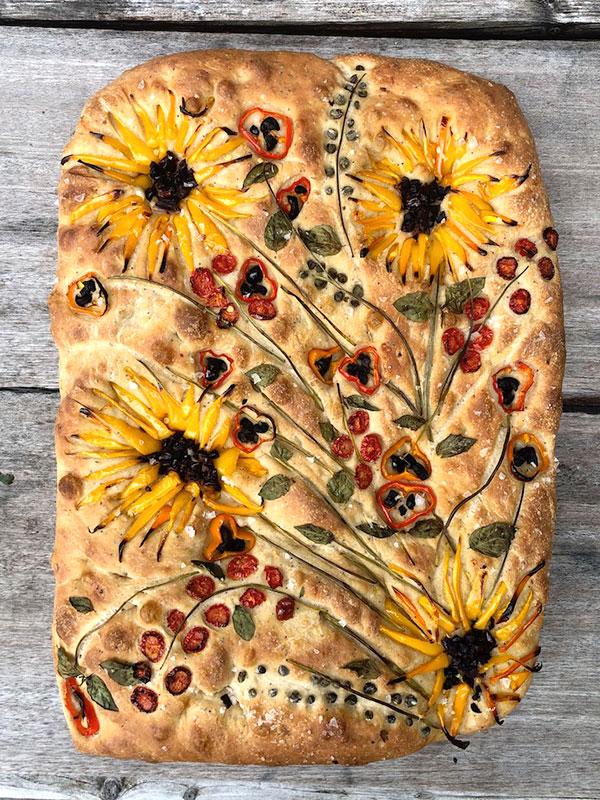 After that, if you've still got small bits of leftover vegetables (and maybe herbs) hanging around, consider this elegant destination for them: focaccia art.
I had a chance to catch up with Teri Cullettto, aka the Vineyard Baker, last week for my article on the bread-baking craze for the Vineyard Gazette. She is the creator of the Focaccia Bread Art Project and has made the recipe and all the instructions for her beautifully decorated focaccias available on her website. I can't wait to try my hand at making one.
Follow Teri on Instagram and follow Cook the Vineyard, too. And get crafty with your cooking!