Each year as winter begins to find its legs on the Island, hunters are drawn into a frenzied dance. It's a mixture of passion, precision and a desire to fill their freezers that lures them into the woods just as the deer emerge on their own frantic hunt to find a mate. In varying choreographies of bows, shotguns and antique rifles — on a stage of the Island's pitch-pine thickets and open-skied pastures — the dance lasts from sunup on October 5 to sundown on December 31. And for the length of it, faces go unshaven, work is pushed off and eyes grow bleary.
This year, 1,132 deer were harvested on the Island, a number which has been growing in recent years, in sync with a booming deer population.
But as any hunter will tell you, hunting is only the opening act.
The deer still have to be tagged, skinned, butchered, vacuum-sealed, frozen and thawed before hunters can feast on the fruits of their labor. With an average dressed weight of 40 pounds, those 1,132 deer come out to a healthy 45,000 pounds of venison packed into basement freezers across the Island.
As hunting season fades into a memory and cold settles into the bones of the Island, stomachs grow hungry for warm straws and red meat. Cooking venison makes sense: it's local, it's plentiful and, as the final act of hunting season, happens to be an extension of a tradition as old as hunting itself.
Making the Most of It
"Venison is literally the most versatile meat in the world," said Brian Athearn. "I can take a piece of venison, walk into my pantry and come out with twenty different ways to cook it."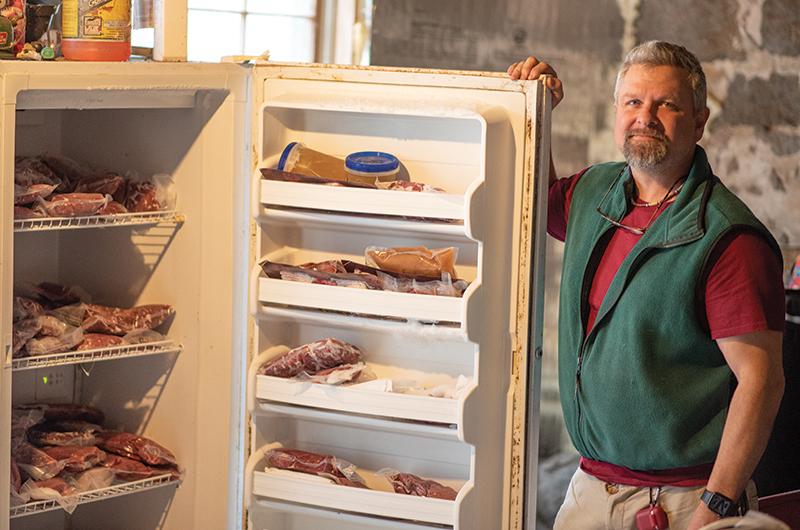 Brian is president of the Martha's Vineyard Agricultural Society, a steadfast hunter and a father who has two growing boys to feed and three freezers full of venison to feed them. He said he's always been driven by a desire to feed his family with locally harvested food, whether that means vegetables or meat. In an average year he said he can cook through seven deer, which he hunts himself. Breakfast, lunch or dinner — he has no problem scraping together a recipe.
He listed dishes that range from a hearty venison stew to a simple taco salad. He makes venison demi-glace from the bones. He eats cube steaks over eggs and micro greens for breakfast. And for dinner he mixes solid coconut oil into ground venison to make burgers; the coconut oil melts as the burgers cook, giving the lean meat the moisture it needs.
"The drive is to feed your family while eating like a king," he said. "My boys have been eating venison since they were old enough to chew, and they love it."
Stewing venison is a popular way to cook the meat; Brian dresses a venison stew up a bit by turning it into Venison Bourguignon. The dish begins with a flavor base of bacon, browned onions and carrots, tomato paste and a bouquet garni that includes garlic, celery and thyme. A splash of brandy, red wine and a bit of beef stock make up the braising liquid. When the stew comes out of the oven, sautéed mushrooms are stirred in.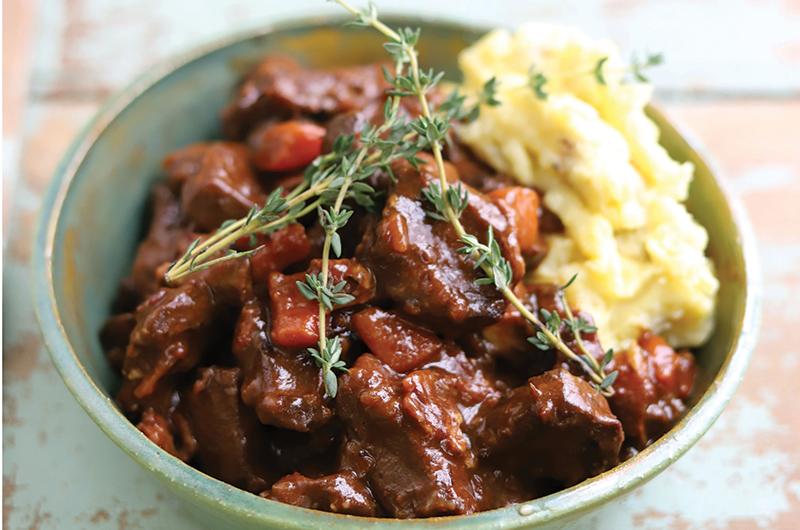 "Serve it over mashed potatoes, rice, pasta or couscous," Brian suggested.
While Brian focuses on feeding his family, cooks find venison just as versatile for entertaining. Chilmark author and cook Alice Early, whose partner Larry Hepler brings home several deer each winter, frequently cooks the cut known as the backstrap for guests. (Backstrap is often called deer tenderloin, but is in fact the loin, the bigger muscle that runs down the back of the animal.) She roasts it in a moderate oven and is careful to cook it to medium-rare (taking it out of the oven between 115 and 120 degrees F). She will either sear it at the beginning or sear it at the end in the fireplace or woodstove. (You could do this on a grill, she notes). She finishes with a green peppercorn sauce enhanced with her own heavily reduced venison stock — or occasionally with a Madeira sauce or port and fig sauce. Venison pairs well with robust flavors like rosemary, garlic, allspice and orange (especially good in marinades).
Alice agrees that overall, ground venison is the most versatile cut. "But it needs a little fat. Some people add beef suet, but I just use a little ground bacon or pancetta. Usually I add a little mayo to the meat when making burgers or meatballs. It works to bind and moisten."
For Marie Ambrose, a hunter and program coordinator at Island Grown Initiative, the goal is to use every part of the deer. Marie shot her first Island deer this year with a new compound bow and processed the animal herself. She is currently tanning the deer hide to make a throw. She's also going to keep and clean the skull and antlers.
And she loves to cook with the meat. She makes venison burgers with cooked bacon (and the bacon fat), garlic, onions, Worcestershire sauce, parsley and an egg. She also cooks the liver, makes broth from the bones and, sometimes, eats the heart.
"You can either filet it open, roll it up with bacon and cook it that way, or just cut it up and fry it," she said. "It's a little chewier than normal meat, but it's good."
If there's any meat leftover, Marie has friends who make dog treats from the scraps. The most important part of hunting, she said, is to respect the animal — which means making sure none of it goes to waste.
"There are countless ways to use each part of the deer," she said. "I'm trying to figure them all out."
---
Will Sennott is a reporter for the Vineyard Gazette.