Thirty years of making documentaries taught me several things about myself. One in particular is that I have a love for selecting and blending, for connecting certain people or pictures with certain words or sounds, for choosing storylines and plot turns and seeing what goes with what, until a tasty story unfolds. In short, I have a passion for cooking.
I even have a favorite dish I associate with the making of a film. Back at the end of the '80s, I co-produced a 90-minute PBS special to commemorate the 20th anniversary of the moon landing. My co-producer (and the film's director) was Mickey Lemle. He and I spent three years working together on this project – drafting proposals, going after grants, interviewing Apollo astronauts to participate in the film, establishing a rapport with NASA to obtain information and footage, researching until we were blue in the face. Finally after getting the green light from PBS, we set off to document the lives and dreams of eight Apollo astronauts, their feelings about traveling to the moon, their observations about getting on with their lives after such an incredible event. The film is called "The Other Side of the Moon" and it aired nationally in July, 1989.
During this project, Mickey and I ate many meals together. Since we both liked to cook, we exchanged kitchen secrets while feeding each other along with assorted members of our film crew. One particular dish that was Mickey's creation was encored again and again to the delight of all those who were invited to partake. He dredged boneless chicken breasts in seasoned flour, tossed them into a pan with heated olive oil and chopped onion and garlic, fried both sides, removed the chicken to a plate, then poured wine (red or white) into the pan, scraped up the browned bits and poured the reduction over the chicken. Ready to serve. Take your pick of side dishes – rice and broccoli, mashed potatoes and green beans, or pasta and carrots. Done. A winner every time.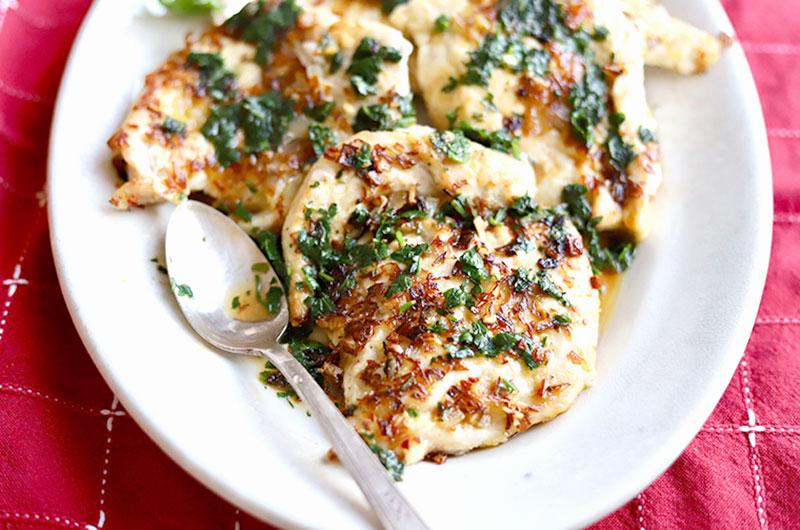 Why was this dish a standout? It was incredibly tasty, whether hot or cold. First of all, cooking chicken au naturel in an oiled pan tends to dry out the meat. But that's where the flour comes to the rescue. Just a coating — no more than a dusting — acts as a sealant. If you mix dry herbs and spices into the flour, you're now wrapping flavors in as well. But I think the big flavor buzz comes during the frying, when the breasts become studded with little jewels of sweet, aromatic onionization. Finally, mixing wine with the shards of these chicken-infused jewels turns into a moisturizing sauce to bathe the breasts, eliminating the devil of dryness.
So, I have been playing with this dish for the last 30 years, pleasing diners on both sides of Vineyard Sound. An experimenter, I never leave well enough completely alone. I read cookbooks as if they're novels. I get ideas. To me a recipe is a strong suggestion, not an exact blueprint. So, I fiddle each time I make my version of Mickey's Chicken. However, I've recently arrived at a choice combo of seasonings for the flour, thanks in large part to Penzeys Spices. This is a great catalogue company of dry herbs, global spices and ingenious blends. For the flour in Mickey's Chicken I use Penzey's Sunny Paris – a bouquet of purple shallots, chives, green peppercorn, French basil, French tarragon, chervil, bay leaf and dill weed. Who could ask for anything more?
What I love from the start is a matter of home economics: chicken in all forms is relatively inexpensive. You can feed four people with this recipe for less than $20. And, as I mentioned earlier, this dish is just as good the next day and the day after that. Yep, yummy leftovers. That reminds me of a Calvin Trillin quote worth ending on: "The most remarkable thing about my mother is that for 30 years she served the family nothing but leftovers. The original meal has never been found."
---

Arnie Reisman and his wife, Paula Lyons, regularly appear on the weekly NPR comedy quiz show, Says You! He also writes for the Huffington Post.