In The Cook and The Book, an ongoing series brought to you by Martha's Vineyard magazine's Cook the Vineyard, we put the spotlight on cookbook authors we love by taking a look at their latest book.
---

THE COOK
Catherine Walthers

Vineyard foodies and Martha's Vineyard magazine readers, you will all know Cathy Walthers' name from her cookbooks, her food writing, and her cooking classes on the Island. You might not know that Cathy is also a longtime personal chef. Or that she loves to fish and forage.
But about those books! Cathy's first cookbook, Greens, Glorious Greens, co-written with Johnna Albi, has become a cult classic, staying in print as the trend towards eating more leafy greens has caught up with it. It was one of the first books on the market to demystify cooking all kinds of leafy greens, from bok choy to turnip greens. Her next book, Raising the Salad Bar, was named one of the 10 best summer cookbooks by NPR. Next came Soups + Sides, and then her latest cookbook: Kale, Glorious Kale, which was recently reprinted with a new cover and in a new size.
When Cathy, who received her chef's degree from the National Institute for Food and Health in New York City, isn't cooking for clients or teaching classes at her West Tisbury Kitchen Lab, she loves to fish, forage, garden, and visit farms. In addition to writing frequently for Martha's Vineyard magazine, Cathy has written for Edible Vineyard, Edible Boston, Boston Globe, Boston Herald, Taste of the Seacoast, Coastal Table, Washington Post, Walking, Body & Soul, Cape Cod Life and numerous websites.
Check out our chat with Cathy below and read on for a preview of Kale, Glorious Kale.
Follow Cathy on Instagram.
Join Cathy on Facebook.
Visit Cathy's website.
---

THE BOOK
Kale, Glorious Kale
The Countryman Press
Paperback, $18.95
Photographs by Alison Shaw

A Few Things We Love about Kale, Glorious Kale
The front section is chock full of useful information. We especially love the two-page chart about "Flavors and Foods Kale Loves" and the sections on growing kale and kale cooking techniques.
The recipes! All of our favorite foods are here – from granola to cioppino. Despite such a wide range of recipes, all 100 of them bring kale into the realm of deliciousness with confidence.
The Kale Chronicles: It's delightful to read these mini-stories throughout the book. Drawn from Cathy's diary as she developed the recipes, they show how wide Cathy threw her kale net in researching the book (Kale fest, anyone?).
Many recipes have a "cook's note" that offers a tip, a source, or a substitution
We love the seductive photos from Vineyard photographer Alison Shaw.
And we have to say, we love this photo of kale varieties!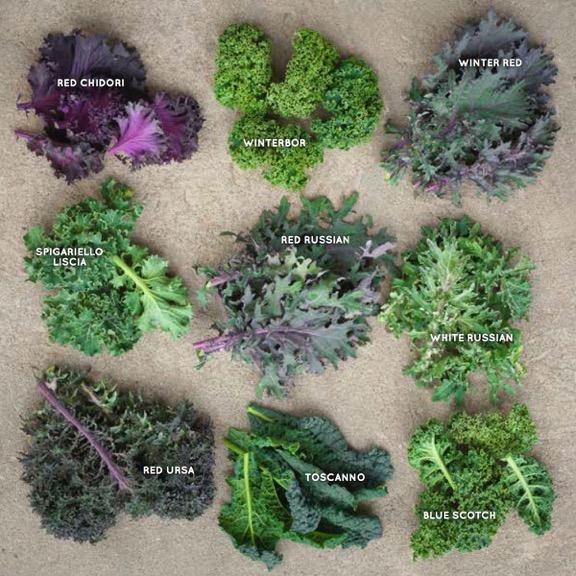 ---


THE RECIPES
On Cook the Vineyard*: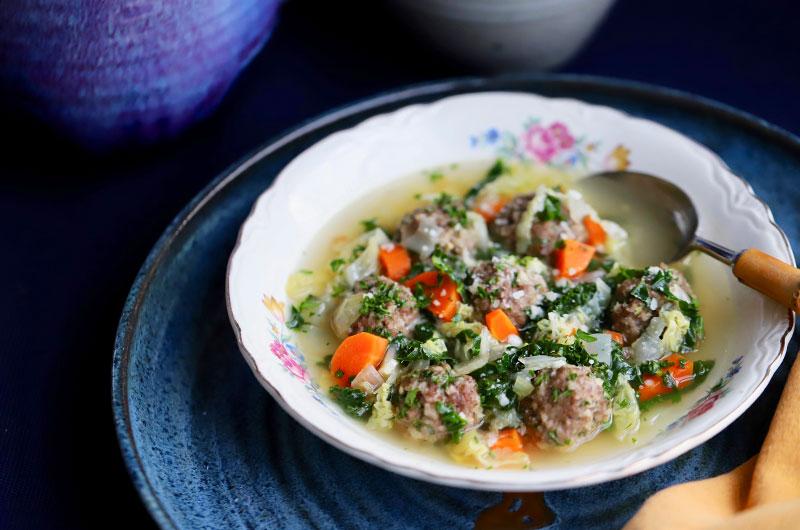 Other recipes in the book that we love:

• Kale Granola
• Fried Rice with Kale
• Maple Sesame Kale Chips
• Quinoa and Kale Salad
• Carnival Kale Salad
• Butternut Squash, Kale and Corn
• Roasted Curried Carrots, Parsnips and Kale
• Kale with Raisins and Pine Nuts
• Asian Peanut Noodle and Kale Salad
• Kale and Feta Pizza
*Poke around our Recipe Finder and you'll find lots of other Catherine Walthers recipes on Cook the Vineyard, from Steamed Pot Stickers with Bok Choy to Roast Salmon and Asparagus with Honey Mustard Sauce. And even more kale recipes like this Kale and Vegetable Soup with Farro.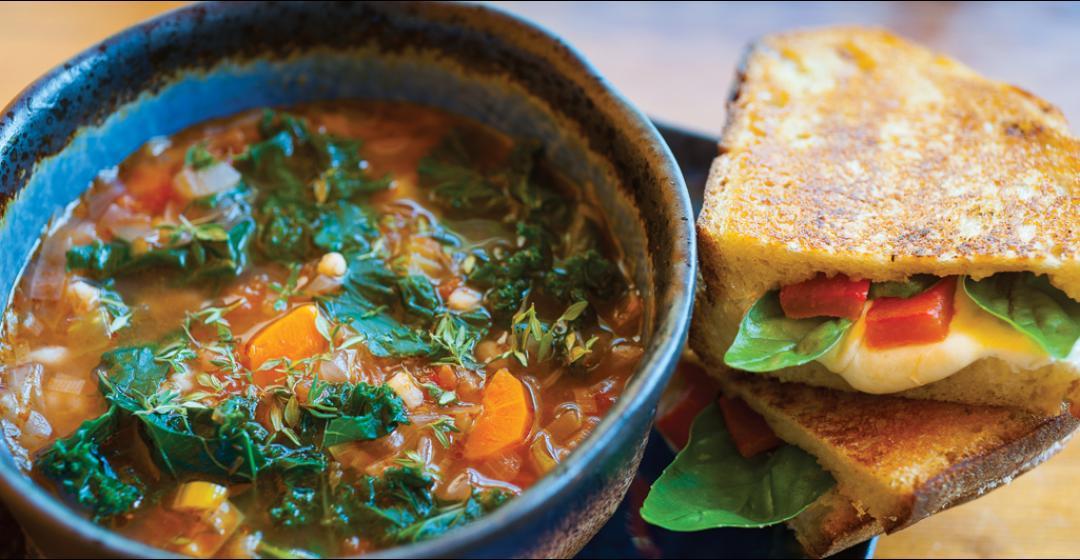 ---
THE ORGANIZATION
Contents:
The Kale Chronicles
• The Glorious Varieties of Kale
• Shopping for Kale
• Ways to Cook Kale
• Growing Kale
• Ingredients and Techniques
The Recipes
• Breakfast
• Smoothies
• Appetizers
• Cocktails
• Grains, Beans, Pasta and Pizza
• Salads
• Sides
• Soups
• Main Dishes
---

THE SOURCES

Whenever possible, it's always a good idea to purchase your cookbooks through an independent bookstore, like our local Bunch of Grapes bookstore in Vineyard Haven. Independent bookstores can always order a book for you if they don't currently have it. If you need to find out where your nearest independent bookstore is, check out IndieBound.org's Bookstore Finder.
Kale, Glorious Kale is also available online from:
---

OTHER BOOKS BY CATHERINE WALTHERS
Greens, Glorious Greens (St. Martin's Press, 1996)
Raising the Salad Bar (Lake Island Press, 2007)
Soups + Sides (Lake Isle Press, 2010)
---

THE Q & A

Cook the Vineyard Chats with Cathy Walthers, January 2020
CTV: Why did you decide on kale for the subject of this cookbook? What do you think explains the ongoing popularity of this hardy green?!
Cathy: I was asked by a publisher to write a book on kale, because of its booming popularity. It's a funny story. I was trying to sell a cookbook featuring my own craft cocktails. That proposal hadn't been attracting a lot of interest, despite contacts with some 20 or so publishers. When Countryman Press saw the cocktail proposal, they noticed all the healthy cookbooks I had previously done on greens and on salads, and they thought I was their candidate to capture the new kale craze. Since you have to test three to four recipes daily when writing and testing a new cookbook, I figured the universe was suggesting I eat kale daily rather than consuming cocktails every day. So I accepted.
As to how kale became so popular, I think it's more about media searching for trends. For the last 25 years or so, the food world has been spotlighting obscure or unfamiliar foods. At first, the food becomes a big deal, but after all the attention dies down and the love affair fades, the particular food of the moment settles into a more regular spot in the kitchen. Some of the foods beside kale we've seen in this cycle of trends eclipsed by newer trends include arugula, pine nuts, pesto, goat cheese, sundried tomatoes, heirloom tomatoes, and avocadoes, not to mention the many foods associated with diet trends.
CTV: In your introduction you highlight how versatile kale is. What are some of the unexpected or surprising uses you discovered for kale while creating the recipes?
Cathy: What was surprising overall was how easily kale seems to fit into every meal: breakfast smoothies, lunch with kale salads or the many kale soups, and dinner with pasta, pizza, or braises. Individually, some of the recipes that pleasantly surprised me included kale in latkes (yum) or kale spring rolls. One of my favorite unexpected recipes was kale granola, with oats, nuts, dried fruit along with deliciously crispy, oven-dried kale.
Another unexpected kale dish comes from one of our newest Vineyard residents, former president Barack Obama. It's a recipe from one of his chefs, Quincy Jackson: a pasta with mushrooms, sausage and kale, which is delicious and quite easy to make.
CTV: What is your favorite feature in the book?
Cathy: Well, aside from the recipes, which are the most important aspect for me and I think for readers and cooks, are the stories and features scattered throughout the book. After I wrote Raising the Salad Bar, a number of people told me they had read the book cover to cover, with one saying she used it for bedside reading. 'Wow,' I thought to myself, 'Reading about salads must have been pretty boring!'
So when writing the kale cookbook, I decided to keep a daily journal and write some kale tales which would make for better reading, such as a recounting of the day Mermaid Farm owner Caitlin Jones and I hosted the Island's first kale festival. Or introducing the kale whisperer, an amazing farmer from Oregon [Frank Morton] I interviewed who creates new kale varieties. The Kale Chronicles, as I dubbed them, gives the reader a bit of an insight into the many interesting aspects of the world's healthiest vegetable as well as the artistic process of writing and creating a cookbook.
CTV: Can you describe the process of working with Alison Shaw on the photographs for this book?
Cathy: Kale, Glorious Kale was my third book, luckily, with photos by Alison Shaw. The process was just me and Alison, in my kitchen, no stylists, lighting or special equiment aside from her camera equipment. I would try to collect a variety of plates and dishes, napkins and utensils. I would always laugh when Alison would head into my basement or my husband's workshop and return with a hunk of granite for a background or once, a plasterer's compound tray (or hawk), which she used effectively in a photo of Fried Rice with Kale.
Alison likes to shoot in natural light, and I like to present the dishes just as they will look when readers make them — a helpful guide, if you will. I was a bit dismayed during kale shooting when Alison decided she liked the natural light in the first floor bathroom best. For a few sessions, we set up a table in the bathroom to set the dish on and she would squeeze around the small room shooting from a variety of angles. I would make maybe four or five dishes per session, and it would take us about an hour to shoot each dish. We finished the day by eating the food, ignoring the number of times each had been "handled."
CTV: What is your favorite cooking method for kale? And do you have a favorite variety that you grow or always gravitate to at farmers' markets?
Cathy: My primary goal was to include any recipe that makes kale taste good, and to share all the good cooking and preparation methods. I knew from my own experience this wouldn't be hard. The very versatile kale can be sautéed, precooked or boiled, simmered or braised, baked, grilled, or stir-fried. And of course kale's distinction of being one of the healthiest vegetables in the market made this more important to me.
But, despite all this, I had noticed all the people who said they didn't like kale, or had had some bad experiences and now avoided it. I had not forgotten the day a few years before writing this book when I was volunteering at a CSA where people were picking up their shares of vegetables. People were giving away their kale, saying they didn't like it. Even then, I wrote down their phone numbers and sent them one or two favorite recipes, suggesting they give it another try. When writing the book, I thought more about the possible reasons for why this is. I guessed it was possibly either the way people were cooking kale — such as steaming which is probably the worst way to cook it — or maybe serving it plain, with no other flavors. Kale needs some help, even if its just a bit of olive oil and garlic, a touch of sweetness from dried cranberry or a topping of cheese.
This is a long way of saying that there are many ways to cook kale and I use recipes to teach these different methods. I hope readers find their own favorite cooking methods.
Kale also makes wonderful salads, served raw. Here again, there is help. When serving raw (especially mature kale), I suggest the method of "massaging" kale, rubbing the leaves with a bit of olive oil and salt, to tenderize and soften. This avoids that unpleasant chewiness that I've experienced in some restaurants.
And a final note: If kale tastes bitter, unpleasant or tough, it could be the way it's grown. Kale tastes best in the fall or spring. If it's grown in the summer in weather too hot or without enough water, it won't taste as good. In this case, just try it from another grower. There are many great growers on the Vineyard who know exactly what they are doing.
CTV: When you teach cooking classes, what is the most frequent question you get asked about kale?!
Cathy: It's probably, "How do you make kale taste good?"!
*