Whether it's the weather — or not — I'm finding myself craving colorful foods. Perhaps I'm filling up on phytochemicals not just as an antidote to the grey days but to balance the browns and beiges of Thanksgiving, comforting and delicious though they were.
For me, finding my way into healthy eating through bright colors and interesting textures is easier than overthinking the exact nutritional content of what I'm cooking. For instance, I fell into this Kale Salad with Sweet Potato Fries and Blackberry-Lime Dressing by accident. I love to pair roasted vegetables with hearty greens to make warm salads, and the combination of kale and sweet potatoes seemed made for each other. Add blackberries, pecans, and even a little quinoa and you've got a nutritional winner all-around.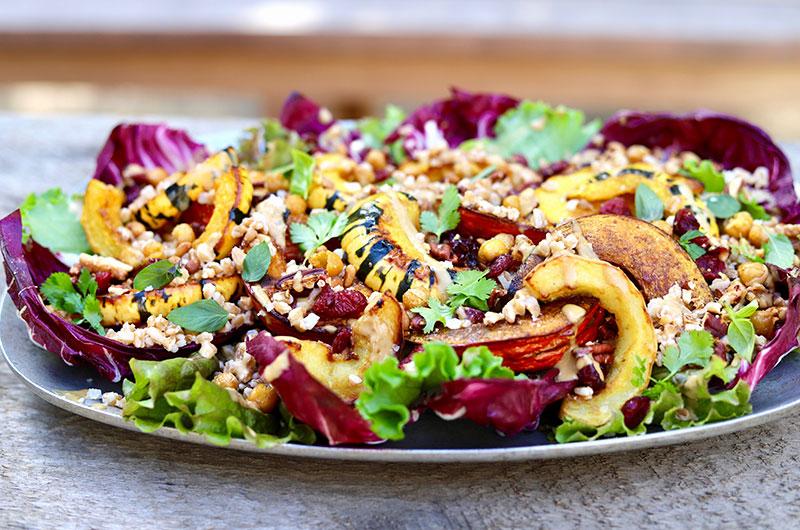 If this idea of a hearty salad appeals to you this week, don't forget about two more recipes: Roasted Cauliflower, Frisee, Apple and Walnut Salad and this colorful Roasted Squash and Farro Salad with Fall Greens, Cranberries and Nuts. Sarah Waldman's Wild Rice Salad with Fennel, Dried Apricots and Radicchio is also a good one for this time of year. It can be served at room temperature and Sarah likes to take it to potlucks.
Do you need a soup to go with your salad? (Or without!) Here's a warming and rustic Tomato-Ginger Bisque, built on a base of fennel and leeks, with lots of fresh ginger, some garlic, coriander and a bit of orange. (Oh, and a big serving of lycopene.) I like to serve the thick soup with Rustic Croutons I make out of leftover crusty bread, but you could also make Cathy Walthers' Cheddar Dill Biscuits.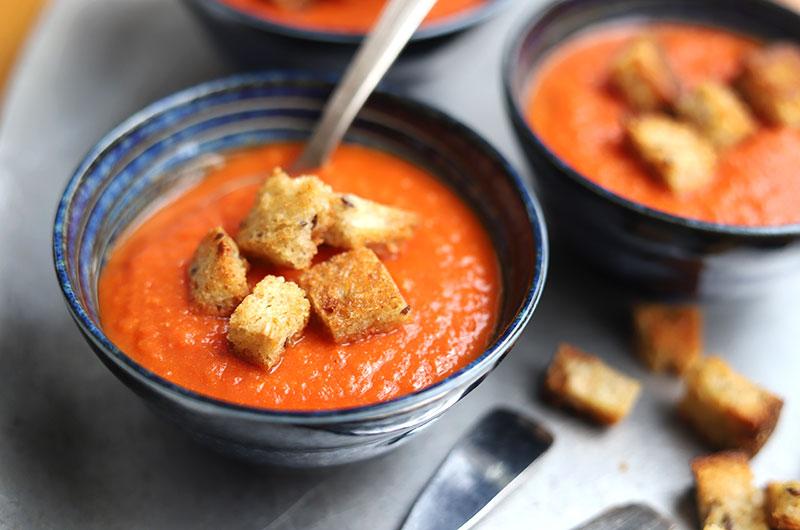 I know, we can't live on salad and soup alone. For chicken dinners this week, try Tina Miller's quick Lemon Shallot Chicken. Or turn the slow cooker on; now's a perfect time to make Sarah Waldman's Slow Cooker Moroccan Chicken Thighs.
And now for the fun stuff – holiday baking, of course! This week if you're on Island, you may notice the appearance of a new cookie from Pie Chicks. (Visit the Winter Farmers' Market or Cronig's.) The Vineyard Salted Cranberry Bar is a very special cookie created by Pie Chicks founder Chrissy Kinsman for our Cook the Vineyard Event with NYT Cooking's Sam Sifton this past October.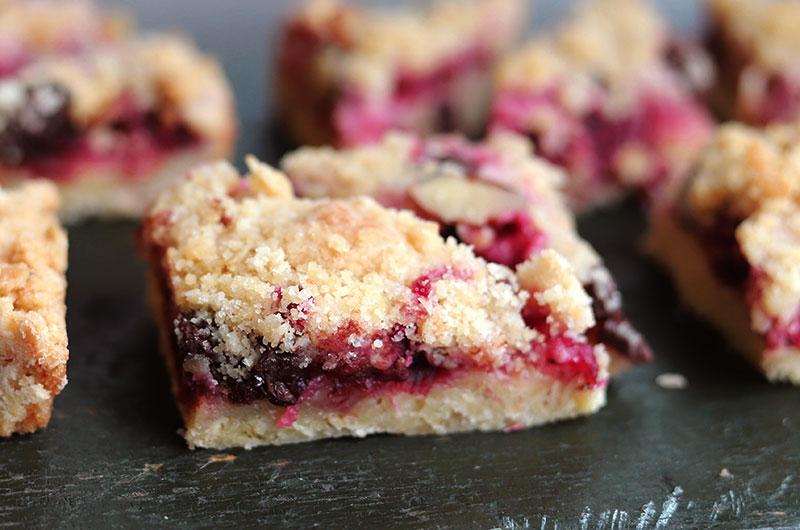 All of us who sampled the cookie at the event immediately wanted the recipe. Chrissy was kind enough to share it with us, and we now have it for you, scaled down to fit into a 9 x 13-inch "quarter" sheet pan (a Pyrex baking dish will do in a pinch). You'll have a blast making this layered bar cookie with a shortbread base, a layer of cranberries, some sliced almonds, a few chocolate chips, and a crumble topping. The kicker is a sprinkling of flaky sea salt on top.
The recipe makes enough to share (hint, hint).
Make that and we'll be back next week with more ideas for holiday (and colorful) cooking. In the meantime, share this newsletter with a friend and join us on Instagram and FaceBook — and of course right here on cookthevineyard.com.