When Everett Whiting was a kid, he spent countless hours cruising around Menemsha with his cousin in his Boston Whaler, docking only to enjoy a fish sandwich at The Bite. Those were the summers of fried fish, tartar sauce, lettuce, tomato, cheese and a roll: the simple sandwich and the iconic clam shack that were good enough to spark a lifetime of cooking.
"That was the best time in my life. My aunt had a house right across the street. That's one of the greatest-tasting things I can remember as a little kid," the Island native recalled, sitting in the cluttered office of his newest venture, a fish market and take-out eatery at the airport called The Fish House.
Everett has lived in many other places and tried many different careers in the years between his childhood in Menemsha and his new sleep-deprived role as a leader of a nascent business. But the menu at The Fish House includes a simple fish sandwich on a roll, an homage to his roots.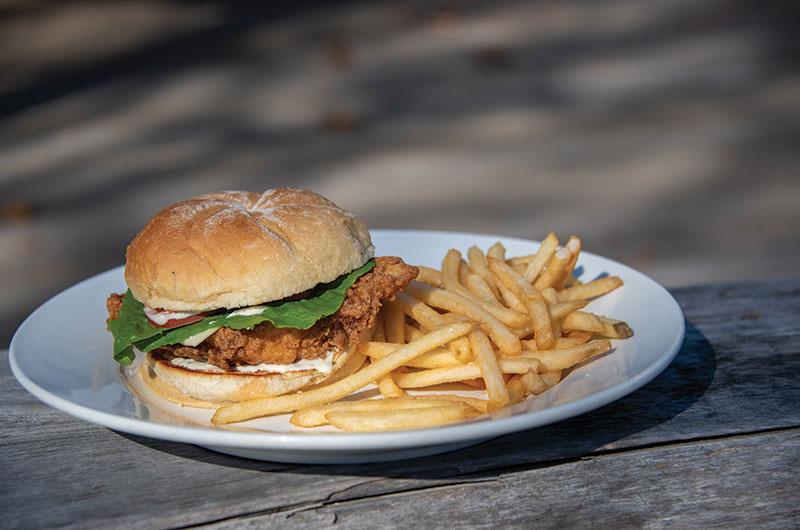 "I wanted to just go with what I remember as the classic New England fish sandwich. We have this really fresh fish. And it's just simple homemade tartar sauce and tomatoes, lettuce and cheese, you know. It's like going to The Bite when I was a little kid."
The Fish House will close for the winter at the end of December and reopen in April for the next season, and Everett is full of ideas for the future of the place. The venture is the latest in a winding path that, despite its detours, has always kept the 37-year-old chef tied to the Island and to food.
Everett grew up on the idyllic Whiting Farm on State Road between Alley's and the Agricultural Hall, helping his family to raise sheep and chickens. A culinary student at the regional high school, he got his first restaurant job at 15 in the kitchen at the Red Cat, then located in West Tisbury. As a young adult, he completed a culinary program in Italy and worked as a personal chef in Los Angeles.
He was considering going to culinary school when he returned to the Island at 24, but he found himself working as a stone mason instead. He joined Eben Armer's company, Contact Stone, and he stayed on for 11 years. His work included trips to harvest stone in the forests of Maine.
"I kinda just made a big switch there for a while," Everett said. But he couldn't quite let go of his culinary inclinations. After a few years, he began raising pigs on his family's farm and doing an occasional pig roast. Eventually, he joined Tim Laursen to create Local Smoke, a popular vendor at the Agricultural Fair. Soon he was taking all of August off to prepare for the fair. Then he was taking July too.
"We sold a lot of pork. It was really popular," Everett said.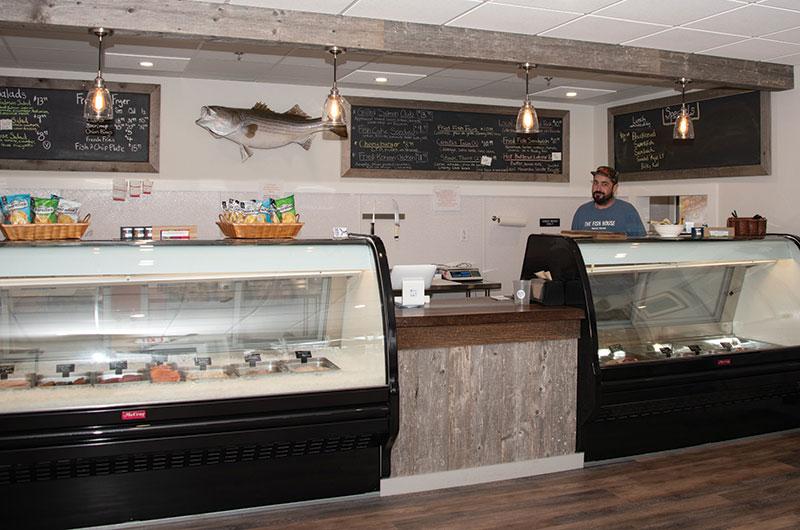 Another sandwich on the menu at The Fish House, the Local Smoke Pulled Pork, is inspired by Everett's years working the Ag Fair, but he said it's not quite the same as the sandwiches they served at the fairgrounds.
"It's not the same thing. Fair dust? I don't know what happens at the fair," Everett said.
Everett credits Hal Ryerson, chef/owner of The Sweet Life on Circuit avenue, with fully guiding him back to food. Hal approached Everett to work part time at Sweet Life, and with that, the transition back to restaurant work was complete.
"Once I discovered cooking again with Hal I was like, 'Okay I'm done. I have to go back to cooking full-time,'" Everett said. "Hal was wildly inspirational in making me actually want to open up a place on my own."
Everett is a hunter, and in recent years has taken to foraging the Island for edible plants and fungi. He's won the Local Wild Food Challenge twice, most recently with venison three ways.
"In the 10 years [organizer Bill Manson] has been doing it here my knowledge of edibles in the woods has grown exponentially," Everett said.
His ultimate dream is to open his own farm-to-table restaurant, a sit-down place, but the opportunity to partner with husband and wife Tyler Gibson and Shane Laderoute at The Fish House proved too good to pass up. Everett acknowledged that it takes a bit of nerve to open up another fish market on the Island, where places like Larsens and The Net Result have accumulated legions of fans and international acclaim.
"If we're going to go the fish market route, we have to keep it as high quality and as fresh [as the others]," Everett said. "You really have to take a note out of their book and try to do really fresh and as local as possible."
A partnership between Everett and Tyler and Shane, The Fish House opened last summer after six weeks of intensive renovations. The fish market is nestled between MV Wine and Spirits and Black Sheep Mercantile in the cavernous building that used to house the Hot Tin Roof nightclub. The establishment was originally conceived as an extension of the Menemsha Fish House with a take-out counter, but Everett ended up buying out the partner affiliated with the up-Island fish wholesaler, and the business became something entirely new.
"It went from working all day and night to get it done to suddenly being July 6 and we were actually opening," Everett said. "It was a whirlwind of a summer, but I think it went well."
Along with the fish sandwich, the takeout menu features (among other things) a fried Korean chicken sandwich, a poke bowl, salads and a variety of tacos. Take-home dinners include shepherd's pie and eggplant parm. Daily specials might be lobster mac 'n' cheese, chicken tortilla soup or ribeye steak 'n' cheese. (Follow @thefishhousemv on Instagram to see daily specials.) Next year, Everett said the market hopes to offer more meats.
The Fish House has featured fish and lobsters from local boats like the Sinful, Helen L., the Rock and Roll and the Shearwater. Everett said their location at the airport is both an asset and a setback. They are hidden out of sight, but also centrally and conveniently located for people on their way home from work.
Throughout the summer, people did learn about the place, and word spread. But Everett said he realizes it'll take a few years before the market really catches on.
"I like to learn," said the pig farmer, stone mason, hunter, butcher and chef. "We have goals. We want to work towards them."
---
Holly Pretsky is a former reporter for the Vineyard Gazette.