One dough, one technique, lots of fillings: A rustic tart (also called a galette or a crostata) is a free-form pie that's fun to make and impressive to serve to your friends and family. (Honestly, you look like such a pastry rock star when you make one of these, but they aren't hard to master.)
At Cook the Vineyard, we've got the ultimate versatile master recipe for rustic tarts, starting with an easy make-ahead food processor dough that bakes into a buttery, super flaky crust. Inside that crust? You get to decide whether you want a sweet tart with an apple, plum or pear filling (with or without crisp topping) or if you'd rather make something savory like a Savory Cabbage, Apple and Cheddar Tart or a Savory Roasted Butternut, Pear, and Cranberry Tart. Savory tarts are wonderful with soup or a salad for supper.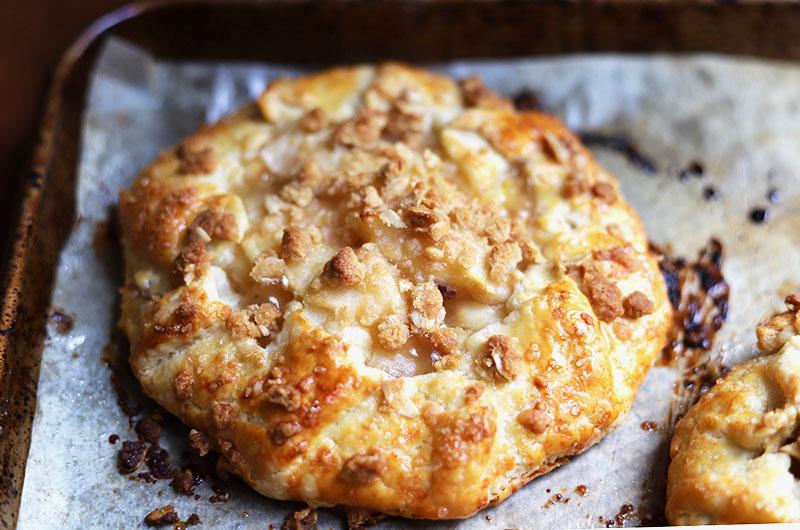 Also, did I mention you can make these as big or as small as you like? Pile everything into one big tart. Make two mediums — or four cute minis. We love options.
Hey, we've got a wine column debuting at Cook the Vineyard! Chilmarker Jim Malkin will share his passion for drinking delicious wine with dinner and coach us on how not to get flummoxed by winespeak and wine rules. In fact his first piece, Cook Fish. Drink Wine. Relax., debunks the myth that we must drink white wine with fish — and gives us some very quaffable ideas for what to serve with everything from lobster to bluefish.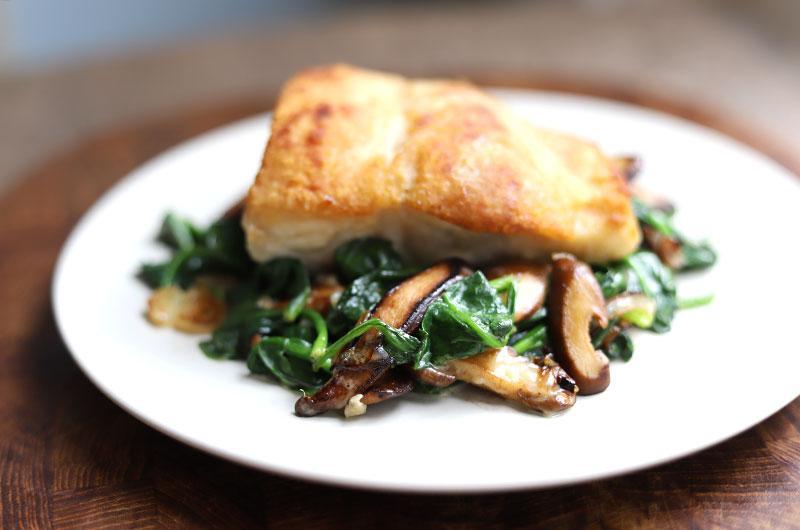 Because we've got fish on the brain (after all, we're in the middle of the 74th annual MV Striped Bass and Bluefish Derby here on the Island), we took a look at our favorite method for cooking striped bass — Sear-Roasted Striper Filets — and paired it with something fall-ish: a Shiitake, Spinach and Shallot Sauté with Parmigiano. We like to use the sauté as a bed for the fish.
By the way, if you want a glass of wine with this striper dish, Jim Malkin has some recommendations: For white, a Vernaccia di San Gimignano — clean and crisp to cut through that bit of cream and parm in the sauce. For a red, anything from a Sangiovese grape (California makes some particularly good ones; Tuscany has a wide range). The fruit isn't heavy and the acid in the wine will balance the sauce.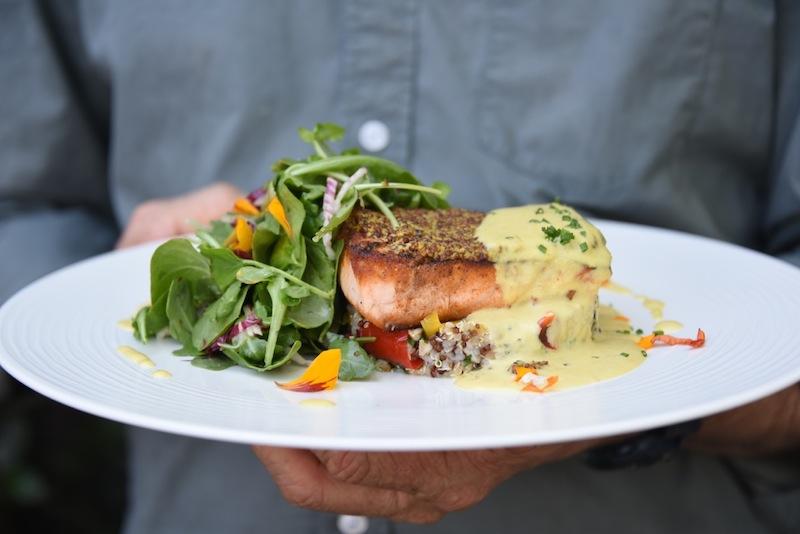 If we can't eat local fish, our next favorite is salmon from the Faroe Islands. Packed with Omega-3s, salmon is not only really good for us, but it's also incredibly versatile in the kitchen. It can take an assertive sauce like the one in l'étoile chef Michael Brisson's Seared Salmon with Mustard Crust and Saffron-Horseradish Cream Sauce. Say that fast five times!
Sticking with the good-for-you mentality, broccoli is our vegetable of the week. And even if you (or your kids) think you don't like broccoli, Crispy Roasted Broccoli with Dipping Sauce will change all that in a heartbeat (or about 14 minutes in a very hot oven). Nothing could be easier. Tamari + lime juice + honey + grated ginger + scallions = sauce.
We hope you'll follow us on Instagram and FaceBook. And we'd love to see you on October 24 when we host NYT Cooking's Sam Sifton for All the Food That's Fit to Eat at the Martha's Vineyard Food and Wine Festival. I'm on deck to chat with Sam, so let me know what you'd like me to ask him! (Email me at cookthevineyard@mvgazette.com.) Happy fall cooking!