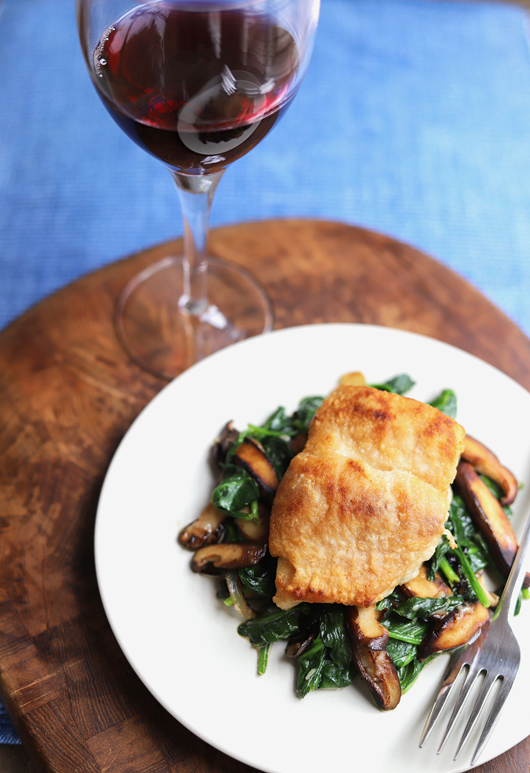 For some reason, most wine drinkers labor under the impression that you must drink white wine with fish. Any white wine. Any fish. If you're fancy, maybe sparkling prosecco or champagne. I think that rule does a disservice to fish, to chefs and to wines. More importantly — a disservice to you and to me.
The taste and texture of fish varies from species to species. A tender fluke has a different texture from a meaty swordfish. A bite of bluefish tastes nothing like a forkful of striper. And a codfish is, well, not a salmon. Their different tastes don't work with the same wine. If you're trying to keep life simple and your host says, "Oh, we're serving fish, please bring a white wine," you might want to grab any old white and not worry about your hosts thinking you are uncultured. But there are interesting and easy alternatives to take along to your fish dinner.
If you're trying to blend wine and fish without getting too deep into the arcane and — gasp — silly puddle that is wine commentary and discourse, I'd suggest thinking about the flavor of the fish and the way the fish is cooked. A citrus sauce reacts one way in your mouth, a butter sauce another way, and a Thai or Cajun preparation takes you into completely different taste sensations.
You get my drift. Fishes taste different. Sauces and preparations taste different. White wines taste different. Red wines taste different. The rule of white wine with fish is, for me, a non-starter.
If I were cooking a codfish, I'd want a different wine if the cod were fried than if it were poached. If I had hot sauce on the fried fish, I'd want a different wine than if I squeezed a lemon on it.
If I had my druthers, for fried cod with hot sauce, I'd want a sweet white like a Riesling or a Semillon or a mid-weight red with some fruit taste like a Beaujolais, a Chinon or a Blaufränkisch. If the cod were poached and served with a lemon wedge, I'd want a wine to cut through the lemon. In that case, I'd be happy with a Sancerre, a Gruner Veltliner or a non-oaked Chardonnay for white. For a red, I'd be delighted to drink a Sangiovese or a Nero d'Avola — light on tannins (tannin = bitter) and easy to slide down the throat with the cheerful flesh of the cod.
I would drink the same way with striped bass, with maybe a move to a fuller tasting wine. Chefs around the world think that our striper is the best eating fish anywhere. Depending upon how it's cooked and with what it is served, I could be talked into virtually anything for wine as long as it wasn't too, too big and bold. So, with Striper please don't pour me a glass or three of California Cabernet, Australian Shiraz, or Chateauneuf de Papes. Save them for the cheese course after dinner.
The bigger, meatier taste of swordfish and salmon, and the oilier taste of bluefish do make a case for bigger wines — again, being conscious of the preparation: A blackened swordfish, a seared salmon filet or a garlic-sauced bluefish can stand up and dance in your mouth with the big wines. This is where your bottle of oaked Chardonnay, that gift of Australian Shiraz (not those with animals on the label), the splurge on expensive California Cabernet pours into your glass. I want that strong vanilla (everyone can identify the taste of vanilla) Chardonnay or that big juicy tannic red wine to churn in my mouth with the fish.
Wine with shellfish and lobsters? Ernest Hemmingway wrote of his finest moments pre-World War II in Paris at the Ritz Hotel while eating Belon Oysters and quaffing Chablis. We don't have to go to Paris — if you do go, please take me — and we don't have to eat our local shellfish while quaffing Chablis. A dry Pinot Grigio quaffs very well with Katama oysters or Menemsha little necks. A lighter Oregon Pinot Noir (not the juicy fruity ones) or a Spanish Rioja or an easier Argentinian Malbec works, too.
For that lobster, the world of wine is open. Lobster is a meaty textured, butter-dripping forkful that can clog your arteries, get caught in your teeth, and make your mouth smile. A three-ounce serving has almost half of your daily cholesterol and that's not counting the butter! Remember that until recently it was illegal in the Commonwealth of Massachusetts to feed prisoners lobster more than once a week. Approach your lobster meal carefully.
I want to eat my lobster with big robust wines. Wines that taste meaty, wines with sharp, strong, even tannic taste that will stand up to those buttery morsels that you gleefully stuff in your mouth. Great fun bottles of Champagne or Sparkling Pinot go down a treat. A young, fresh white from Burgundy will do well. That bottle of Chateauneuf de Papes will be in my glass.
In your glass, pour a wine you like to drink as your accompaniment to your fish dinner. Don't follow the white with fish rule every time. Don't follow what I've written if it doesn't sound right for you. Try new things. Just cook the fish, pour the wine, relax at the table and remember that life is good.
Jim Malkin lives in Chilmark and drinks wine with dinner.