In California's movie industry, Zared Shai has been a screenwriter, a snowboarding cameraman, a film editor and a provider of visual effects.
Back home on Martha's Vineyard, he's best known for providing a fun and friendly restaurant experience with scratch-cooked tacos at Taco House (formerly Backyard Taco) in Edgartown and the newly-opened Dos Mas in Oak Bluffs.
Zared's most recent film credit is for editing this year's heist picture Vault, based on a true caper in 1970s Rhode Island. An earlier feature he worked on, Me and Earl and the Dying Girl, was a hit at the Sundance Film Festival in 2015.
But the work took a toll on his health.
"I was exhausted," Zared said. "I was going to eye doctors because my eyes hurt so much."
On a trip back to Martha's Vineyard, where he grew up as an Oak Bluffs summer kid — his parents Nancy and Raphael own Vineyard Jewelry on Oak Bluffs avenue — Zared felt the pull of Island life. When a retail spot on Edgartown's Winter street became available, he reflected on the many juices he'd enjoyed in Los Angeles and decided to open a smoothie shop.
Smooth Moves launched on his 31st birthday, July 8, 2015. When, the following year, his landlord made the adjoining space available, Zared knew exactly what he wanted: a taco shop with high standards.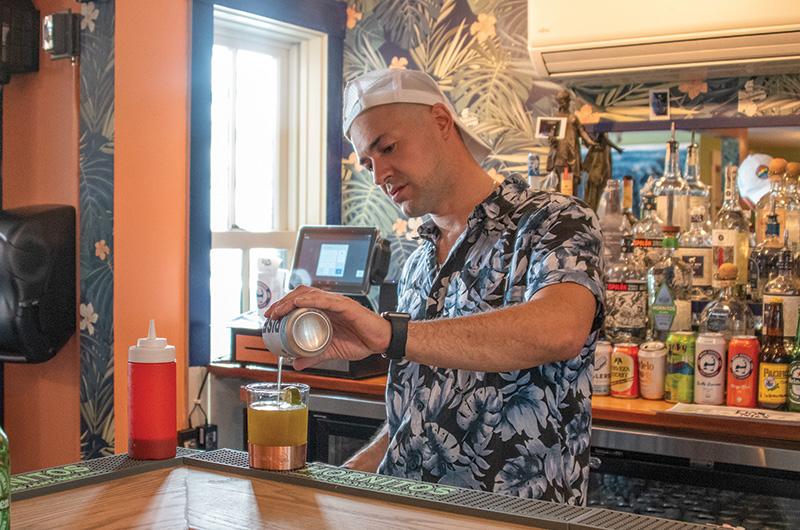 "The biggest thing was handpressed tortillas," he said. Other key ingredients: "fresh salsa and handmade everything."
"Whatever we could do ourselves, we'd do."
"We" is chiefly Zared and his brother Evan, with help from their father. Laid-back and apparently unflappable, Zared works the front of the house while Evan handles the cuisine. Raphael presses tortillas and pitches in wherever he's needed.
Over the past three years, the Shais have won fans and acclaim for their fresh fillings — falafel, fish, eggplant, mushrooms, meat or cauliflower, with accompanying sauces — served on just-pressed corn tortillas.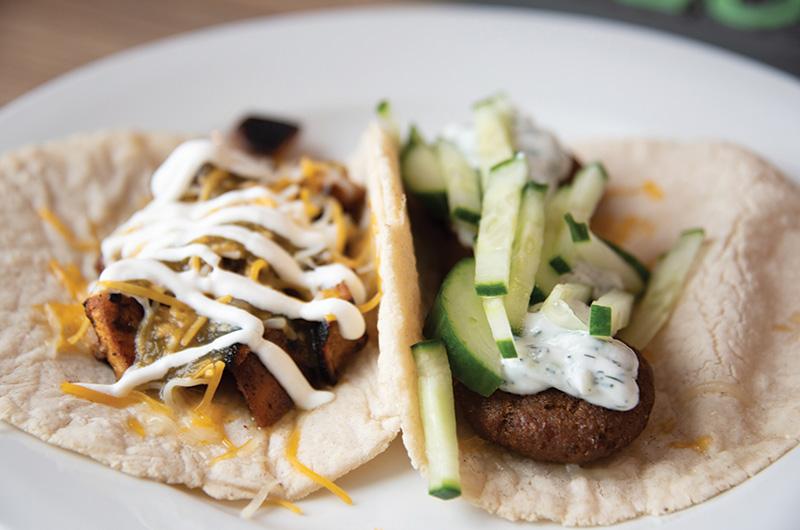 Taco House's surf-shack vibe, the generous — and optionally spicy — margaritas and especially the tacos were an instant hit, and the 1 a.m. closing time made Winter street a new destination in downtown Edgartown.
But with most of its seating outside, the little taqueria had to close for the winters. Zared wanted a year-round spot as well, and he found it in the Circuit avenue space formerly occupied by the Slice of Life restaurant.
Once again, he was able to celebrate his birthday with a new restaurant, turning 34 with a "Wear Red for Zared" party at freshly-opened Dos Mas.
With ample indoor seating and a sunny enclosed porch, the brothers' new restaurant holds more diners than the Edgartown location. The whimsical decor includes an all-red alcove with a red table and two red chairs.
Zared says it's great "For a date or if you're feeling passionate." Elsewhere, tiny green plastic leaves cover some of the walls. Zared and Evan's commitment to freshly grown and prepared food is evident — not only in the food they serve, but in the extensive rooftop garden over Dos Mas where they are growing fresh cilantro, tomatillos, cucumber, lettuce, edible flowers and eggplant destined for diners' plates.
Currently, the menu is the same at both spots, but Zared said he wants to expand the kitchen and he's already begun experimenting with breakfast service in Oak Bluffs.
Taco House, known on Facebook as Taco MV, is located at 32 Winter street, Edgartown. Dos Mas is at 50 Circuit avenue, Oak Bluffs. Both locations are open daily.
Louisa Hufstader is an Edgartown-based journalist.