This is hot, so get it while you can: Kyleen "Ky" Keenan, who was one-half of the Not Your Sugar Mamas duo, has started a new venture called Frankie's Flatbreads. Named for her daughter Francesca — and in the spirit of leaving the next generation a healthier planet — the business will get off the ground with one truck on Martha's Vineyard during the month of August.
After that, Ky's business opens in New York city with help from Max Crespo, the founder of Neopolitan Express, who started the first fleet of eco-friendly mobile pizzerias. The trucks run on clean-burning, domestic renewable gas. Ky's flatbreads will be the first certified gluten-free, all plant-based pizzas-on-the-move in New York.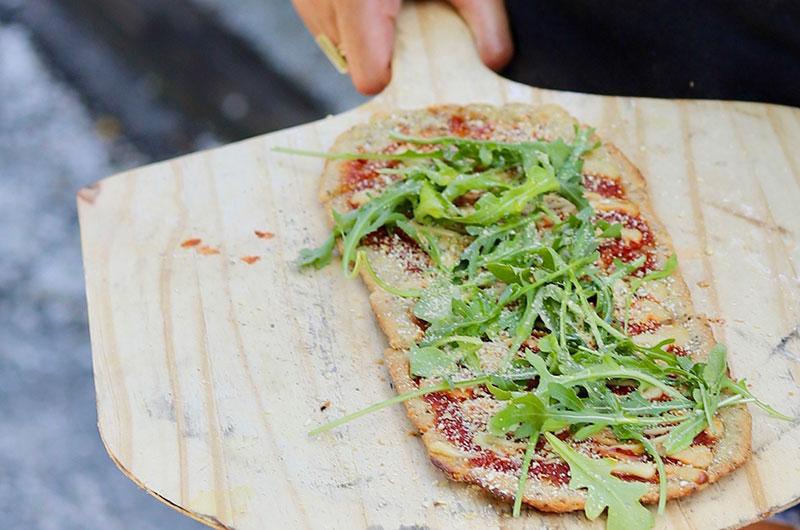 The town of Tisbury gave Ky the green light to open the truck for business in a spot next to Island Copper, behind The Larder on State Road. There are parking spaces and some seating as well. You can't miss the turquoise truck decorated with whimsical drawings of vegetables.
Most importantly, the flatbreads are absolutely delicious, judging by the sample we tasted. (And "we" included a carnivore who did not know he was eating a gluten-free, plant-based flatbread.) The ingredients for the crust, which Ky developed when she and Bennett Coffey added take-out food to their Vineyard Haven chocolate shop a few years ago, include arrowroot (a fiber-rich tuber which is also a healthy prebiotic), coconut flour, avocado oil and chia seeds.
The food truck has electric deck ovens that can run as hot as 900 degrees, so Ky has altered her recipe to make a very thin crust that cooks through and gets crisp at the same time. The topping we sampled was marinara with cashew cheese, arugula, cashew parm and a drizzle of olive oil. Other toppings include Buffalo Cauliflower and Red Cabbage with Cashew Sour Cream.
The truck will have a special launch event on Friday, July 26 at the Allen Farm in Chilmark from 11 a.m. to 2 p.m. The event will start with yoga on the lawn; and the Yommi Food pops folks as well as the MV Photobus will be on hand. The truck will open for business in its Vineyard Haven location on Monday, July 29, 11 a.m. to 7 p.m. They will also be on hand for the MV Sharks game on Wednesday, August 1.
Follow Frankie's on Instagram @frankiesflatbreads. Or visit frankiesflatbreads.com.
A version of this article appeared in print in the August edition of the Vine.