Two dudes walk into a bar and order…beef Wellington?
"Hear me out," Gustavo Aguiar, executive chef at 20byNine in Oak Bluffs, the Island's only whiskey bar, said after proclaiming that beef Wellington is the quintessential meal to eat at a bar.
"Beef Wellington was created in dedication to Arthur Wellesley, the first Duke of Wellington in England, the duke who defeated Napoleon," Aguiar said proudly, adding: "It's a dish that is honoring something; it's a dish that is something very special. It's a dish that pays homage to different times, and that is exactly what I want to be doing with my food here at 20byNine."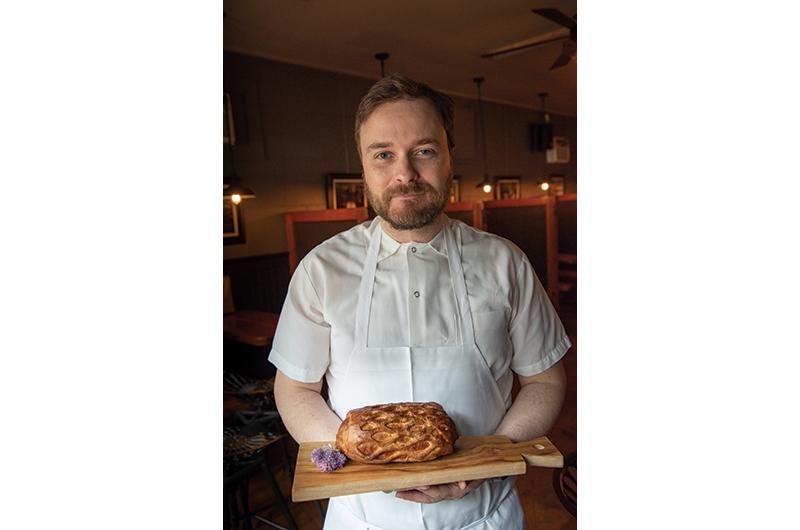 Originally from Brazil, Aguiar moved to Martha's Vineyard a couple decades ago with his parents. As a summer job, he worked as a prep cook at a fine dining restaurant in Edgartown specializing in French cuisine. That's where he caught the cooking bug.
"Most people don't realize my influence is in French cuisine and American cuisine and an overall blend of different cuisines," he said. But one look at his menu will prove otherwise.
While traditionally an English dish, beef Wellington does have French roots, and the skills to cook a perfect beef Wellington come from years of practicing how to make the French filet de bœuf en croute, which translates to fillet of beef in pastry.
20byNine's beef Wellington is colossal. To cook it, Aguiar takes a twelve-ounce piece of tenderloin and sears it in a hot pan, then quickly removes it from the pan to coat it with mushroom duxelle and foie gras. He covers the entire thing with prosciutto and finally wraps it in puff pastry and puts it on a baking sheet in the oven to cook. He serves it sliced on a plate with a Madeira sauce, a combination of Madeira wine, mushrooms, tomato, and beef stock.
The menu states Aguiar's beef Wellington is "for two." That's probably because the criteria for good bar food is food you can share.
"Our cheese and meat plates are meant to be shared; our lobster fritters and other appetizers are all perfect for sharing," he said. "And this beef Wellington, well, it's just the perfect dish that's meant to be shared."