Leave it to me to get sentimental about garlic scapes. This weekend I spotted them at the West Tisbury Farmers' Market and had a flashback to the first time I'd ever seen them. It was maybe 25 or 30 years ago during one of my first visits to the Vineyard, and it was right there at the Grange Hall. I still have a photo (print, of course) of a basket of scapes, taken (I think) at the Morning Glory Farm booth. Little did I know that my enchantment with whimsical edibles — and the Island — would lead me back here to live.
Now after 11, almost 12 years on the Island, I'm finally free to go to the market again on Saturday mornings, since I no longer have to get up and harvest and stock a farm stand.
On Saturday, the passage of time was really on my mind as I made my way from 94-year-old farmer Bob Daniels at one end of the market to young Olivia Pattison (Cinnamon Starship) at the other. At the breakfast table that morning, a quote from Chinese science fiction author Liu Cixin had been read to me from The New Yorker. Cixin compared the future to "pouring rain" that "reaches us before we have time to even open the umbrella."
Ain't that the truth. He was referring, I think, to the speed of technological development, but the vivid image is a great way to picture our inadequate efforts to make time stand still. Which I often wish it would.
But what happens in the elipses between then and now is still cause for celebration. As I looked around the market, I saw the farmers and artisans I met 10 years ago, like Heidi Feldman of MV Sea Salt and Chrissy Kinsman of Pie Chicks, now filling the market with their successful businesses. People like Jefferson Munroe of The Good Farm and Rusty Gordon of Ghost Island Farm got their businesses going in the last decade, and found a willing customer base at the market, thanks to stalwarts like Rebecca Miller of North Tabor Farm, Debby Farber of Blackwater Farm, Linda Alley at New Lane Sundries, and Jan Buhrman at the Kitchen Porch.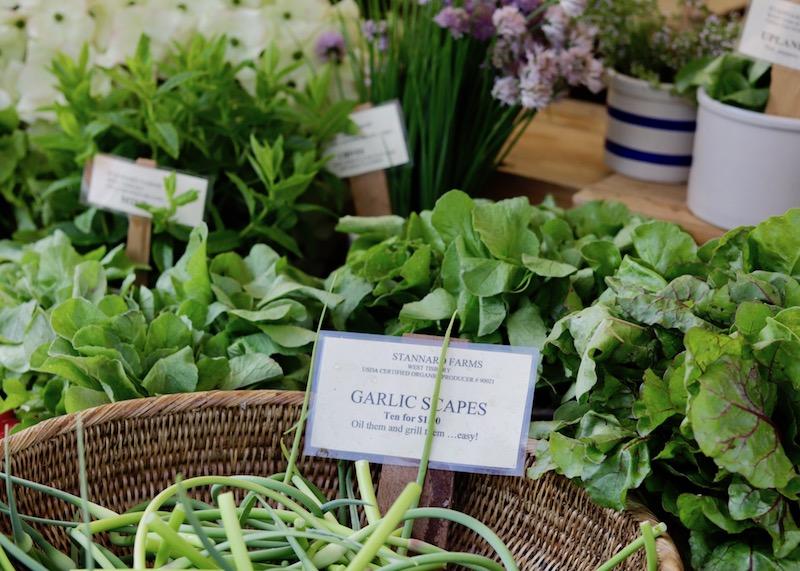 Not to mention Lisa Fisher at Stannard Farms, who's been farming organically in West Tisbury for almost 30 years and always has the most beautiful display of herbs and vegetables in the back of her truck at the market. The garlic scapes I spotted were hers.
While Lisa was busy weighing some stunning green rhubarb for another customer, Nancy Weaver, who's been helping Lisa at the market for years, came up to tell me that there were two kinds of scapes in Lisa's basket. (Scapes are flower stems that hard neck garlic bulbs produce in late spring. Growers routinely cut them off to allow energy to be returned to the growing bulb.)
The curly ones were cut from an intensely flavored German garlic and the other from a milder Chinese garlic. There are hundreds of different varieties of garlic in the world, and they all have slightly different flavor profiles, so it stands to reason that the scapes would vary.
But Lisa chimed in, "Well, I've been telling everyone that the Chinese is milder, so I hope I'm right! Would you mind checking when you cook with them?"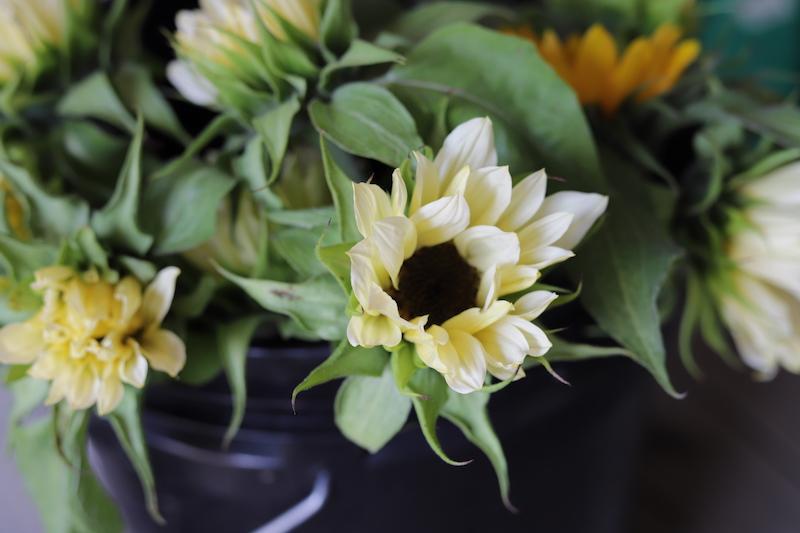 I like a flavor challenge, so I was more than happy to agree to a taste test. Plus I picked up some beautiful leek scapes from Lynne Daniels (Bob Daniels' daughter) at the Old Towne Gardens booth. Lynne said the leek scapes were milder than the garlic scapes and that she liked to sauté them (chopped of course) and put them on top of grilled steak. Can do, I thought. (Spoiler alert: Both Lisa and Lynne were right.)
After chatting with Lisa and Nancy, I joined the crowd at Grey Barn and Farm's booth on the front porch of the Grange Hall. While folks were lining up to taste cheeses, I was ogling the range of beautiful vegetables Grey Barn is growing now under the guidance of head vegetable gardener Ethan Buchanan-Valenti. They had fresh carrots, beautiful lettuces, and some fresh baby fennel bulbs, which of course I had to buy.
Before I left, I got a chance to ask Joe Alstat, their cheese maker, about a cheese I picked up at their farm stand last week. The Mixtape, as they call it (got to love that name), is not on the roster of carefully developed cheeses. Instead, when Joe has extra curd after filling molds, he uses it to experiment with and makes one-off cheeses that are sold only at the farm stand. The Mixtape I had bought, he said, was a Prufrock curd with an Eidolon mold. Joe laughed and said he thought it turned out a little like mass-market brie in the grocery store. By the white bloomy rind and the nutty flavor, I could see his point, but it had a super creamy texture and I found it to be the perfect lunchtime treat with toast and fruit.
Morning Glory had all hands on deck at their strawberry festival so they weren't at the farmers' market on Saturday. This meant I'd need to stop in their farm stand on the way into work on Monday to restock my strawberry supply — something I will do every day if necessary until they stop picking them a few weeks from now. Because as fun as garlic scapes are, fresh local strawberries are in the reason-to-live category. Talk about wanting to slow time down. I wish strawberry season could last forever. I need to make strawberry ice cream and more strawberry rhubarb crisps (three and counting so far). And there's a salad I could eat a few times every week during strawberry season: this Quick-Roasted Beet, Arugula & Wheat Berry Salad with Strawberry-Balsamic Dressing. It matches up nicely with the timing of the first beet harvest (and includes a great technique for cooking beet slices quickly).
Susie Middleton's weekly food column, Off the Menu, appears in print in the Vineyard Gazette every Friday.