On a cold December day on an Island seven miles out to sea, when the skies are a dozen shades of gray and you skip-splash over the puddles of melting snow on a one-way street, rushing to the post office, where the flannels and Wellies and wool hats of your friends and neighbors reflect back at you in a familiar boot-stomping shrug that can only mean they, like you, have just come in from the cold . . . when it is that kind of day, it is not such a stretch to think of oysters.
Wild oysters, arthritic and craggy, the colors of rusty carbon steel, covered in barnacles and stories, their shells a telescoping tale of growing and growing, despite all odds. Wild oysters, fat and plump from the cold, cold water and a long season of bottom dwelling and pond filtering (delightful nitrogen swillers that they are). Steadfast, these oysters; close-hauled, even in a gale.
After all, it is not the sort of day you think about ripe, juicy tomatoes. But if you are the kind, like me, who must think about food, in one form or another, for at least 29 of every 60 seconds, then one thing leads to another.
With oysters on my brain today, I pulled my car into the little lot outside Edgartown Seafood. There, directly in front of me was a big sign in the window. "Fresh! West Tisbury Wild Oysters." (That would be wild oysters from West Tisbury, not "Wild West" Tisbury oysters, as I first thought it read. Those would have spurs, I guess.) Inside, the sign said 75 cents each. Sweet!
For a minute, I forgot why I was there and began to regret my much-neglected oyster shucking skills. I wondered aloud to the kind folks behind the counter (which included no less than two Larsens) if they would be willing to shuck, if asked. They said they would indeed. But then they told me they had half-pints of shucked oysters over in the freezer, and I remembered that this was essentially what I'd come for, since I had a recipe for oyster bisque in hand.
A few days earlier, when the oyster weather first started to brew, I had emailed Bert Fischer up in the wilds of West Tisbury to see if he was going to grab his rake and his camera and lasso (harvest?) some oysters anytime soon. We are lucky on this Island to have both healthy wild populations of oysters, from which anyone with a shellfish license can harvest in season, and also an exceptional collection of thriving oyster farms as well.
"By the way Bert," I asked him. "How do you like to eat your oysters?" Bert is as good with a sauté pan as he is with a camera, so I knew I'd like his answers, the first of which was not surprising.
"Ninety per cent of the time, my oysters sit in my shed and I eat them raw whenever I enter my shed to get a tool, and it is usually a dozen at a time, starting at 7 a.m." he said.
"But I also like to put them in my turkey stuffing. And I pan-fry them, too. I soak them in buttermilk, shake off excess, roll them around in equal parts of flour and corn meal and fry them in equal parts of hot olive oil and butter. I put them on paper towels to absorb excess grease and sprinkle with garlic salt and hot sauce," he explained.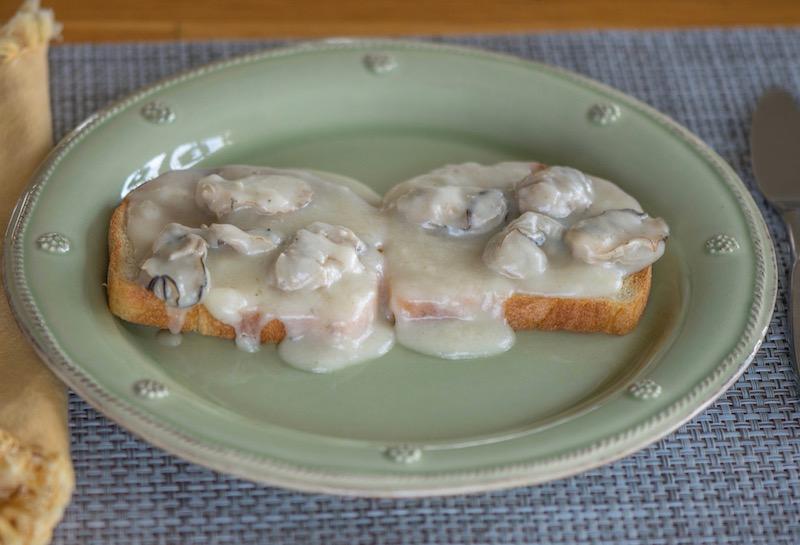 Bert went on to describe Shirley Mayhew's famous oyster stew with lots of butter and cream and Ritz crackers. "She used to bring it to the Ag Hall potlucks. It was so good that I would wait in anticipation for its arrival."
And then he stepped further back in time. "I remember stopping by my grandmother Ethel (Luce) Fischer's house when I was a young teenager, and she was serving my Uncle Arnold creamed oysters on toast for his lunch. This was a dish my father, Ozzie Fischer, loved too. I think they ate it a lot growing up. Now I make it, too; it's a quick and easy lunch." (See recipe for Fischers' Creamed Oysters on Toast.)
My overactive food-Bingo brain was still firing in multiple directions at the mention of oyster stew; I hadn't even gotten to the toast thing. (Though soon I would realize, upon further investigation, that oysters and cream or milk — and sometimes bread — have been combined in endless variations for generations. Whether eaten with a spoon from a bowl and called bisque, or eaten with a knife and fork on a plate and called "creamed," the ingredients are basically the same.)
Didn't my friend Kay Goldstein once make oyster bisque for Julia Child, who insisted on seconds? She did — and with creole seasonings to boot. I remember Kay telling me that Julia came into the kitchen wanting more, and dipped her bread right into the pot. (See recipe for Creole Oyster Bisque). That was years ago when Kay had a catering company in Atlanta; these days she is famous for her Chilmark bouillabaisse, made from Betsy Larsen's best catch.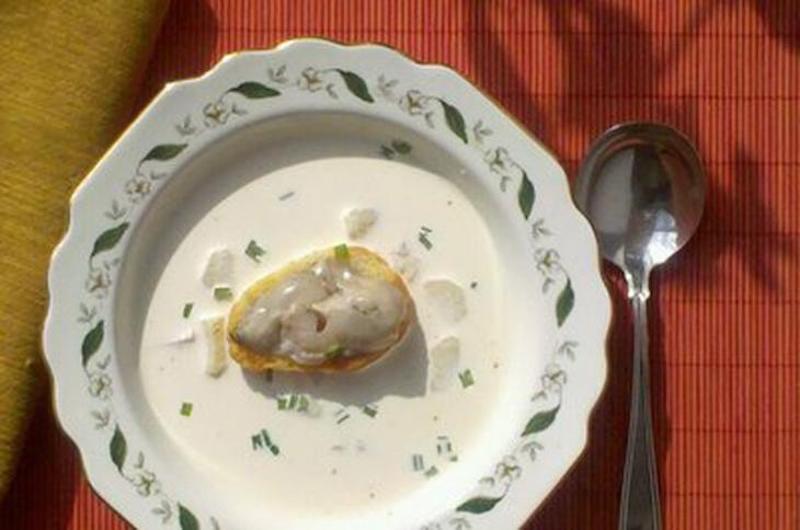 And didn't my grandmother Honey make oyster stew? I called my 87-year-old Dad. He answered his cell phone in the middle of shopping for dinner ingredients at the Acme grocery store in Lewes, Del. After 63 years of marriage, he has recently become chief cook and bottle washer, as he calls it, and also my mother's caretaker.
"Oh, sure, of course she did. You looking for a recipe? I can tell you how to make it. It's just Lewes Dairy cream and butter and oysters with their juice and simmered up, not too long. Maybe a splash of Worcestershire sauce. Black pepper." Our call began to break up.
"But wait, doesn't Honey's recipe have sherry in it?" I asked. She put sherry in everything.
"Nope, not this one, doesn't need it."
Simple, it seems, is best, when it comes to taming the wild oyster. Though I might like a little freshly grated lemon zest and a bit of coarsely chopped fresh thyme with my creamy oysters, if that's permissible. Okay, chives at least?
Recipe for Fischers' Creamed Oysters on Toast.