By now it is no secret that I am smitten with the idea of eating as much local food as possible, for as long as possible.
But with the end of the Winter Farmers' Market fast approaching (the last day is Saturday, Dec. 16), what's one to do? The long, lean, decidedly un-green months are ahead. Unless you grew and cured 60 pounds of onions, as we did on the farm one year (don't ask; fear of scurvy?), or dug a root cellar into the side of the massive hill in your backyard (like some Chilmark folks I know), you may be one Pa Ingalls short of laying in your winter provisions. (Sorry to be so dramatic — I've been reading too many 19th century novels where people barely survive ocean crossings and other harrowing hardships.)
This being the 21st century — and a time on Martha's Vineyard when farmers have made real progress in extending the growing season — you are in luck. Thanks to hoop houses and greenhouses and careful planning and planting, hardy greens like kale, mustard, spinach, chicories, mache and even lettuces soldier through the Vineyard winter. While most greens will grow negligibly during the darkest days around the solstice (they need a minimum amount of sunlight, not just warmth, to grow), if enough are planted and given a good head start in the fall, the harvest can stretch for weeks over the winter months.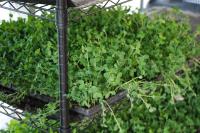 This whole concept of bringing greens (and other vegetables) through the winter is precisely what Rusty Gordon has been working on for the last few years at Ghost Island Farm. (He is the Island farmer most dedicated to this pursuit.) I stopped by the farm this week to see Rusty, and to take pictures inside one of his seven (soon to be eight) massive hoop houses. Being inside a warm, quiet hoop house on a cold, clear blue fall day is heavenly. But initially I was distracted from my greens mission by some baby carrots Rusty was packaging up in the farm stand. Just harvested, these orange and white beauties had been through only one or two nights of frost, but had already responded with such intense sugar production that they literally tasted like candy. Just inside the farm stand were lush, green flats of freshly sprouted peas, too. How bad could winter be?
The really good news from Rusty is that for the second year in a row, he will keep his farm store open all winter, selling not only his carrots and turnips, his own kale (including Winterbor, Siberian, Red Ursa and Toscana varieties), his own spinach, and some lettuces (and specialty greens like radicchio and endive for the first time), but also yogurt and cheese from Mermaid Farm and Grey Barn, and even produce from the Island Grown Food Hub. The store will carry other locally made products as available.
Bingo. The Ghost Island Farm store will be the first arm of your winter local eating strategy.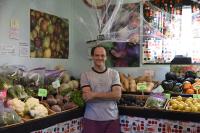 The next most obvious resource is Island Grown's Farm Hub itself. The massive greenhouse and hydroponic growing system now functions as a year-round growing operation. This year, Island Grown is reprising its winter farm share program (24 weekly pickups or 12 bi-weekly pickups), which will include lettuces, cooking greens, cucumbers, strawberries (yes!), and the occasional rainbow trout. Island Grown will fill out the share with storage crops (carrots, parsnips, turnips, rutabagas) from other local farms. If you want to participate in the share, the deadline is this weekend. But you don't have to; Farm Hub products will be available over the winter at Cronig's and, as noted above, at Ghost Island Farm.
In the old days before either of these options existed, I used to stock up at Morning Glory Farm right after Christmas and before they closed for the winter. (This was my entire winter local-eating strategy; one year I kept butternut squash in a cold closet over a garage.) Morning Glory doesn't have a big surplus of squash this year, but their pickles, preserves, and jarred tomatoes, as well as beef, pork, and chicken in the freezer would make great additions to the winter larder. Their sale will happen Dec. 27 and 28. After the farmstand closes, Morning Glory will offer eggs for sale (and occasionally produce) from a self-serve fridge on their porch.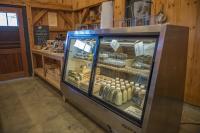 More good news: The Grey Barn and Farm farmstand is open 365 days a year (from 7 a.m. to 5 p.m. until April). Farmer Molly Glasgow told me they will have certified organic cheese, raw milk, eggs, beef, lamb, pork, and veal (as well as goodies like garlic and dried lavender) throughout the winter. The Farm Institute farmstand is also open through the winter, offering Katama-raised meat and eggs. Winter hours are Monday through Saturday, 9 a.m. to 4 p.m. Other good sources for local meat and eggs over the winter include Allen Farm, Blackwater Farm, and the Larder (The GOOD Farm). And on nights that you don't feel like cooking, you can try one of Pie Chicks' new savory pot pies or quiches, available at Cronig's; they will feature locally-grown ingredients whenever possible (a mushroom pot pie is made with MV Mycological mushrooms). Pie Chicks proprietor Chrissy Kinsman is also making chicken pot pies with chicken from the GOOD Farm; those will be available at the last two winter farmers' markets and by contacting Chrissy directly.
And here is the last part of my winter local eating strategy (obvious advice, I know, but worth repeating): Eat what's in season. If you hew your menus towards winter greens and whites (all the white vegetables — including turnips and parsnips and the cauliflower and frisee I've included in the recipe here — are delicious and abundant this time of year), not only will your body thank you for all that nourishment, but you'll be contributing to the sustainability of local growing operations. Don't worry — you can have color too; carrots and beets are good keepers; toss in some red cabbage or radicchio for those magic anthocyanins. When spring comes around, that asparagus will taste that much sweeter.
Recipe for Roasted Cauliflower, Frisee, Apple and Walnut Salad.