On this Island, you never know where you're next going to meet a new friend, a kindred soul, someone you're sure you were meant to know but that you might have missed if it weren't for the way the Vineyard tends to draw people together.
My path crossed with Kay Goldstein's one warm summer night at the Orange Peel Bakery in Aquinnah eight years ago. It was pizza night, Wednesday, and Kay and her husband Buck and daughter Katherine were topping a piece of pizza dough with ingredients that looked suspiciously delicious when I was introduced to them across the picnic table. Things like grilled duck sausage, sautéed leeks, goat cheese, fresh thyme. "Hmmm," I thought. "Either these people really like good food or someone is a great cook. Or both." It was both of course.
It only took a few minutes for me to tumble into a conversation with Kay about cooking, writing, gardening and spirituality — four of my favorite things (and hers) to talk about. All across a picnic table.
It also only took one invitation to Kay and Buck's house in Chilmark for me to learn that you should never, ever turn down a dinner invitation from these two. Which I haven't. (Okay, that's not true. But I have a rule — only one deadline is not enough to say no; it has to be two or three.)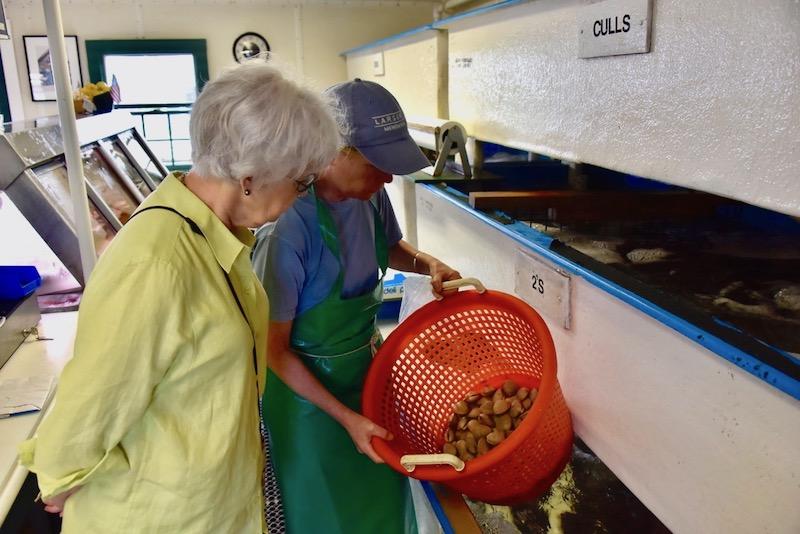 It's not just that Kay is an accomplished cook. It's her light-hearted wisdom and peaceful demeanor I find so attractive. She's not one to toot her own horn, so it took me awhile to learn that she had founded and run (for 12 years) a successful catering company and gourmet store in Atlanta called Proof of the Pudding. Her clients included Andrew Young and President Jimmy Carter and she became the exclusive provider of food services at the Carter Presidential Center. After she sold her position in the company to be home with Katherine and son Max, she wrote and edited Zagat guides and co-wrote the cookbook, A Book of Feasts, Recipes and Stories from American Celebrations, which was nominated for a James Beard Award.
But her favorite memory from those days is the time she cooked for Julia Child.
"I was a member of the International Association of Culinary Professionals and one year their annual conference was held in Atlanta, I was asked to host a small dinner event as part of the conference program," she recalled. "The event filled up, the tables were set, and then two hours before the dinner I got a call from a friend asking if I could fit two more. I started to say we were full when she said, 'Well, Julia saw your menu and would really like to come. She loves oysters.' Julia?! So I made room for two extra seats, putting Julia close to the cooking action. During the meal, after eating my creole Oyster bisque, she got up from the table, walked to the stove and ladled more soup directly into her mouth. Later she wrote to me about how much she loved the dinner — and especially the bisque. She was so fabulous — down to earth, inquisitive, just lovely."
Later Kay's interest in spirituality, psychology and the natural world led her to become a meditation teacher and to write a spiritual fairy tale called Star Child, which was published by Vineyard Stories in July, 2012. Time on the Vineyard feeds Kay's soul. "Whether I'm cooking or writing, I feel so inspired on the Island. I just so love it."
When Kay and Buck are here and not in Chapel Hill, N.C., where Buck is an economics professor, they cook and eat simply most nights. Herbs from the garden, vegetables from Island farms, fish and seafood from Menemsha. "We grill a lot of fish and we also have a smoker which we use a lot. Ribs and chicken. One of my favorite summer meals is a local chicken, smoked, served with a platter of local vegetables, roasted or steamed, and a flavored mayo."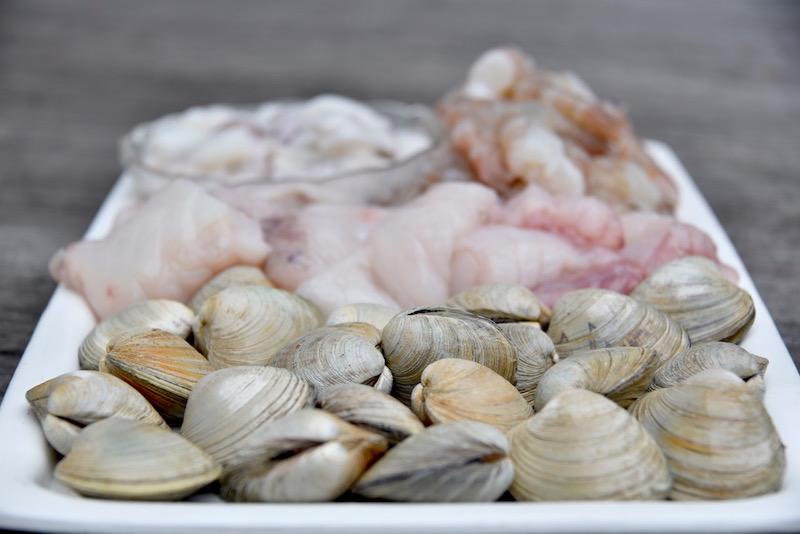 When it's time to invite friends over, Kay has a repertoire of dishes that are a little bit special and that work well for a group. They also tend to be the things her children (as well as son in law Travis Morrison and three-year-old grandson Asher) ask her to cook when they're visiting. Paella in many forms is a favorite. Spaghetti with red clam sauce. And bouillabaisse — the one I'm always hoping to be invited for.
It was at one small gathering of friends at the Goldsteins that I found myself across the table from Betsy Larsen, owner of Larsen's Fish Market, and her husband Bob Sloane. Turns out Betsy and Kay have become friends over the years; Max Goldstein spent his teenage summers working at Larsen's and Betsy has promised Asher a job when he is old enough. And even though Betsy's market in Menemsha will be having its 50th anniversary next year, she will likely still be operating the popular fish house when Asher is a teenager and for many years to come. She started working there at the age of 14 and took over the business at 19.
The night of that gathering, Kay had a dilemma — whether to serve Betsy fish or not. In the end, she went for it. It was the bouillabaisse (she makes a version with chicken too), delicious of course, and Betsy claims to never tire of fish and shellfish. The dish provoked a discussion of famous fish soups; it turns out Bob makes a red sauce base for cioppino, the San Francisco fishermen's stew, which he sells at Larsen's. Everyone agreed that a good fish soup is an excellent addition to any Vineyard cook's repertoire especially when it's the summer entertaining and family-visiting season.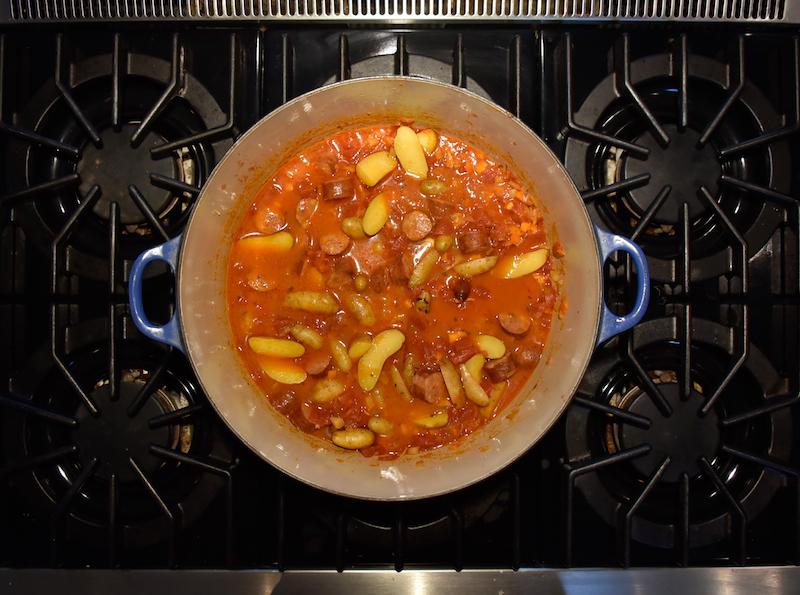 Recently I asked Kay if I could follow her on a shopping expedition to Larsen's and hang out with her in her kitchen while she made her bouillabaisse for a Friday night gathering. I don't need much of an excuse to hang out in Kay's kitchen; it's a great space. I love her Julia Child-esque pot rack on the wall. And her six-burner stove. I love poking through her pantry. But mostly I just like hanging out with her. Shopping with Kay at Larsen's was great fun too. Betsy managed to supply Kay with three local catches — monkfish from Vineyard Sound, littleneck clams from Sengekontacket, squid frozen from the spring when they're abundant here) — in addition to the wild shrimp.
For me, being a fly on the wall, listening to these two spirited women trade tips and tricks, made my day. There's nothing more satisfying than buying your food from someone you know and trust, someone you've built a relationship with. I could also see, for Kay, how the day reflected her inclination to nurture relationships.
"What's so nice for us now," Kay told me. "Is that we've been coming to the Vineyard long enough now to have a real community of friends. We aren't just visitors any more."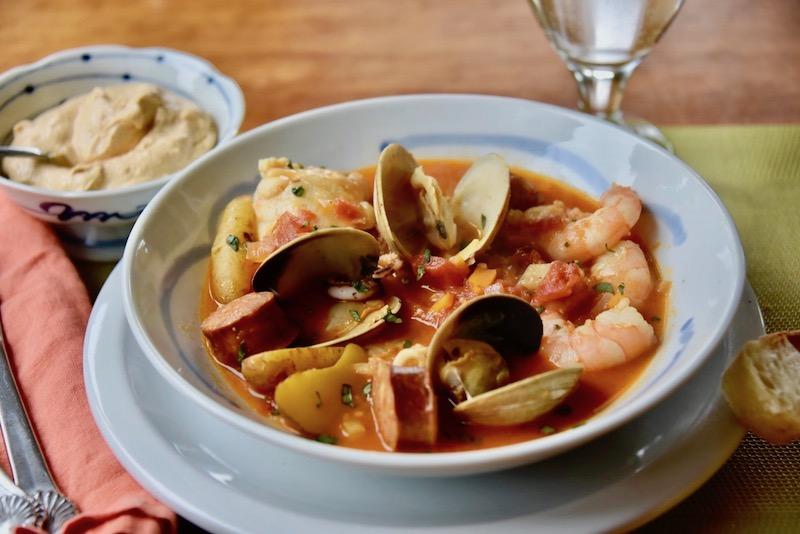 Recipe for Chilmark Bouillabaise.