Craig Decker never planned on being a chef. "I went to school for pharmacy, and graduated with degrees in biology and chemistry," the forty-five-year-old upstate New York native admitted one recent morning at Rockfish, the Edgartown restaurant and bar where he's held the title of executive chef for the past four years.
The two career paths are more similar than one would think, Decker assures, as both require a lot of measuring, compounding, pouring, observing, and testing. To pay for college and a possible future career in chemistry, Decker worked kitchen jobs, and it was there, inside a restaurant, where he realized he wanted to spend his days behind the line rather than behind the counter. "I just knew I never wanted to stop cooking." So he went back to school and added another degree to his résumé, this time one from the Culinary Institute of America.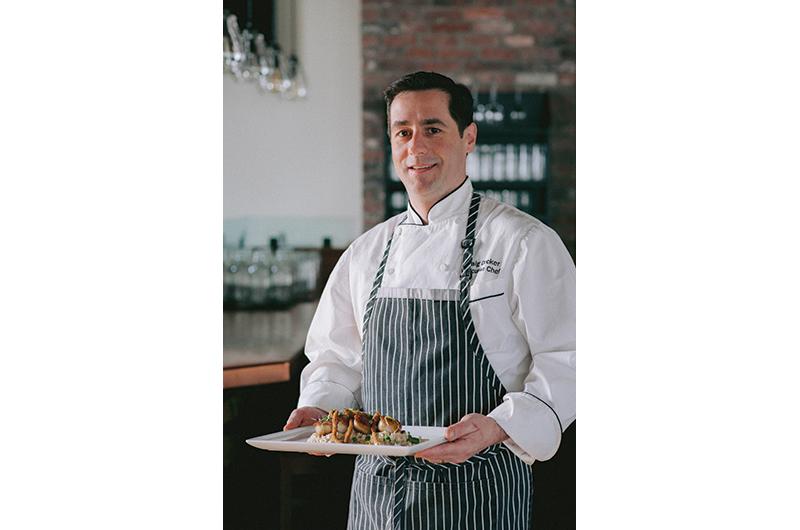 Chef Decker hasn't stopped cooking since. A few months after Rockfish opened in November 2014, Decker was hired to take over the kitchen and train a staff to cook "simple food done right." "My food philosophy, as far as a chef is concerned, is executing proper techniques using fresh ingredients," he said. Perhaps the best example of this is in his risotto – specifically, the skillet-roasted diver scallops with asparagus and herbes de Provence risotto.
"I love cooking risotto, and you need patience to make it," said Decker. First, he prepares the risotto by sweating onions and garlic in a pan with olive oil, then adding Arborio rice and coating it with the olive oil. Next, he slowly adds white wine and chicken stock to the pan until the rice puffs up to a perfect texture. "I finish with heavy cream, Parmesan, blanched asparagus, and herbes de Provence."
At the same time, Decker prepares the scallops, placing them in a smoking-hot oiled cast iron skillet. "I leave them and won't touch them until I see a nice brown crust start to form, which usually takes three minutes. Then I turn them over and finish cooking them for about a minute and a half."
The scallops are shingled on top of the risotto, which is topped with crispy asparagus tips and a citrus beurre blanc, a sauce made from a reduction of heavy cream, lemon juice, orange juice, butter, and patience. It's simple food done right.