Quiet classical music plays and the only other sound is the whirring of machinery and the clink of dishes in the sink being washed. A six-burner Garland stove, an industrial refrigerator, sink, and stainless steel counters rim the perimeter of the room. This is clearly a place of work – calm work. Anh Phan Ho is mixing dumpling filling, working with the meditative calm that serious cooks sometimes attain. Tofu filling that will be a part of the cold rolls is seasoned and waiting in one bowl; in another, shredded green and red cabbage is ready to become coleslaw.
I've purchased the cold rolls and other items for years. But this is the first time I've actually seen the labor that goes into the delights for which I happily line up at the Saturday and Wednesday West Tisbury Farmers' Markets, and that I can get with a little less wait at the Featherstone Center for the Arts market on Tuesdays and at the Oak Bluffs Open Market on Sundays. Anh's late grandmother, Thi Khen Tran – known to many simply as the Egg Roll Lady, was always my first stop at the market. And when I heard last year that Khen, as she was called, had died, after a thought for the family and their grief, I confess I selfishly worried about my own summer snacks and meals.
I shouldn't have worried. It turns out that Khen's thirty-
year-old grandson, who worked with her for years at the markets, has taken over the reins and is maintaining the tradition. It was in celebration of that fact and in order to honor Khen's memory that I journeyed to the family's West Tisbury kitchen to watch as the food that I've lined up for was prepared. There I would learn that the future is not only assured, but very well assured indeed.
The past, though, is prologue. Anh's grandmother came to the United States in 1964 hoping to earn money to support her two children who remained with family back in Vietnam. She worked several jobs in North Carolina for a few years before being introduced by a mutual friend to the late Bertrand and Lisa Taylor, who summered on the Vineyard and were looking for someone to help care for their young children. Eventually she became the family's cook as well. "That's why I had to learn to cook," she wrote in her 2007 memoir, The Egg Roll Lady of Martha's Vineyard. "I made egg rolls and they loved it."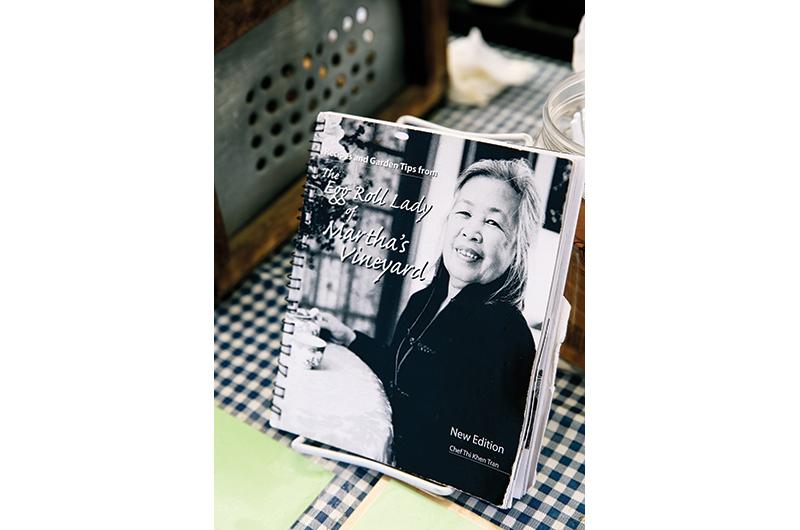 In the summer of 1986, largely as a project to do with the then-teenaged Lindsey Taylor, she began selling at the West Tisbury Farmers' Market. They started with vegetables and moved on to flowers and bluefish mousse, before finally settling on the winning idea of selling her egg rolls and other traditional Vietnamese preparations. The endeavor flourished, expanding just as the Taylor children were reaching independence, giving Khen more time to devote to it. By 1995 she had earned and saved enough to build a home and commercial kitchen in West Tisbury, and by 1999 her two children, now grown with children of their own, had at last been able to come to the United States. Her son, Kyuyen Kim Ho, and his wife, Phieu Thi Phan, Anh's parents, settled with her on the Vineyard with their three children.
Everyone contributed to the business, including the various Taylors who were still on the Island. But Anh, who was nine when he arrived from Vietnam, especially savored cooking with his grandmother. He always had a fine palate and laughingly recalled that the only way that his grandmother could get him up in time for school was to sauté garlic. The fragrance worked on him in ways that no alarm clock could, and he never missed the bus to the West Tisbury School. "Not once did she have to drive me to school," he remembered proudly – a testimony not only to Khen's ingenuity, but also to Anh's olfactory senses.
After graduating from the Martha's Vineyard Regional High School, he didn't immediately think he'd pursue a culinary career, however, and headed to UMass–Lowell with the intention of studying engineering. "At the time I didn't really like it. I was like one of those dumbass high school students who went straight to college and didn't know what I was doing," he remembered. After a year he returned to the Island. "I got pretty discouraged."
It was his best friend's mother, Beth Toomey, who at that time was the chief of police in West Tisbury, who sensed Anh's affinity for food and encouraged him to apply to the prestigious culinary program at Johnson & Wales in Rhode Island. "She basically filled out the application and had me sign it and I forgot all about it, and then a couple of months later I got a letter saying I got in," he said with a laugh.
He didn't graduate, however, because just prior to taking the test that would have resulted in a diploma, he got an invitation to work at the beloved Clear Flour Bread in Brookline, Massachusetts. By then he had discovered that baking was his passion, so the offer was too good to pass up. Off he went to Boston to learn the tricks of the baker's trade, which he avers remains his first love.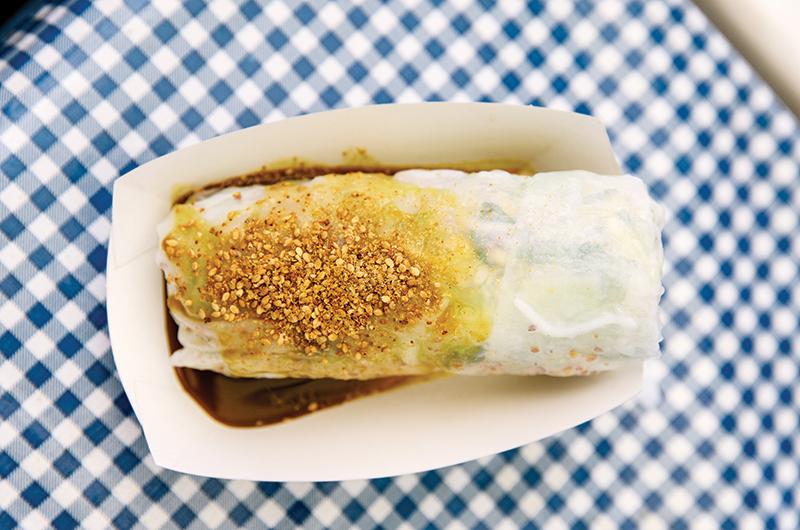 "My biggest dream is to be able to bake here on the Island," he said. "In theory, you can bake in any oven, but bakers have a lot of controlling issues. We want to control the steam and moisture in the oven. At Clear Flour I had all that. After being spoiled there, well, I don't really have the space or the right oven. And besides, the egg rolls take too much time at this point."
About six years ago, when his grandmother's health and stamina began to diminish, Anh returned to the Island to help ensure that the business she had built would continue. "I usually work about twenty-four to thirty hours straight," he said of the preparation process before market days. "I don't like to stop. You get lazy when you stop. I've gotten better now that I've got more of a hang of it. My mom helps on the market day. My mom makes all the cold rolls."
His sister Lan also travels down from Boston to help on most weekends, and members of the Taylor family still regularly pitch in as well. While we were speaking, his mother had finished the preliminary work on the tofu filling and the two of them had seamlessly moved on to creating the dumplings that would later be boiled. The remaining preparation would be continued and then finished up at 4 a.m., when Anh puts the final touches on the items for the day's sale. Some items can only be prepared at the last minute.
"A lot of the stuff we do, it's really simple," he made a point of saying. "It's not that complicated; it's all the prepping."
Anh won't say how many of the famous egg rolls the family makes on a given summer weekend. "I can't tell you that," he laughed. "Top secret." But he will divulge one of the special flavors, which like 90 percent of the other ingredients comes from the family's organic garden that was his grandmother's special source of pride.
"One of our biggest prizes is the mint. This is one of our secrets for the cold rolls. My dad does this thing with mint. We found that it tastes best from two-year-old plants, so my dad has planted, I think, six different successions of beds and we harvest only from two-year-old plants. When they get older, we rip them out and plant new."
As he describes the foods that he is preparing, each sentence confirms not only that he is a passionate chef with a questing mind, but also one with an engineer's sensibility. Everything is a kitchen problem to be resolved in the most efficient and tasty manner possible, and the decisions about what to prepare are based in large part on what is ripe in the garden. Nothing goes to waste and all is used: the egg yolks from the meringues sometimes prepared for the weekly markets had been transformed into a coconut and green tea ice cream. It was presented in a small mason jar, like the ones that find many uses in Anh's kitchen. I had a taste, savoring its creaminess and the fact that it was not cloyingly sweet.
"I started making them as treats for everybody who works in our stall at the markets," he explained. "And then my family started to eat them too much, so there's never enough to sell."
As I was leaving, he gave me another small jar of the ice cream as a souvenir of my visit, a gustatory remembrance of an afternoon that sealed my admiration for Anh, his late grandmother, and his entire family that keep the garden growing and the tastes of Vietnam coming to the Island's farmers' markets.
"I got here about six years ago and I started helping out but I never wanted to put my name on what we were doing," he said. "All these stories about my grandmother....Even now people at the markets think she made the food. I just tell them she did. People are so nostalgic it's hard to break the news, so we just kind of keep our mouth shut."