Before he spent summers behind the line in fine dining on the Vineyard, before winters in the South taught him to experiment with seafood, and before he cooked up short ribs on the
Today Show
, Christopher Gianfrieda was a young boy growing up in Kohler, Wisconsin.
"We didn't exactly have fresh seafood there," the twenty-nine-year-old Outermost Inn chef said one recent afternoon. But a cooking gig at a hotel in Kohler opened his palate up to a new world of possibilities. "I soon learned that this was the type of job that would allow me to travel pretty freely."
Gianfrieda left Wisconsin and cooked in the Virgin Islands, where he met a seasonal chef from the Vineyard who convinced him to move to the Island to work for a summer.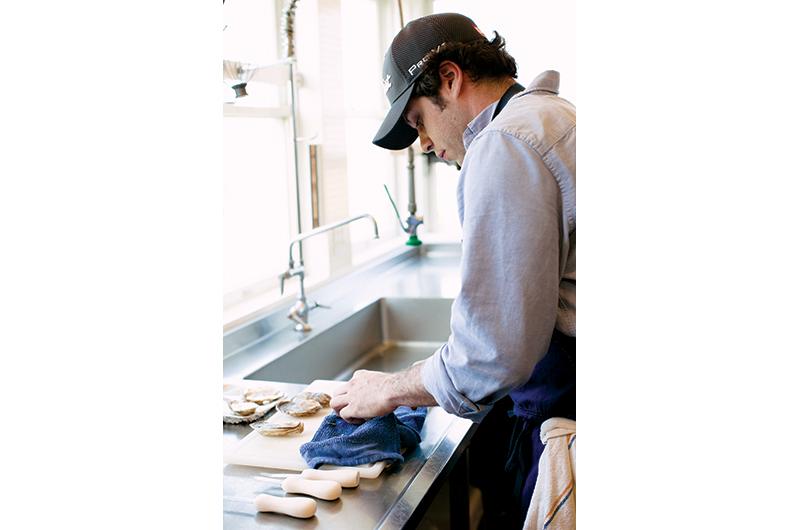 One summer turned into many, but the travel bug stayed with him. "In the off-season I travel," he said – to New York, to Boston, to Providence, to New Orleans, which is where, he said, the inspiration for his favorite dish to cook originated.
"Hands down, you have to try my chargrilled oysters with spicy kimchi butter. It's our number-one seller and the best bite we have.
"I shuck the oyster, keep it in the shell, drape a tablespoon of kimchi butter on top, and then grill it until it bubbles and cooks." These oysters are spicy, salty, savory, and sweet. "It's got that whole umami effect happening," he added.
Last summer, a special guest ordered the chargrilled oysters while dining at the Outermost Inn. "Turns out, she had contacts at the Today Show. She came back in the kitchen and introduced herself and then soon after I was invited to the show in New York City. It was pretty crazy, but it worked out."
Gianfrieda has no plans to stop traveling during the winter, but says he is confident the Vineyard is the one place he'll always return to come summer. He likes the consistency of it.
Oh, and the oysters will also always be on the menu there. "They're that good," he said. We like the consistency of that.