You have to be cool with the color green if you want to eat in the season we call spring here on the Island. It bears little resemblance to spring in America, where boughs of cherry blossoms wave gently in the warm breezes and office workers shed their jackets at lunch breaks on sunny park benches.
Until Memorial Day, when the sun finally blazes in on the heels of budding lilacs and delivers 80-degree temperatures overnight, we can't begin to think about colorful summer vegetables. Other than the blessed Cherry Belle radish, it's forty shades of green for us.
To wit: wild watercress rolls out its leafy carpet over local streams in early spring, followed by young chives and green onions, and finally the first asparagus. Pea greens and pea shoots make their first appearances in May, followed by actual peas and "spring" onions in June. In between are abundant harvests of young kale, arugula, spring lettuces, baby bok choy, mustard greens, and Asian greens like tat soi and mizuna. Baby Japanese turnips with their delicious greens are a treat.
These first greens of the year are a welcome sight after a long winter. But by the end of May we are wondering what the heck to make with them that's a bit different. As a farm stand operator, I dread the question I get every year in late spring: "Do you have anything else other than greens?" It's not that people don't like greens; they've just run out of things to do with them. That's where my job as a cookbook author leaps into play.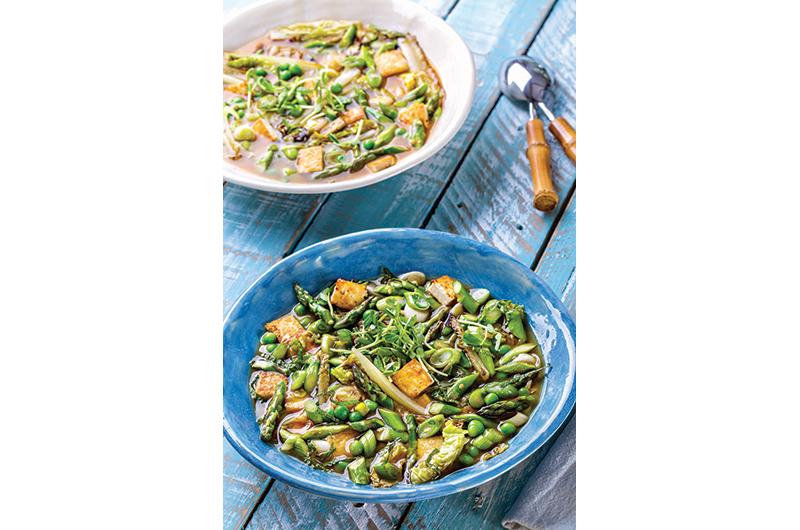 I pull out my (virtual) recommendation list: use greens in frittatas; sauté greens and onions to make a tasty combination (with cheese, of course) for a quesadilla or taco filling; combine sautéed greens, garlic, and baby red potatoes to make a savory hash. A warm salad of spinach, blue cheese, hazelnuts, asparagus, and chives is delicious. You can easily turn greens into pancakes or fritters by making a quick egg batter with either regular flour or chickpea flour. Stir-fry thinly sliced asparagus to add to fried rice or make a ginger dressing for steamed asparagus and serve it with sushi rice. Or toss sliced asparagus spears with Caesar dressing and a few leaves of Bibb lettuce and pile on top of toast. Assertive greens like mustard and baby bok choy are great in curries, especially ones with coconut milk. (Find asparagus and spring greens in May at Morning Glory Farm, Ghost Island Farm, Grey Barn and Farm, and Mermaid Farm.)
But one of my favorite ideas for spring green vegetables is to build a light soup with them. It's a versatile concept that can take a variety of vegetables.
I don't use store-bought vegetable broth for the base, because the quality from brand to brand varies greatly and often they are so strong tasting (to put it politely) that they overpower any other flavor you're creating. Instead, I like to make a simple broth by whisking together a bit of miso with a splash of tamari, a little sesame oil, and some rice wine.
Miso is fermented bean paste with a funky salty-sweet flavor; generally speaking, the darker colored misos are a bit stronger and you'll need to use less of them. Most Island grocers carry white or light miso (also called shiro miso), but you also might find Massachusetts-made artisan miso paste from South River Miso company; down-Island Cronig's usually has a selection.
To give the broth additional flavor, I like to sauté the vegetables – even the lettuce – until they're deeply golden. Romaine lettuce has an alluringly nutty flavor when it caramelizes just a bit in a sauté pan. (Try locally grown Little Gem lettuce for a real treat.) Add ginger and garlic to the sautéed veggies, transfer them to bowls, pour over the miso broth, and garnish with pea shoots or other micro greens. It is a beautiful spring soup that feels light, but still has a depth of flavor.
In the recipe below, I've included asparagus, romaine, scallions, peas, pea shoots, and mint, but you can customize it in a number of different ways. Try it with slivered bok choy, cilantro, spring onions, sugar snap peas, or quartered baby turnips. Substitute the tofu for a few shrimp or add noodles. Combine two different misos or try different ones and see what you like.
Or if miso isn't going to work for you, you can certainly make the spring vegetable soup with homemade vegetable or chicken broth. Be sure to add a splash of soy sauce, sesame oil, and rice wine, and consider increasing the amount of fresh ginger.
By mastering a few different variations, you can re-use this recipe without being accused of repeats. When the orange and yellow and red vegetables do appear, they just may want to hang out in the soup too.
The following recipe was originally published along with this article:
Spring Miso Broth with Stir-Fried Asparagus, Romaine, Scallions, Tofu, and Mint