Whether you favor drippy vanilla-chocolate twists from Menemsha Galley, homemade raspberry ice served up by Islander Victoria Phillips at the West Tisbury Farmers' Market, or the classic Häagen-Dazs bars packed into Alley's freezer, I think it's safe to say that everyone loves frozen desserts in the hot summer months. Maybe it's the memories the sweet treats evoke, the pleasurable company you're sharing them with, or the feeling of relaxed luxury when you plop down on an empty harbor bench with a cone in hand, faced with the easy-breezy job of just sitting and watching the boats cruise by.
Although I have strong memories of walking down Circuit Avenue with a double scoop of mint Oreo as a kid, the most popular frozen desserts my sister and I had as girls were much simpler. Our first icy triumph was when we filled plastic popsicle molds with orange juice and popped them in the freezer. Although incredibly simple, the cool and tart juice pops did just the trick anytime a heat wave hit, always helping to turn two hot and grumpy kids into proud mini-chefs. The 1990s was also the decade we discovered the pleasure of whole frozen grapes. We'd toss a bunch of grapes into the freezer (pop the fruit off the vines beforehand if you're feeling fancy) and snack on the small slush bombs all day.
After having two children of my own who demand frozen treats every July day, if not every sweltering hour, I began to investigate how to make healthful homemade frozen desserts in our own kitchen. Cooking for our family allows me to take control of ingredients (no corn syrup or artificial flavors), adapt recipes to our own preferences (you hate banana, no problem), and save money along the way (a scoop of homemade ice cream costs much less than the going rate of $6 a cone).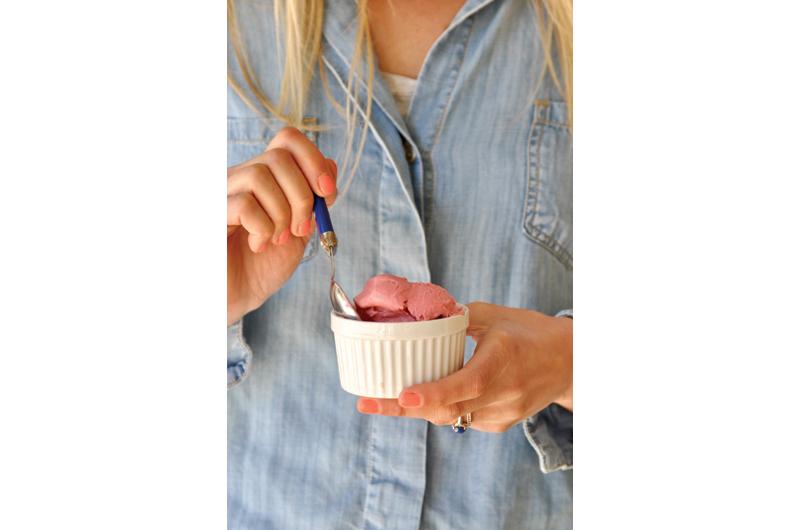 My boys and I started where my sister and I left off – with fruit smoothie popsicles and chunks of frozen sweet fruit, such as pineapple and mango. When our oldest son gave me a cookbook of homemade ice cream recipes for Mother's Day, I realized it was time to step up my game.
As a health geek, I didn't want to follow a classic ice cream recipe that calls for buckets of heavy cream, white sugar, and zero colorful fruit. I knew there were tons of ways to make sweet summery treats at home using wholesome ingredients, but I needed some guidance. I stopped by my friends Ky Keenan and Bennett Coffey's Vineyard Haven organic café, Not Your Sugar Mamas, and got some tips on how they make natural frozen goodies at home.
"Good, healthy fat is the most important thing when building a healthful frozen dessert at home." Keenan shared. "I like to blend full fat coconut milk and whole raw cashews, add in some liquid sweetener, and use that as an ice cream base." Once Keenan mixes up this blend, she adds in either unsweetened cacao powder, vanilla powder, or crushed fruit, depending on her mood, and simply freezes it in popsicle molds or in a basic ice cream machine. Keenan also likes to make homemade fudgesicles for her two-year-old daughter, Frankie. She uses a blend of coconut milk, cashews, avocado, cacao powder, and maple syrup to make a rich and satisfying fudgy pop that not only tastes great but offers some serious health benefits.
Inspired by Keenan's enthusiasm, I decided a fruity sherbet celebrating the season's juicy berries was the perfect balance of wholesome and decadent. Here I'm sharing a recipe for Raspberry Sherbet, though you can use any variety of ripe summer fruit from peaches to cherries, all of which are packed with antioxidants and flavor. Sherbet, unlike sorbet, is made with a small amount of cream or milk for added richness, something I appreciate in a scoopable treat. My recipe uses a cup of homemade fruit juice for sweetness and only a ½ cup of cane sugar. Fresh lemon zest and juice add a citrus kick, while the mix has a light, creamy texture thanks to the high-quality heavy cream.
If you don't have a gaggle of eager children to share a batch of Raspberry Sherbet with, it makes a perfect hands-off dinner party dessert either served with cookies and fresh fruit or scooped into small glasses and topped with sparkling wine. A far cry from a bowl of frozen grapes, if I do say so myself.
The following recipe was originally published along with this article: