Having toast for supper seems a little sneaky, like you're getting away with something. It could be that toast is too much fun – a tad frivolous and decidedly childlike. After all, you can pick it up with your hands, there's (often) cheese involved, and assembling your toast is almost like an arts and crafts project.
But there's a flip side (naturally)! Toast now has a grown-up personality, and even serious nutritional cred, since it's the perfect vehicle for veggies and fresh greens. And, of course, it's the hands-down best way to showcase artisan breads, from airy ciabatta to hearty multi-grain, crusty sourdough to pillowy naan. In fact, the new toast is such a versatile and compelling supper that I've included a whole chapter on it in my new cookbook, Simple Green Suppers: A Fresh Strategy for One-Dish Vegetarian Meals.
Only there's a caveat. I don't actually toast my toast. (Bear with me.) I most often grill or broil it. High-heat cooking methods like grilling or broiling cook the outsides of a nice piece of bread quickly, lending a crisp texture and that delicious slightly charred, definitively caramelized flavor. The inside of the bread is still pleasantly chewy or soft, unlike a true piece of toast, which is often baked to a hard crunch from an extended submersion in an overzealous countertop toaster. Furthermore, grilling or broiling bread allows you to brush it with oil or butter before cooking, which speeds up browning and adds flavor.
Using the broiler is a year-round technique, and in Simple Green Suppers I've included some really delicious recipes for topping your supper toast during the cooler months – Roasted Butternut "Smash" on Whole Wheat Toast with Cranberry Citrus Herb Butter and Crispy Shallots being my favorite. But I especially like spring and summer on the Vineyard for making toast suppers. The days are lighter longer, veggie gardens are starting to yield baby kale, arugula, and radishes, and soon we'll be picking the first zucchini and peppers. We want to eat outside. Setting up a "toast bar" near your grill and having a few friends over for a glass of rosé during the magical pink-sky evening hours sounds pretty appealing. (And yes, you can throw on a few steaks for the meat lovers if you like; these versatile toast suppers, in smaller portions, double as hearty sides.)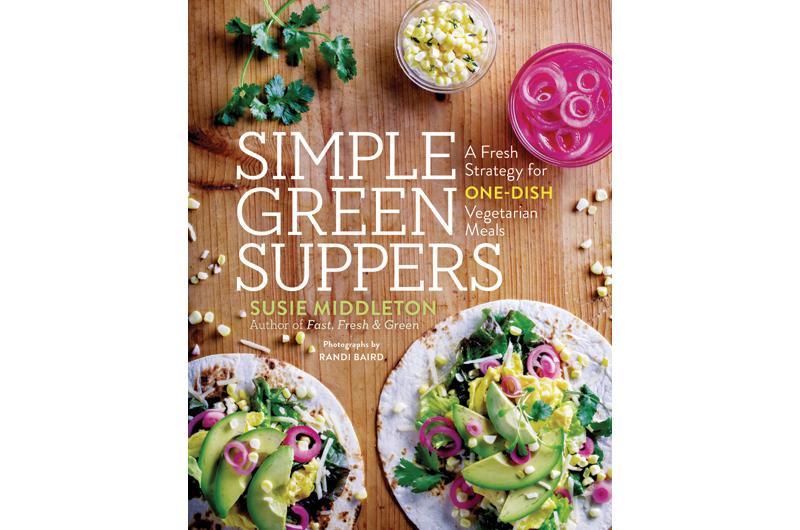 It's also our busiest time of the year on the Vineyard as we shift into high gear preparing for summer visitors, so we need weeknight cooking ideas that aren't too onerous. And if you're trying to eat a bit lighter, or are interested in eating vegetarian most nights or some nights, having a toast supper in your repertoire is awesome. The key is planning ahead. As with all the recipes in Simple Green Suppers, there's a bit of strategy involved.
First, buy good quality bread when you find it. I like many of Pain D'Avignon's loaves (especially their multi-grain), which are available regularly at Cronig's. (The bakery is in Hyannis.) But we now have some really great bread baked on the Island, including Cinnamon Starship (available at Scottish Bakehouse, The Larder, and Ghost Island Farm), Beth's Bakery at the West Tisbury Farmers' Market, and the Vineyard Bread Project (a CSA subscription). And if you run across wonderful artisan bread on the mainland, buy a loaf or two. Regardless of where you get your bread, slice it and freeze it when you get it home. (Wrap several slices in plastic or foil and pop them in a zip-top bag before freezing.) You can certainly save out a few slices, but if you're going to get the biggest bang out of your bread (and be ready for toast suppers), don't let it sit on the counter for too long – and absolutely don't refrigerate it, which will toughen the bread.
The next make-ahead tip is to spend a few minutes on a Sunday afternoon making a versatile toast topping, like Lemony Chickpea Hummus or the Whipped Lemon-Thyme Feta shown with summer squash toast. Or simply remember to buy a couple of those under-ripe avocados, a nice piece of blue cheese (like The Grey Barn's Bluebird), and maybe some baby kale or radishes from Rusty Gordon at Ghost Island Farm (or the grocery store, of course!). You'll have a fifteen-minute supper (Avocado Toast with Baby Kale, Blue Cheese, Pecans, Quick-Pickled Radishes, and Honey) in the making for later in the week. (Another tip for vegetarians: keep a stash of nuts on hand and toast them for the best flavor.)
Soon you'll be inventing your own toast suppers with your favorite bread and toppings. Don't worry if it feels a bit silly – it's good to have fun with your food!
How to Grill or Broil Bread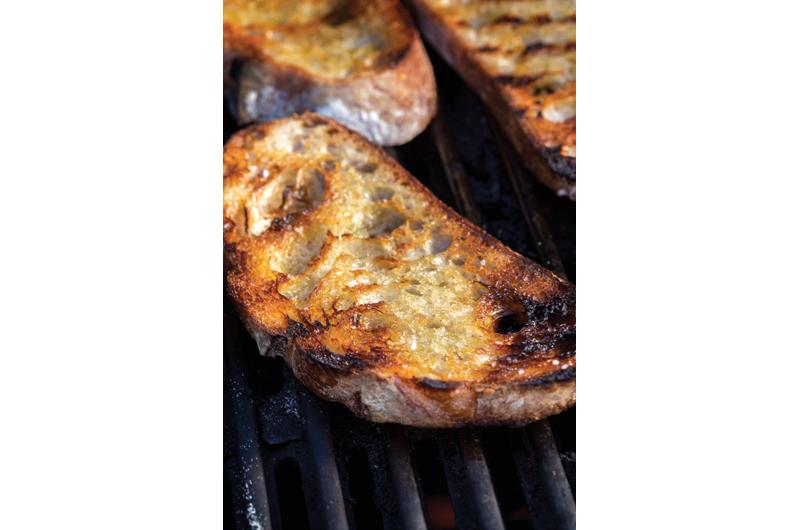 To make the best "toast," you need a direct heat source, such as a grill or a broiler, so that your bread toasts instead of bakes.
To grill: Heat a gas grill to medium, scrape the grates clean, and cover. Let heat for 10 minutes. Brush both sides of the bread with olive oil and season with salt. Put the slices directly on the grill, covered, for 1½ minutes. Check the bottoms for browning and grill marks; if needed, continue cooking for 30 seconds. Flip the slices over with tongs. Grill for 1 to 2 more minutes.
To broil: Move an oven rack to the highest position and preheat the broiler to high. Arrange the slices on a small baking sheet and brush both sides (or just one) with olive oil or melted butter. Broil until the top is nicely golden, about 2 minutes. Flip the slices over and broil 2 minutes more.
The following recipes were originally published along with this article:
Avocado Toast with Baby Kale, Blue Cheese, Pecans, Quick-Pickled Radishes, and Honey
Warm Ciabatta Toasts with Lemony Chickpea Hummus and Sautéed Veggies
Grilled Multi-Grain Toast with Whipped Lemon-Thyme Feta, Grilled Summer Squash, and Arugula