Maybe because she is a food blogger and a cookbook author, thirty-five-year-old Tisbury resident Sarah Waldman says she often – even daily – gets asked in the parking lot after school or in the grocery store what she's making for dinner.
"They ask," she says, "not because I'm an expert, but because I might have an idea for something new, or I might just tell them it's okay to make egg sandwiches. Everyone wants to know how to make dinner work, because when it works it is a great source of pride, connection, and light at the end of a long day. But when it doesn't work, dinnertime is depleting, depressing, and so unbelievably stressful."
Her longer answer comes in the form of her latest cookbook, Feeding a Family: A Real-Life Plan for Making Dinner Work. Waldman says she'd like to help parents get "into the rhythm" of making home-cooked meals.
"Nowadays we get a lot of our suggestions from a computer," she says. "I feel like we've lost this kind of community discussion about food, a sharing of recipes. I think it's nice if you can have it from a human." The cookbook looks at the benefits of sharing a nightly meal – and there are many – to getting kids involved, what to do with picky eaters, and general strategies for the nightly routine.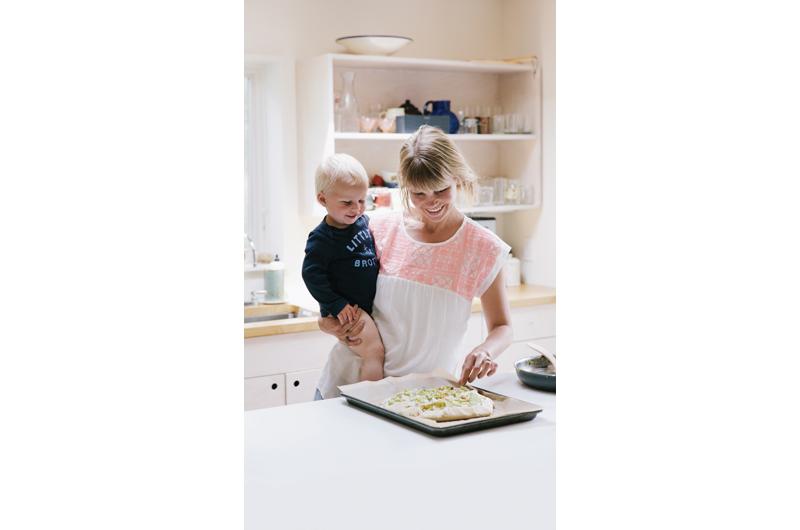 Waldman's own career reflects the new generation of cookbook writers who got their start online. In 2009 she began recording the recipes she cooked at home on twobluelemons.com, a blog she created with her sister. In the beginning, she says, "there was no plan. It was just like a hobby and pastime." She and her husband, Nick, were living in Providence, Rhode Island, where he was studying architecture and she worked as a project manager at design firms. With her husband busy in school, she had a lot of time to herself to cook and experiment. "I was also pregnant and a big goal of mine was to find a career that I could really love, but also be with my kids and work."
Three years later, the couple moved to Martha's Vineyard, where her husband took a job with Breese Architects. Waldman had a strong connection to the Island. Her parents owned a summer house in West Tisbury, where her mom lives today, and her grandparents had a place on East Chop.
"I always dreamed of living here," she says. "I didn't know how it would actually make sense with our careers, but Nick found an architecture job here, so we moved and lived in my parents' house for a year, to see how we felt about it."
Waldman continued to chronicle meals she created for (and with) her family, as well as her new life on the Island. She now posts about once a week on her new blog, sarahwaldman.com, and has branched out to writing cookbooks and articles for various publications. "Blogs in general are much less important than they used to be," she says. "People connect with you through social media, not just blogs. It's not the only way the audience sees you."
She features strategies for eating healthfully, and often documents the growth of her sons, Dylan, six, and Gray, three, and their shared time in the kitchen. With two young children, she also writes about the challenge of just putting dinner on the table. "I think as a modern parent in this climate, you feel like you have to do everything."
As an antidote, Waldman hopes her new book will be approachable and user-friendly, and her voice reassuring and inspirational. She is a master of beautiful yet simple meals. A proponent of whole foods in season, Waldman uses lots of produce and doesn't believe in "hiding" vegetables, but in introducing them to her kids at mealtime. "It defeats the whole purpose. You're trying to educate them and be honest."
Recipes include simple, often-repeated family favorites, a few of which might strike readers as unusual. "Some of these ideas may not look like 'dinner' to you," she notes in the book, "but I would like to redefine the term. To me, any home-cooked meal, however simple, is a successful dinner." Examples include a baked sweet potato bar with refried beans, cheese, and other toppings, or fried egg sandwiches layered with sliced avocado, tomato, red onion, and cheese on toasted bread. Waldman suggests shopping once a month just to stock a "family" pantry, and weekly for produce. "A well-stocked pantry is a key piece of the dinner puzzle on those nights when you come home late or don't have a specific dinner planned."
The four sections, divided seasonally, each have ten menus designed to take the "guesswork out of what to serve with what," along with a few Sunday special dinners. Menus include a range of desserts, from strawberries with vanilla sugar to a banana flax milkshake and a quick citrus–dark chocolate cake.
The book features photographs by her friend and local photographer Elizabeth Cecil. As one reviewer noted, "Sarah Waldman's Feeding a Family manages to be beautifully modern and dreamily old- fashioned in equal measure."
Each recipe offers suggestions for how kids can help with food preparation, as well as how parents can tailor a meal to babies or create slightly modified meals from leftovers. One-skillet chicken thighs with barley and Swiss chard, for example, can become a chicken, barley, and vegetable soup. A doubled portion of roasted vegetables from the "Sushi Bar" recipe can be used to make tacos with vegetables and black beans.
Parents will also appreciate the many meals and suggestions geared toward picky kids. One great idea is meals with toppings, where the main component is accompanied by customizable bowls of vegetables, cheese, or herbs. Waldman also draws on skills she learned as a nutrition counselor from the School of Integrative Nutrition in New York City.
"I think kids really like to be in control of what they are eating, and making their own choices." She adds: "I think it's unrealistic to think everyone in the family is going to love all the same foods."
The following recipe was originally published along with this article:
Oven-Baked Falafel with Garden Radish, Cucumber, and Pea Shoots.