Ryan Shea is an optometrist by day and his business partner Nick Peters is a contractor. But on nights, weekends, and any spare minute they can manage, they make vodka. The founders of the Martha's Vineyard Distilling Co., in Vineyard Haven, spent nearly three years planning, permitting, and dreaming about making their own spirits. With everything in place, final tweaks in the process, final adjustments to the recipes done, they began offering the premium vodka at Island bars and restaurants this summer.
Vodka is supposed to have almost no taste or smell, which makes it ideal for mixing with something that tastes good. Americans drink some 157 million gallons of vodka each year, according to one recent estimate, totaling more than one-third of all alcohol sales. It's a safe bet that an island full of summer vacationers is skewing the per capita average upward. Martha's Vineyard Distilling Co. hopes to capture some of that market with locally made spirits.
"Something with a great mouth feel, good in a mix or straight by itself, with very little aftertaste," Shea said.
If all goes well, the company will market a rum by the end of the summer, with plans to produce gin and whiskey in coming years, all with an Island flavor.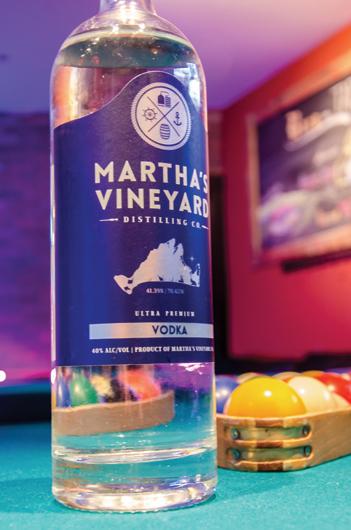 "There is a lot of creativity here," Shea said. "This is one way to be creative and make people happy."
A new local micro distillery is reason enough to tip one back. But wait, there's more. Make it a double.
Eleni Roriz and her husband John are well into planning for their own operation, called High Tide Distillery.
Roriz, born and raised in Oak Bluffs, will focus on local ingredients. She says they will begin with vodka made from Island-grown potatoes and are working on agreements with several local farms to grow potatoes for their product, an idea that could be an economic boon to local agriculture.
"It takes six to twelve pounds of potatoes to produce one 1.75 liter bottle of alcohol," Roriz said. "We'll need to buy a lot of potatoes." Vodka infused with local fruit and herbs will follow the initial product.
The leftover mash will go back to farmers as animal feed. Talk about sustainable. Don't worry, there will be no drunken cows wandering into town. All the alcohol gets cooked out of the mash.
An old auto repair garage on School Street in Oak Bluffs will serve as headquarters for High Tide Distillery. Once cleaned up and remodeled, visitors will find a retail store and a tasting room on-site, along with a packing and shipping
operation.
The permitting and planning process is arduous. High Tide Distillery hopes to have everything in place by the spring of 2017.
The federal government insists the entire operation be built and ready to operate before the licensing process even begins. The feds apparently haven't gotten over prohibition, and they're not about to let just any bunch of yahoos throw up a still, call it a commercial distillery, and consume all of the product themselves.
New state laws make it possible, though still not easy, to establish a small-scale distillery and give those who use locally grown ingredients to produce spirits in Massachusetts a regulatory break.
A new day is dawning for micro distilleries on Martha's Vineyard. Seems like a Bloody Mary is appropriate. With home-grown vodka, of course.