So, the editor of this venerable publication asked me to write a column on drinks. Hmm. Either he thinks I am a good drinker, or a good writer.
I will leave evaluation of the sentences I manage to string together for others to judge. I confess, however, that the editor may have been motivated to enlist my expertise because of my long experience in sizing up a bar, backed up by a fine appreciation for well-crafted beer, well-distilled spirits, and well-mixed cocktails.
I have spent more time than I care to remember hanging out in bars where everybody knows my name. I have an authentic "Kicked the Cask" shirt from Offshore Ale Company. I can find my way around a rack of Zinfandel. I know where to get twenty-three-year-old Pappy Van Winkle's Family Reserve on this rock, though I don't have $300 to spend on one shot of bourbon.
The Vineyard is full to the brim with interesting places to order a drink and talented bartenders to mix it. There are two craft breweries here, and it's a fair bet we will have a craft distillery soon. I know of one fairly competent maker of moonshine. Fairly competent because he has only blown up his still once, that I know of. We no longer have a winery, but so far have managed to import enough to make up for the loss.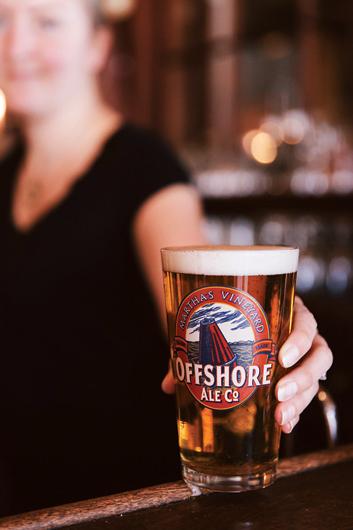 Be forewarned. I am a martini snob and a bourbon purist. I'm not overly fond of sweet, sour, or fruity concoctions served in martini glasses, but I know many people are, and I promise you I am open-minded enough to conduct objective field research. My tastes run to hoppy draft beer, brewed within a few feet of the bar, from a keg tapped just as I walk in the door. You will not see me extolling the virtue of Coors Light here. Given the choice, I will take red wine, but I am certainly not opposed to whites or rosé.
A wise editor from another time and place once told me anyone can write a column for a year. His point was that most people find it difficult to create something new and interesting after the initial euphoria of being assigned regular column inches wears off. Rookie columnists can run out of ideas quickly. To borrow a phrase from Chilmark resident Lenny Clarke, that's not gonna be a problem in this space. On this Island, our cups runneth over. And over, and over. Quick, get a bar rag.
You may read a flash of brutal honesty here and there. You are reading a writer who ripped the school play in his high school newspaper. I will bring a journalist's sensibility to this column. My nonsense meter will be on high alert. I do not ever want you to wonder if I have been swayed by personal friendship, partisan interest, or free stuff. I don't do that.
Will you join me in raising a glass? Let's start with a pint of perhaps the greatest beverage ever devised by man. Beer.
Over at Offshore Ale in Oak Bluffs, brewmaster Neil Atkins kicks off each spring with Merseyside Red, an Irish red-style ale. It's a tribute to Liverpool Football Club from Atkins, who is one of the team's most enthusiastic expatriate fans. Liverpool wears red and plays alongside the River Mersey, less than a mile from despised rival Everton, which wears blue.
The ale gets its color from Castle Cara Ruby and Weyermann CaraRed malted barley. He adds a bit of malted rye to give the ale a little extra flavor.
"It's got a good, strong, malty presence, like an amber," Atkins said, "but it's hopped up closer to an IPA."
Merseyside Red would match well with spicy foods like pizza or burgers, he said. "And cheese. Because beer just does."