Seaweed could be the Island's next big thing in aquaculture, depending on the results of an experiment growing the plant in Vineyard waters.
Working with a grant from the Edey Foundation, the Martha's Vineyard Shellfish Group is in the second year of a project looking into growing sugar kelp in Vineyard waters. Kelp is a native species that grows offshore in big ropes, and has potential as a food crop, according to project leader Amandine Hall.
The Vineyard kelp project follows a process developed by a Maine company called Ocean Approved, which is one of the only companies in the United States that is trying to grow kelp commercially, Hall said. "They've been very nice and generous with the process."
Farming starts with kelp spores, which are attached to a string and grown in an aquarium until the kelp grows big enough to transplant. The kelp is then put in the ocean to grow on long lines attached to buoys, about six feet down in the water column. The shellfish group has experimental permits from the state to put lines outside of Eastville Beach, near where Cottage City Oysters has set up shop. Other test sites might be Edgartown harbor and in the Lagoon Pond, Hall said.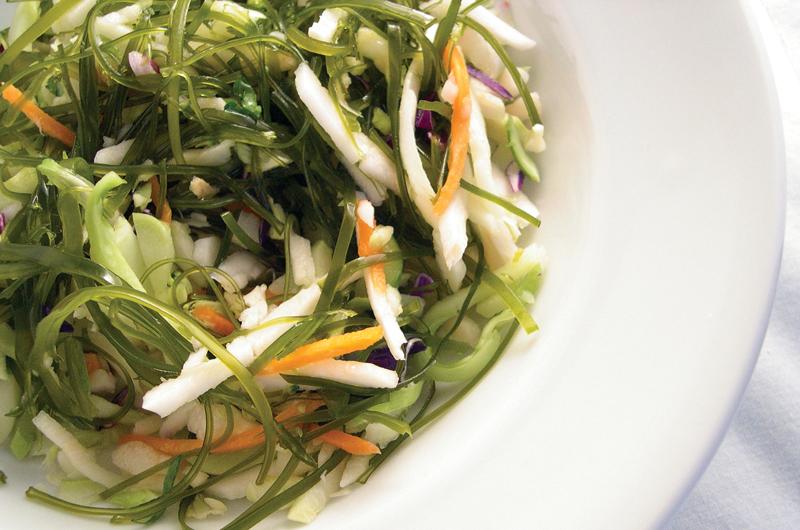 "The interesting thing is it's a winter process," Hall said, which is "good for the Island because not much is going on in the winter; people are out of work. It's a good business here for people who aren't working."
The end outcome of kelp farming is more of a question mark, Hall said. Ocean Approved exports most of their crop to the Asian market. Kelp could also be added to the repertoire of local crops used at Island restaurants. Ocean Approved's suggested kelp recipes include fennel kelp salad, salsa verde with grilled sirloin steak, and kelp crab cakes. Kelp is a popular ingredient in smoothies and health drinks, and it is also sometimes used in cosmetics.
"We have great restaurants; we have very adventurous chefs on the Island," Hall said. "It would be a good place to try to do some experiments in restaurants." She cited an adage heard in seaweed circles: kelp is the new kale.
Like oysters and other aquaculture products, kelp farming would be beneficial, she said. Kelp farms would remove nitrogen from the water and the plant produces oxygen.
"It has a lot of advantages and it's very healthy to eat and it's a food source that doesn't require fertilizer or land use or water use," she said. "We're just basically putting it out here and letting it grow."