The boat schedule has changed. The leaves have turned and dropped in a tsunami of color. There is a decided nip in the air and the Vineyard is calming down and quieting itself for a slower season. This is the time for cocooning by the hearth or luxuriating in the warmth of a kitchen filled with delicious smells. It's a season for casseroles and baked goods, for warming soups, hearty stews, and dishes made with apples.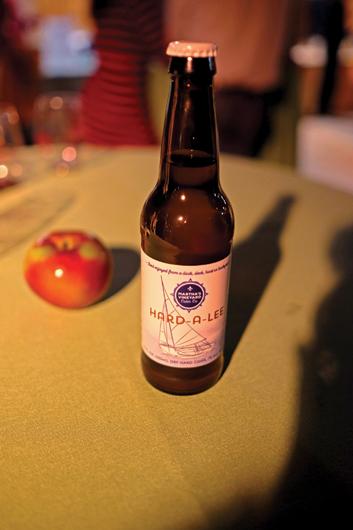 Less trendy but no less iconic than the pumpkins that also mark the transition into the cooler months, apples celebrate the arrival of shorter days and quiet nights. They're not native to the hemisphere, but were brought by the colonists and were first cultivated in Massachusetts. The real Johnny Appleseed, an eighteenth-century frontier nurseryman and orchardist named John Chapman, was born in Leominster, Massachusetts. He established apple orchards throughout the Midwest. The apples that he planted were not the familiar McIntoshes or Pippins or even the Roxbury Russets, believed to be the oldest variety grown in the United States. Rather, they were hard, tart apples unlikely to turn up in pies or crisps or crumbles. Chapman's apples were better suited to the apple's liquid form: cider.
Cider, the old-fashioned hard kind with a fizz and a kick, is growing in popularity. So much so that now the Island can boast its own: Hard-A-Lee, a light, dry hard cider redolent of apple that's brewed by the Martha's Vineyard Cider Co. "We just started selling in August and want to be in places that commit to the local fare of the Island," says Robert Hale, founder, cider maker, and a member of the Hale family that owns the Martha's Vineyard Shipyard.
The name Hard-A-Lee comes from a wooden boat that's been in the Hale family for several generations. But it's also a nautical term used when tacking or changing direction – which is what Hale did in choosing to forego the family business and chart his own course. For that, we raise our glasses in celebration at one of the select places Hard-A-Lee is now available: State Road Restaurant, Beach Road Restaurant, 20byNine, and the Barn Bowl and Bistro.