"Where there's smoke there's fire," says Ben deForest, chef and owner of Red Cat Kitchen at Ken 'n' Beck, a quirky hot spot one block off Circuit Avenue. At the peak of summer, eager customers congregate on the street outside the vintage Victorian cottage. Even in November, when the rest of Oak Bluffs has all but boarded up, the intimate dining space is packed to capacity. They come in search of deForest's signature dishes, like Island Fresca and Big-Ass Sea Scallops, and for the relaxed vibe that somehow melds with the blaring tunes.
But on a quiet morning before the crunch of pre-dinner prep time, the heat he's talking of isn't fueled by the popularity of his latest restaurant. Sitting at a simple wooden table on the Red Cat's sunlit front porch, deForest acknowledges that, yes, there is truth to the rumors that have long swirled around his unmistakable frame.
Now 46, he is the first to admit that his life, both professional and private, has been an arduous journey, replete with notoriety and drama. At six-foot-five with melancholy brown eyes and an impressive array of body art, deForest is a big man on a small Island, with an even bigger reputation. There are few secrets on the Vineyard. So when you're large in stature, personality, and ambition, your wins and your losses are duly noted.
"I've done things, said all kinds of things. I was loud, had a big ego and a bad temper. I made my point in front of anyone, anywhere," he says, managing to look sheepish and doleful at the same time. "It's taken forever to live down my reputation. It becomes larger than you. I lost my way a little bit."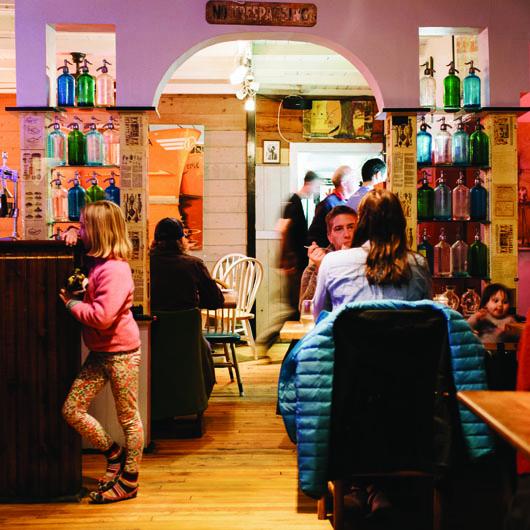 Or, as a longtime Vineyard Haven entrepreneur and acquaintance put it: "He wanted to be big. He wanted everything to be big. Everyone always said that nothing ever seemed big enough for Ben."
Over the years, Island residents have taken note of deForest's successes and failures, romantic entanglements and public displays of personality. Over time, he became as well known for his wild-man persona as for his inventive cuisine, in spite of – or perhaps because of – his various successful ventures.
But let's keep it in perspective. As misbehaving chefs go, DeForest isn't really such a standout. Unlike the original celebrity chefs, the charmingly buoyant Julia Child and Jacques Pépin, both of whom were invariably poised and well-mannered, there are a growing number of well-known chefs whose antics sometimes overshadow their culinary skills. We're not just talking about media and lifestyle mogul Martha Stewart going to prison for her financial shenanigans. Or Mario Batali and his partner agreeing to fork over more than five million dollars to settle a lawsuit over tips that were illegally skimmed from employees at their various New York restaurants. Several years ago, a chef at one of England's top restaurants was arrested for setting a co-worker's trousers on fire with a blowtorch and beating him with a rolling pin. Another staff member faced a stiffer punishment: his head was dunked into a vat of lukewarm broccoli and Stilton soup that was later served to guests. The Food Network's Juan-Carlos Cruz is currently serving time for hiring a pair of homeless men to murder his wife.
What's a penchant for womanizing, a taste for illicit substances, and a tendency to swagger compared to all that?
Born in Boston, deForest spent summers on the Island as a young child until, following his parents' divorce, he moved to West Tisbury in 1974 with his mother and younger sister. His mother's family has lived on the Vineyard for generations.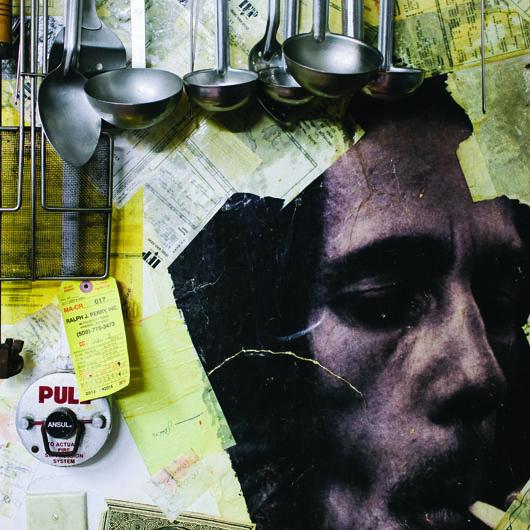 Inspired by the simple farm-fresh meals his father prepared when he visited the Island, as well as his mother's Bolognese sauce and trademark roast chicken and baked potatoes, deForest says he knew by eighteen that he wanted to be a cook. After getting his start in the kitchens at the Black Dog and the Home Port restaurants back in the early eighties, he moved on to a three-year stint at the acclaimed Aujourd'hui in Boston's Four Seasons Hotel. When he returned home, he spent a couple of summers in the early nineties under the tutelage of Oyster Bar Owner/Chef Raymond Schilcher in Oak Bluffs and as a cook at the Dry Town Café in Vineyard Haven.
"Ben was tremendous," says Jaime Hamlin, ex-wife of Schilcher and owner of V. Jaime Hamlin & Sons Catering, a top catering business on the Vineyard. "He was one of the first chefs to embrace the farm-to-table concept. He has a love of the land. He fished and hunted, both traditions in his family. He always wants to be the best. And, as far as I'm concerned, he is." As for reports of his outsized ego, she's matter-of-fact. "He's a complicated person. Big-hearted, generous. Big confidence. That can be described as ego. Ben's had difficulties and he's come out of it. I think he's settling into himself."
In 1995 deForest talked his way into taking over the kitchen at the underperforming Red Cat in West Tisbury, site of the current State Road Restaurant. Known, he says, for having "the worst food on the Island," it soon became a wildly popular gathering spot. DeForest implemented a new menu, giving rise to the farm- and sea-to-table movement that would eventually become endemic on the Vineyard. And after hours, the basement speakeasy, dubbed the Bottom Lounge by frequent guest and comic legend Dan Aykroyd of Saturday Night Live fame, would come to life.
"At one point [actors] Ted Danson and Woody Harrelson were tending bar with about forty people in attendance," deForest recollects. "And another night, [the band] P-Funk had played at Hot Tin Roof earlier and they were in the basement performing from four to seven a.m. to an audience of one hundred and fifty people. It was the subterranean party scene. If the walls could talk, I'd still be in prison."
By 1999 he was ready for a change. "I wanted a big place downtown, a big location, a bar, a big scene," he says. He took over the site of the former Oyster Bar on Circuit Avenue two years after its demise and opened Balance, a status that ultimately proved hard to attain.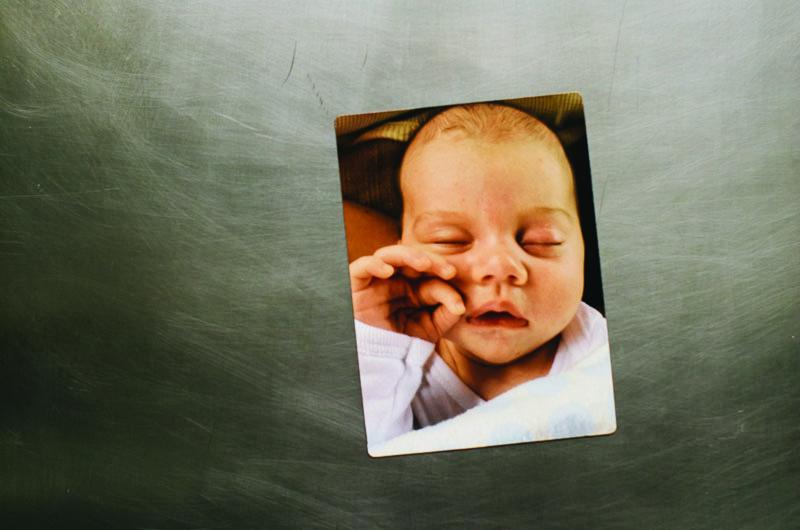 Balance had a good run, the tables full, the kitchen churning out deForest's interpretations of freshly caught fish, prime beef, and farm-fresh salads. The bar was packed as well, with locals and tourists elbow to elbow. But by then the stories began to circulate about his excesses, his temper in the kitchen and the casualties of a demanding career, among them six broken engagements.
The Red Cat and Balance chapters were frenetic. Or, as deForest describes this era: "Women, cocaine, booze, nightlife. I was addicted to the self. Everything I did was ego-driven. I needed nice cars. I got a tattoo of Hunter Thompson dead on the center of my chest. I embraced the Gonzo lifestyle – and I began to believe my own myth. I became really, really selfish." (The heavy drug use, he interjects, has been over for years.)
"I've lost a lot," he says, choosing this moment to stop checking emails and texts on his ever-present phone. "This business is hard on relationships. I've had three kids and three different mamas. I like to stay up late. It's easy to get caught up in partying. I'm completely addicted to women. It's related to my insecurities. I've done a lot of therapy."
Seven years after opening Balance, with the rent climbing ever higher and "financial issues" looming, deForest closed the doors. He says he was done. It was time to try something new. Yet only two years later, Balance was reborn in a new Oak Bluffs location, a block from the Steamship Authority, home today to the Martha's Vineyard Chowder Company.
Staked by investors this time, he tried to recreate his magic and, for the first time in his nearly three-decade career, failed. Citing costly litigation with a general contractor and an uncompromising landlord, deForest walked away demoralized and embarrassed. "After the second Balance closed I resented what I did. It was the biggest mistake I ever made. I worked like a dog. When Balance ended on Circuit someone waved a carrot. It's my biggest regret. The whole thing was so out of my control. The demise was so humiliating. I left with my tail tucked between my legs. I felt robbed of my identity. I lost money for investors. It was a fucking nightmare."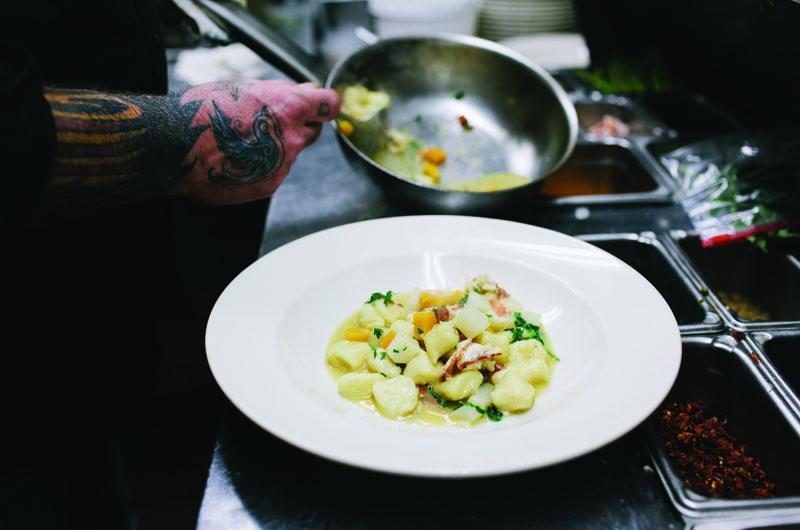 "I lost the restaurant, my second kid's mama, I was homeless and moneyless. I had two dollars in my pocket," he recalls of the days after Balance went under. "I was standing on North Road with my dog, a suitcase, and nothing else. I have a video of it."
Confronted with the biggest defeat of his career, deForest moved to Los Angeles. He'd done a six-year stint as a private chef for actor Bruce Willis in between summer seasons on the Island and felt comfortable in the hyperkinetic West Coast milieu. "L.A. feels like my second home," he says. "It's just superficial and fake enough for me. I love it!"
He spent his time there working on two projects that, so far at least, have failed to take hold: a TV concept, AnAmericanChef, that he and Aykroyd tried to pitch in Hollywood, as well as the launch of a Vineyard-inspired restaurant, Chilmark.
And yet he also used this time to reflect on what had happened in his past. "I got over my anger and myself. There was a long line of people who were, like, you wanted it, you got it. Your women and your dope," he says. "It was a shitty experience, yet it turned more of me around. It humbled me. I learned to give of myself in the right ways." In 2011, after two years away, deForest felt ready to return.
"When I walk down Circuit Ave. I feel like the mayor of Oak Bluffs," he says today of his Island home. "I say hi to thirty people in a ninety-second walk. There's a sense of community here that keeps getting better. It's very forgiving. If you're willing to do the work, it comes back around."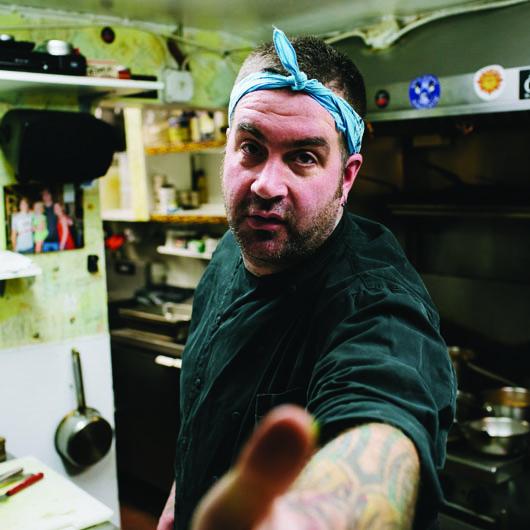 There are other signs that deForest returned a reformed man. In 2012, he opened the Red Cat Kitchen at Ken 'n' Beck and married for the first time. Partners in both business and life, he and Sarah Omer had a daughter in the spring of 2014. Of course, the road to redemption is paved with potholes, and last fall the couple split up. But, says deForest, they remain bonded.
Standing in the 9 x 9 open kitchen, a signature bandana wrapped around his head, skillets sizzling on the six-burner stove, he appears back on his game, serving up some of the Vineyard's best presentations of just-reeled-in fish, deep-fried golden tomato and lobster salads, and grilled pork porterhouses. Where else can you find the comfort of homemade tater tots and fried chicken with hominy grits, or the adventure of tasting courses called "The Wild Ride"?
The menu, as unorthodox as the chef, changes several times a week as seasonal ingredients come and go. But the spirit of the original Red Cat, with its emphasis on fresh ingredients, simply but imaginatively prepared in a casual setting humming with life, remains.
"Ben has no restrictions," says Michael Brisson, the highly respected owner/chef of l'étoile in Edgartown. "He can fly by the seat of his pants. He embraces that. He was passionate about food before it became fashionable. He's a really good cook serving delicious food consistently."
Getting to this point has been the result of decades of hard work, both personally and professionally. For six months a year, deForest works eighteen-hour days, seven days a week, hustling to complete a race that restarts each day. And as his culinary talents have evolved, so, he contends, has his psyche.
"It's an ongoing journey," he says. "What I want people to understand is that I'm a work in progress. I don't want this to come across like I've got all the answers or that I've made huge changes in my life. I have a lot further to go, but I'll never stop working at it."
Accompanied by an ever-present rock & roll soundtrack, deForest slices, dices and sautés to his own beat. An avowed Deadhead and skilled harmonica player, he says he's attended two hundred and sixty-five Grateful Dead concerts, cooked for Bob Weir on tour, and has played blues harmonica with Blues Traveler, Buddy Guy, the Blues Brothers, and Jim Belushi's band, the Sacred Hearts.
Customers sometimes complain about the volume of the music, he says, but it doesn't faze him. The driving beat keeps him pumped up, keeps the energy flowing. Asked what he likes to play in the restaurant, he answers simply: "Whatever I want. It's taken a long time to get here."